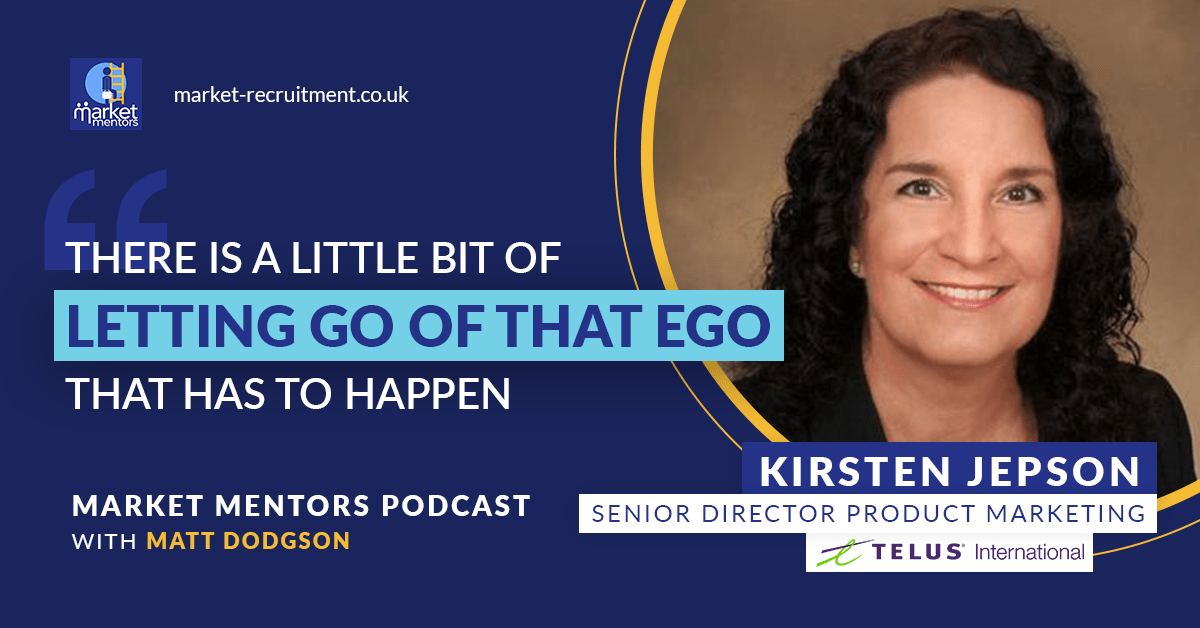 Introduction
When it comes to product marketing metrics, how do you measure and communicate the success product marketing has?
Today, product marketing is a crucial function for companies in the B2B tech industry. A great product marketer will create cohesion between your sales, marketing, and product development teams, while also ensuring each one is doing their job as well as possible.
But given how broad and wide a product marketers responsibilities are, how do you make sure the leadership team, stakeholders and team members understand the impact you're having?
In this episode, Kirsten Jepson, shares some fascinating insights on this from her 15 years of experience working in product marketing.

She also provides useful guidance for any businesses looking to get started with a product marketing function, or to gain more value from their existing product marketing team.
About Our Guest
Who they are: Kirsten Jepson, Senior Director of Product Marketing at TELUS International.
A bit of background: Kirsten started her career in product management roles but has since been working in product marketing for the past 15 years. She's also a top 100 product marketing influencer, and is based in Tampa, Florida.
Where you can find her:
Prefer Video? Watch a full video of the podcast here…
Episode Takeaways
Here you'll find some of the best advice from the podcast that you can easily digest and learn from.
1. What are some of the key responsibilities and deliverables for the product marketers within your team?
As we've touched on previously on this podcast, product marketing is all about building and optimising the connection between technology, sales, and marketing. A great product marketer must build a foundation that helps those three areas of a company work together in harmony.
The point of creating that connection is to get to revenue faster, and that's why product marketing exists. But how does that happen in practical terms, and how exactly does a product marketing team operate?
Kirsten explained, "Currently, I have six product marketers in the team. We cover four service lines and 33 different products across the company. But there's commonality between what we all do, and that really creates the foundation of what we talk about back and forth as a team. The reason I've created that fundamental base is because I want the organisation to know what to expect from us. This becomes, in a way, our metrics, and we build that into our reporting."
"Each product marketer has quite a bit of latitude around their service line. That said, there are some baseline deliverables for each product update or release. That's what I call a lean launch, and that includes:
A sales deck
A sales training deck
A battle-card
A case study, or some relevant use cases
Training or sales enablement material
And we also loop into marketing to do website updates and global deck updates."
Those deliverables can then be used as the standard for the product marketing team's output for each product. Having that consistency also creates the opportunity to iterate and improve the assets that the team provides for the rest of the business.
Kirsten continued, "When we meet as a product marketing team, we're looking to work through those fundamental deliverables and see how each other is creating them, because then we can leverage best practices around those."
"Everybody then has deliverables that come and go in terms of content development, and that depends on where their products are and the maturity of the service line, where they are within each of those. Of course, when somebody has a service line that's less mature, they can leverage what the other product marketer has already developed. That's where that cross-communication and reporting comes into play."
2. How do you measure the performance of each of the product marketers in your team?
When everyone is working on different products at different stages of their development, managing a big product marketing team can be difficult, particularly in measuring performance.
Each product marketer will face different challenges and achieve varying levels of success in different timeframes. They'll all also need support in different ways at certain periods of their product's development.
With that in mind, it's important to use both qualitative and quantitative metrics to measure the performance and success for a product marketing team.
Kirsten said, "We do that performance measurement at an executive leadership team level once a month, with a report and a one-pager that we consolidate for the executives. That's to surface the important details of our contribution. The most important things hit that page, and that goes into my leader's report, so it trickles through and becomes part of the overall conversation that we're having."
"But measuring the performance of each product marketer, there's both qualitative and quantitative. Each product marketer, in that deeper report, identifies which of the lean launch content they've been working on and includes links to the latest content."
"There's also an opportunity to do a more detailed update. That's a bit more qualitative, although we do document it. But one aspect of this that's important, as part of this reporting, is we tie this back to our objectives every year. In this longer report, we take everyone's objectives and put those on a page. We do this so people in the business know what we're aiming to do at any given point in time, and this keeps us from getting too wrapped up into FUD that doesn't matter as much to us as what we're working on, because we can't do everything. We use this at the end of the year to tie back to that aspect of reporting."
With the product marketing team supporting both the sales and the marketing departments as well, ensuring things are measured and recorded can also come in useful when managing relationships and expectations across the wider business.
Kirsten added, "We use this as reference for other conversations across the company as well. 'What have you done for me lately?' type conversations, these are great for that. Personal achievements are included in that too, so the organisation knows what kind of training we're working on."
"We also include any client interactions we have. Those are kind of semi-qualitative, semi-quantitative. To be honest with you, each service line is a little bit different because of where they are in their level of maturity. There's not one metric that fits all across each of the service lines."
3. What other areas or roles should companies look to when hiring people who can make a good transition into product marketing?
As Kirsten explained during the episode, product marketers have a reputation for being able to identify gaps in the collaboration channels between product development, sales, and marketing.
As we've also been told recently on this podcast, a great product marketer is often someone who has transferred from a different discipline and adapted their existing skills to fit the new role.
That's understandable when, for example, a former digital marketer will understand the nuances and challenges of working with sales teams.
Kirsten said, "While marketing is in the title of the role, marketing isn't the only place, or even the best place, to look for a product marketer. Somebody with a product background can be a great product marketer as they bring that product perspective to the table. They'd probably want to be someone who's very comfortable leaning into the business side, though, and getting in front of clients. Not all product people are."
"Marketing is another area, especially content marketers, because content marketers do dive into the products in order to identify the best content. That's what we're always thinking about, what the best content is and what's going to make the company look the best."
"I do get a lot of people who are in marketing, but even our talent acquisition team needs to be reminded that product marketing is not about SEO and it's not about how to put out the best digital campaign. Product marketing is about producing, creating, and outlining the foundation on which that's all built. It's a step removed from that. That's equally as important, but that's, from my perspective, not what this role is about."
---
Whether you're looking to hire a product marketer, or you're considering making the move into a product marketing role, check out our ultimate guide to hiring for product marketing here for plenty of useful support and advice.
---
A few other highlights to look out for in this episode:
Further insight into how the product marketing team is structured and managed at TELUS International.
How Kirsten communicates the work of her product marketing team to the senior stakeholders in the business.
How Kirsten tracks the usage and performance of product marketing's sales enablement material and other content.
Some of the digital tools and frameworks Kirsten uses to manage her product marketing team.