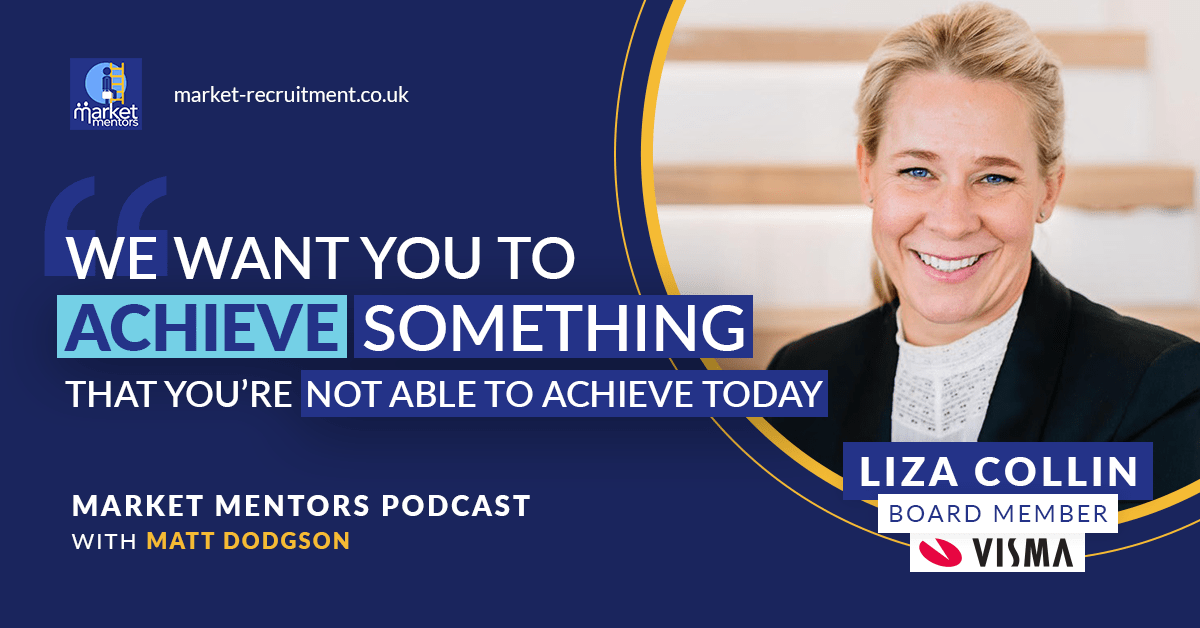 Introduction
In a recent podcast episode, one of our guests defined product marketing as, "The function that helps you carve out a space for your business or product to compete in."
Sounds important, right? Well, most of the companies currently leading the way in the B2B tech sector would agree. That's why we've seen a steep rise in tech businesses hiring for product marketing roles recently, demonstrating the growing value of this relatively new discipline.
Today's guest, Liza Collin, named one of the world's 50 most influential product marketeers by the Product Marketing Alliance, talks to Matt Dodgson about how to win the case to start a product marketing function in your business, and how to make sure it succeeds.
About Our Guest
Who they are: Liza Collin, Strategy & Commercialization Director, Visma.
A bit of background: Liza has over 10 years of experience in the tech sector, and has been with her current business, Visma, for over five years. She's currently based in the Greater Oslo Region in Norway.
Where you can find her:
Prefer Video? Watch a full video of the podcast here…
Episode Takeaways
Here you'll find some of the best advice from the podcast that you can easily digest and learn from.
1. Why should B2B tech companies create a dedicated product marketing function, rather than letting other people take that responsibility?
There are plenty of reasons why we're seeing more and more tech businesses investing in a product marketing function these days.
One of those reasons is that a dedicated product marketing manager will ensure your product, sales, and marketing teams are all aligned, and all working closely together towards a shared goal.
"First of all, it has to do with focus. I'd say that for us, and many companies, there's so many things going on, and there are a couple of things that might fall between the chairs. You have really good product managers, you have really good QAs, you have all these different people that are really good at what they do."
"But what's sometimes missing is that spider in the web sort of person that just sorts that whole thing together, not just the pieces of the puzzle but actually putting the puzzle down on the table. That's usually what the product marketeers do, because they understand both the product side and the marketing and sales side."
Not only is a product marketing function beneficial for bringing things together, but it also prevents you from making a common mistake. Expecting someone else to take on the responsibilities of product marketing on top of their own role can create problems for that individual and for your overall business.
"It has to do with, again, focus, and how you spread your time. I mean, we all have just 24 hours of the day, right? The problem is, for example, I was a product managers a long time ago, and before there wasn't even something called customer success, and there's always a fire. There's always something that you need to take care of, and so those other things, like the slides for sales, for example, that's something that you do in five minutes between meetings."
"If you had a person that is both product manager and product marketing manager, it can be done, of course, in a smaller company. But it would probably be 90% of their time used on the product development side, and then that last 10% is going to be just doing the bare minimum for product marketing, and the bare minimum is definitely not going to help you win the game."
Letting other employees try and cram product marketing into their existing role is not advisable for other reasons, too. Even if you do have a product manager, for example, who actively wants to invest more time and effort into product marketing, they may not be able to due to the limitations your strategy puts on them.
"There's some great commercial product managers, definitely, but they're also measured on certain things, and they're being measured on the product more than perhaps a sales deck, for example. But if we don't provide that fuel for marketing and sales, then how are they going to be able to do a really good job? You don't want to have a sales department that spends too much time working on slides. They should be out there selling."
So, it seems the importance of product marketing also comes from ensuring those teams of product, marketing, and sales are supported and enabled to do their jobs as well as possible.
If you're interested in learning more about what product marketing is and how it works, listen to our related podcast episode with Vakis Rigas, VP of Marketing at Shypple, here.
2. For a business trying to build a product marketing function, what would you recommend they look for in their first hire?
There are three crucial things a good product marketing manager will need to have. There are:
An intimate knowledge of your product
An in-depth understanding of your customers
A commercial mind-set.
In terms of what kind of person you should be looking for, Liza said, "It's one of those where you want a little bit of everything. We usually recruit our product marketing managers from the product team. I know in other companies, they usually come from the marketing side, but we need our product marketing managers to really understand the product and our customers."
"So, they need to come from there and have an extreme interest in selling at the same time, but they don't want to be sales-people. So, they're really commercial in their mindset. They're usually quite interested in marketing, but they've never learned the marketing trade, but they're just really good all-around generalists."
"They should understand that they're just one piece of the machinery, but they're the oil that makes it go around. I'm using lots of metaphors here, but because they're not the sales-person, they're not going to get the credit for the sale, and they're not the marketing team which can be measured with how many SQLs or MQLs they generate. They have to be okay with being that provider, the helper, so a well-rounded person is ideal."
One thing we often find with product marketing, as it's still a relatively new concept for many businesses, is that it's beneficial for people to move over from a similar discipline. If you already have a product team and a marketing team in place, you could consider recruiting from within.
After all, there are plenty of skills which are transferrable across different domains to allow people to succeed as first-time product marketing managers.
3. What steps would you suggest taking to set up a new product marketing manager for success?
Particularly for smaller companies, it can be difficult to know where to start with product marketing, but there are some things you can do to give your new product marketing manager the best possible chance to succeed.
One of the most important of those is to ensure they're protected from any bias towards any of the product, marketing, or sales teams.
Liza said, "If it's a small company, I'm going to be a bit drastic here, but I would love the product marketing managers to actually report to the CEO in the start. The reasoning for that is because if they report to sales, sales will take their time into only creating sales material and make them into pre-sales, and if they report to marketing it might be that they focus a lot about marketing and not as much for sales. If they're in product, as I said before, there's always fires in that area. So, it's hard for them to report to any of those functions in the beginning, because the organisation needs to get used to this new function."
In addition to that, there are some more traditional steps you should take to help your product marketing manager get off to a good start. Liza continued, "I would say a couple of easy things is to have clear KPIs and making sure that you actually have those KPIs aligned so that partly they're sharing KPIs with the product management side, some with marketing, and some with sales. That's something that we did which was really successful, actually."
"Because there are some things that product also needs to focus on. So, product cannot just be measured on pushing the product, but also be measured on things like:
Did we get the first sale?
What did the product actually look like when it came out to the customer?
Were the customers really happy with it?
So, doing that and making sure the product marketing manager actually is able not just be the provider of the fuel, but actually have an opinion and being able to say that what they're doing right now is perhaps not the right way of doing it, perhaps they should approach it differently."
If you're working in a bigger company, the product marketing manager may need to report into the CMO, or similar, if it's not realistic for the CEO to oversee them directly. Regardless, it's still crucial to ensure the entire senior leadership team is aware of the value of a dedicated product marketing function.
Liza added, "If you have a growth department, a department that solely focuses on growth in general, then that's a really good place for that person to sit. It has to be understood that there are going to be lots of different tweaks that need to be done. It's not just one thing. It's not just marketing, it's not just sales that's going to do it. Obviously, in most companies, reporting to the CEO would be very difficult, but it needs to be someone who has a broader focus than just product, or marketing, or sales."
Are you thinking of creating a dedicated product marketing function within your business? If so, you can find some useful advice in our complete guide to hiring for a product marketing role here.
A few other highlights to look out for in this episode:
Some common challenges with product marketing, and how to avoid them.
Tips for business leaders to find and recruit a great product marketing manager.
Guidance for giving your product marketing manager sufficient training and support.
Advice for tracking and measuring the performance of your product marketing manager or team.