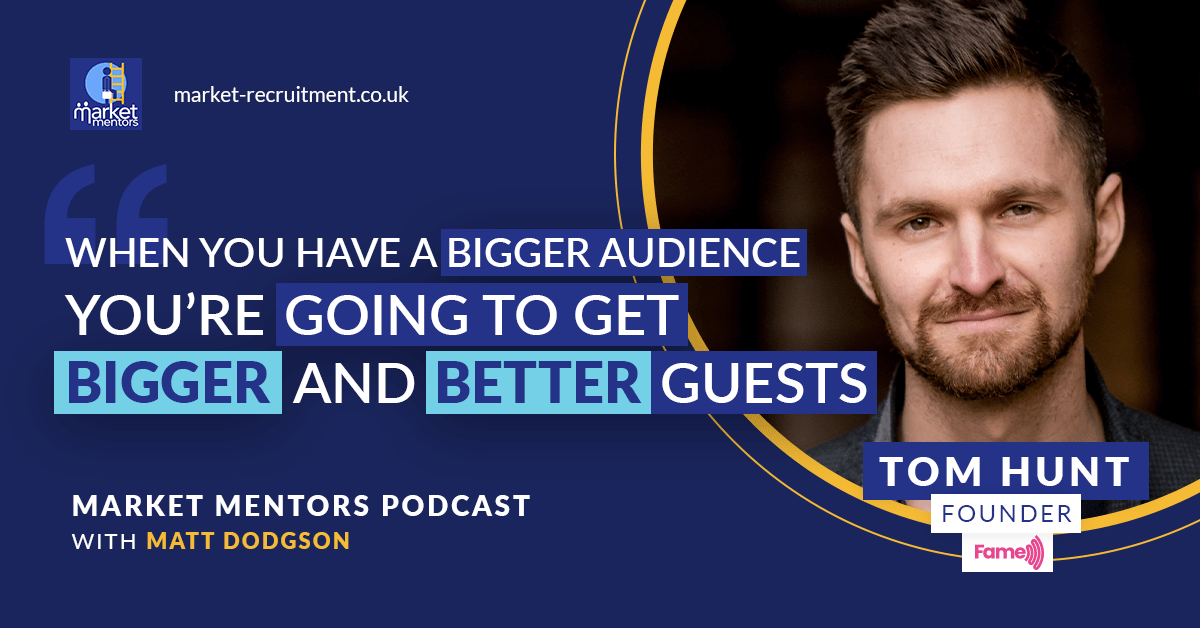 Introduction
Podcasts have been around for a long time now, and yet they're still growing in popularity with each passing year. In fact, over the past three years, the number of podcast listeners in the UK has reportedly increased from 13.3 million in 2019 to 21.2 million in 2022.
But a more recent trend has seen B2B tech companies using podcasts as a form of content marketing, leveraging them to build relevant audiences and generate demand for their products or services.
In this episode, Tom Hunt shares in-depth guidance to help you launch a successful podcast that will attract more customers and grow your business.
About Our Guest
Who they are: Tom Hunt, Founder of Fame.
A bit of background: Tom launched his first podcast at the same time as founding his first business in 2016. Since then, he's had great success both producing and hosting podcasts, and uses his experience to help other businesses grow. He currently hosts the UK's top B2B marketing podcast, Confessions of a B2B Marketer.
Where you can find him:
Prefer Video? Watch a full video of the podcast here…
Episode Takeaways
Here you'll find some of the best advice from the podcast that you can easily digest and learn from.
1. What benefits can B2B tech companies gain by launching a podcast?
As a valued listener of this show, you'll hopefully appreciate that podcasts can be very educational and insightful when they feature interesting guests. With that in mind, it's no surprise that B2B tech companies are now using podcasts as a tool to support their content marketing and improve their demand generation.
Providing your prospective customers with high quality, constructive information, relevant to your product or service, is essentially the foundation of successful content marketing these days. Of course, that same exchange of information is exactly what podcasts are based on.
If you're able to do that within your marketplace or category of technology, you'll inevitably attract an audience of prospects and customers to engage with your business.
Aside from that obvious benefit of brand awareness, though, there are some additional advantages you can gain from getting into podcasting. Those are:
Learning
Networking
Tom said, "I'll explain the first one, learning, with an example. The reason we started podcasting at a B2B SaaS company I used to work for was because I joined and there was this new customer persona that I thought we should target. I thought about sales operations, the people that do ops for sales teams, as an ideal customer for us. So, obviously, as a marketer, I need to learn about them to sell to them."
"So, the show only started because I needed to speak to these people. I used to message these people on LinkedIn to get them on a call with me, just so I could ask them questions. Obviously, no one said yes to that. But then when I asked if they wanted to come on the podcast, they were coming to our office and answering questions about their life as a sales operations manager. So, I learned a lot about this person that obviously helped us when we were trying to sell to them at a later date."
On the second benefit, networking, Tom said, "When you go through the process of recording or collaborating with someone on a piece of content, you build a relationship. So, be strategic about the people you bring on your show, whether they're good customers or partners."
"Obviously, you can't pitch them straight away. But you're going to be building relevant relationships in your industry that become profitable or get you an ROI in the future."
2. How would you suggest businesses choose the right topic to talk about on their podcast?
Firstly, if you're working in a B2B tech company, it's wise to base your podcast on a similar format to the one we use here at Market Recruitment. We'd advise you start by interviewing guests, rather than attempting to tell a more narrative-based story.
Why? Because the former will be far more interesting and beneficial to your target audience and, as a result, more beneficial to your business.
When it comes to choosing a topic to build your podcast around, it's wise to be as specific and focused as possible. Perhaps the biggest mistake businesses make when launching a podcast is trying to be too general, and consequently competing in a saturated podcast market.
Tom explained, "Let's assume you're going to start an interview show, because that also helps with our two hidden benefits, learning and networking. So, what I would suggest is that the topic has to be somewhat related to your business. But a couple of mistakes that people normally make is that they go too broad."
"So, let's say you have an email marketing agency or emailing marketing software. You may be tempted to start a marketing podcast because you're worried there's not enough people just interested in email marketing. So, then you go up against all these massive players with marketing podcasts that have bigger budgets and are essentially much better at podcasting than you, so you don't get any audience."
"With your hypothetical email marketing company, I'd either start a podcast about email marketing or I'd go even more niche to something like open rates. Then, just the whole show, you just bring on email marketing managers and talk to them about the tests they've done to build open rates."
Once you've selected a niche topic that's closely related to your product or service, and is important to your target customers, it's then a case of using that topic to your own advantage as well.
Tom continued, "From there, once you have the topic, you can just ask the same seven questions on every episode. The hidden benefit of that is, essentially, what you're doing is building a database of structured data to answer these questions. And then, at the end of the year, you can do 'the email marketing open rate master report,' or something similar. If you follow that process, I don't think you're going to run out of things to say."
3. What advice would you give to help people ensure their podcast is a profitable activity for their business?
When using it as a marketing activity, it's crucial that you approach podcasting with patience. You should view it as an exercise that will add value to your business in less traditional ways than typical lead generation, for example, and certainly not immediately.
For those reasons, admittedly, it can be difficult to measure the ROI you earn on a podcast. But there are some things you can do to increase the chances of gaining a return from the activity, both in the short-term and the long term.
Tom said, "In the long term, ideally, you're going to build this audience, and I would rarely pitch to the audience in the content. You just want to improve their lives. If you improve their lives, they'll either come to you when they need to buy your thing, or they're going to tell their friends. The problem with that is it's hard to measure and it's very long-term."
"What I would do, probably after six months, once I do have an audience that's growing, I might put a cheeky little ad at the start just to explain this podcast is brought to you by X and here's what we do. Drop an email to us if you want to chat about it. Then you may start being able to measure more of an ROI from the listener side."
In the short-term, the relationships you build with your podcast guests will deliver value and potentially present opportunities to gain more tangible ROI.
"Again, you can't pitch directly to your guests," said Tom. "Because then the person will think you wanted them on the show because they wanted to pitch, not because they're an expert. But, whether it's a potential customer or potential partner, if you're strategic about most of the guests you bring on, they should be potential customers or partners. Then you just need to make sure the guests have an amazing experience."
"At some point in the future, there's probably going to be something good that's going to happen from that, whether they tell their friends about you or they reach out and want to promote your thing for an affiliate commission. So, give your guests an amazing experience, build a bond, and good things are going to happen."
"Then you're going to be more confident. You're going to love the show because it's bringing you so much value. You're going to put more effort into it. That's going to build the audience side better and increase the ROI there. When you have a bigger audience, you're going to get better and bigger guests. Then it just becomes a fly-wheel that keeps turning."
A few other highlights to look out for in this episode:
Recommendations for affordable equipment and tools to use when getting started.
Advice to attract a great set of guests to feature on your podcast.
Tips for deciding the right format, structure, and length of your podcast episodes.
An in-depth, step-by-step guide to maximise the reach and engagement you achieve with your podcast.