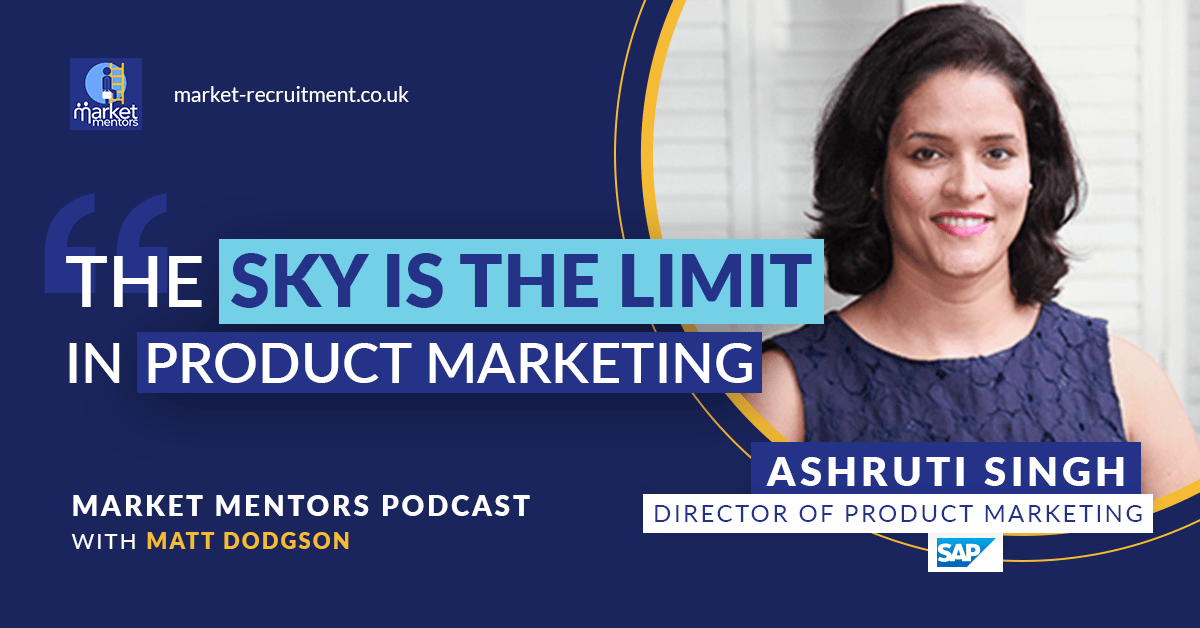 Introduction
From early-stage start-ups to large enterprises, B2B tech companies are currently investing heavily in product marketing, whether that's hiring their first person or building a whole team.
But many of those businesses – and the candidates they're hiring – are still unsure how to get product marketing right, especially in such a fast-moving, competitive tech landscape.
In this episode, Ashruti Singh shares some valuable advice and guidance to help you succeed with product marketing today.
About Our Guest
Who they are: Ashruti Singh, Global Director of Product Marketing for SAP.
A bit of background: Ashruti has been with SAP for almost 10 years now. Throughout her career, she's led marketing and cross-functional teams for platform-as-a-service, software-as-a-service, data and analytics products, and much more. She also has deep industry experience in both the telecoms and finance sectors.
Where you can find her: You can connect with Ashruti on LinkedIn here.
Prefer Video? Watch a full video of the podcast here…
Episode Takeaways
Here you'll find some of the best advice from the podcast that you can easily digest and learn from.
1. What are the core responsibilities of a product marketing role, and how is this evolving over time?
While the demand for product marketing is growing rapidly amongst B2B tech companies right now, a surprising number of people are still unclear on what exactly it involves.
Of course, as more businesses begin to see positive results from their investment in product marketing, the role itself is evolving and becoming more defined.
Ashruti said, "I got into product marketing many years back from product management and, honestly, I didn't know what it was about. But when I read the job description, I said yes I can do it because I can develop content, I can do competitive analysis, I can work in a global role, I can create value propositions. That's exactly what I did in my first role."
"But over the years, I've developed my own methods, frameworks, and even scope of product marketing, given how we have worked in various different companies. So, I would group the key responsibilities into:
Positioning the product in the market
Content development, which spans across your customers' lifecycle.
And, of course, there are also important elements within that, like competitive differentiation, analyst relations, pricing, sales enablement, and demand gen."
In terms of getting your product positioning right, Ashruti said, "I've kept positioning as a distinct point because that's the thing that really helps sales and that helps you differentiate. And you cannot have positioning where someone replaces your name with a competitor's and that still applies. So, it has to be differentiating you from the competition. And I also think that positioning is the most important but least understood topic."
Bonus Tip: Ashruti recommended a book called Crossing the Chasm, by Geoffrey Moore, which is helpful for anyone trying to improve the positioning of their tech products. 
When discussing the other important aspects of a product marketing role, Ashruti added, "Beyond positioning, I think the next few are content development, competitive differentiation, analyst relations. They are absolutely essential. And the last one is demand generation. I think this has changed in the last few years, because a lot of it has become digital. It can be run centrally, so product marketing is doing that now even though it typically didn't used to be part of product marketing."
2. What do you think product marketing managers should be looking for in a new role today?
One of the most important things any product marketing manager needs to be able to do is manage the various stakeholders they work with.
Why? Well, as we mentioned in last week's podcast, product marketing needs to bring together the sales, marketing, and product teams, and ensure they're all working together towards shared goals.
Ashruti built on that point, saying, "I think it's very important to understand what roles people play and how the product marketing manager will work with them, and where the handovers are with all the different stakeholders."
"So, it's essential to have defined responsibilities, let's say for sales enablement, and let's say when and who from you're going to get a product specification. Because sales on one side and product on the other side, those are your very strong stakeholders, and how you manage them is very important."
Another crucial quality product marketing managers need in today's market is, unsurprisingly, a strong level of comfort working in the technology sector. This should also include keeping up with what your competitors are doing with their products.
"I cannot emphasise enough the need to have a good market and technology understanding," said Ashruti. "What are competitors doing, and where's the industry moving? And if you want to visualise your role on a day-to-day basis, that's what I did when I was just starting out in product marketing on a tactical level."
3. What advice would you give to anyone pursuing a product marketing role to help them ace their interview?
It's unlikely you'll be going for a product marketing role if you're just starting out in your career, as it requires a certain degree of experience in a B2B tech environment, or at least in a sales or marketing environment.
That's not to say, of course, that you can't be successful in product marketing if you're converting from a different role. With that in mind, then, let's explore how to use your existing experience to become an effective product marketer.
Ashruti said, "People who are just starting out in their careers probably won't be going into product marketing, because you need to have a fair bit of understanding on why something's written and what that means. Earlier on in my career, maybe 10 years back, I wouldn't be able to recognise that a certain sentence is there because you want to position strongly against certain vendors. That's something that you gain over the years, that experience you build. And that's why it's strategic, where you're able to position yourself in that way."
"If somebody was interviewing for product marketing, interestingly, I've hired people who were not from product marketing. What we look for on a very high level is, like I said, strong business understanding. So, if you were in a sales role, you know how the customer thinks, what they want, and so on. Or you might have a very strong technology understanding. If you're good at one of these, you'll definitely thrive as a product marketer."
Ashruti also advised to be honest about your level of experience if you're looking to go into product marketing. Product marketing can be done with plenty of transferrable skills from other disciplines, and the rest can be learned. There's no need to exaggerate how familiar you are with a new discipline, as that will almost certainly back-fire eventually.
She added, "I also think people should not position themselves or pretend to understand product marketing. You can always learn, because there's a lot about just business and technology and common sense. So, you can always learn, but should not pretend you know how to do positioning or what content you should develop when. This is something you'll get trained on."
If you'd like to learn more about the impact product marketing is currently having on the B2B tech sector, listen to our recent podcast episode with Vakis Rigas, VP of Marketing at Shypple, here.
A few other highlights to look out for in this episode:
Current trends which are impacting product marketing and causing the role to evolve.
Common mistakes businesses make with product marketing, and how to avoid them.
Guidance on when the right time could be for your business to invest in a product marketing function.
More advice for people looking to pursue a new career in product marketing today.