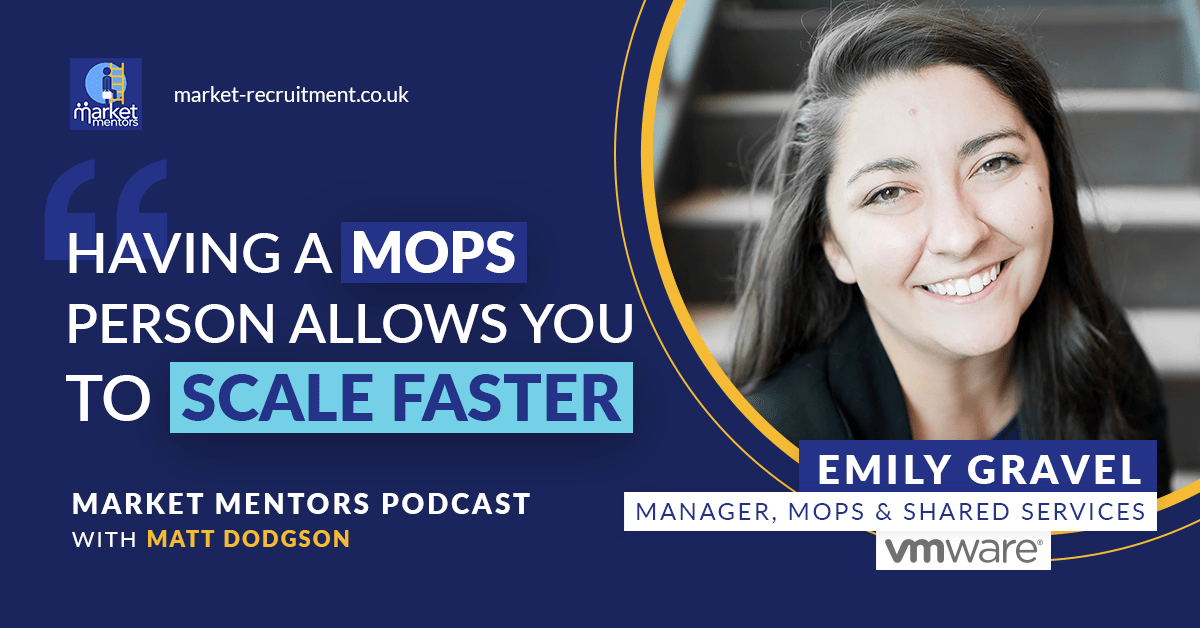 Introduction
As all aspects of B2B marketing become increasingly digital, the marketing landscape is becoming more fragmented. So much of our daily marketing activity is now dependent on an ever-changing mixture of digital tools, systems, and automated processes, it's difficult to keep up with everything. That's where marketing operations comes in.
Having a marketing operations function within your marketing team is becoming critical, not just for large enterprises but for businesses of all sizes. Why? Because it keeps everything running smoothly and enables the rest of the team to excel in their own roles.
In this episode, Emily Gravel provides useful advice for setting up a marketing operations function that will make your marketing team more effective and drive increased business growth.
About Our Guest
Who they are: Emily Gravel, Marketing Operations and Shared Services Manager at VMware.
A bit of background: Emily has been working in marketing operations for almost 10 years now, having previously worked for global technology companies such as Cisco. She's currently based in the Greater Boston area, in the United States.
Where you can find her:
Prefer Video? Watch a full video of the podcast here…
Episode Takeaways
Here you'll find some of the best advice from the podcast that you can easily digest and learn from.
1. How do you define the role of marketing operations, and what signs might show a business they need it?
According to Gartner, marketing operations is, "The function of overseeing an organisation's marketing programme, campaign planning, and annual strategic planning activities. Other responsibilities include technology and performance measurement and reporting, and data analytics."
Because so much of our marketing takes place in a digital context now, having a marketing operations function is so important because it helps keep every part of your marketing team ticking, but also keeps everyone working in harmony. Naturally, this allows you to improve your performance and scale your business faster.
In practical terms, Emily had a great analogy, likening marketing operations to the engine in a vehicle.
She said, "Marketing operations is really just keeping the engine of your organisation's marketing team running. When you look under the hood of a car, some people that don't really know what's going on under there just say, 'Hey, it's a car. This is an engine and it's working.' But inside of that, there's different specialisations that you can have. So, say I learned how to change the oil on my car a few years ago. From a marketing operations point of view, now I know what the CRM to marketing automation tool connector is and how it works."
"You can change the fluid for a social campaign, you can change the battery for the paid social or other paid media stuff. The engine inside of marketing is really dependent on the tools that you put in it, the people that are accessing it, and marketing operations is essentially the engineer for your engine to make sure that it's running really smoothly and allowing you to move forward."
With that explanation, it becomes easier to appreciate why having a dedicated marketing operations function has grown so much in popularity over the last few years. What was recently still a concept that was only being entertained by large enterprises with marketing departments made up of dozens of people, now even small start-ups are recognising the value of this crucial role.
For any businesses that haven't yet made that recognition, it's wise to begin considering the opportunity for increased efficiency and effectiveness that would come with hiring a marketing operations specialist.
Emily added, "The trigger for a business realising they need to put a dedicated marketing operations person in place is that you have a business and have the budget to pay them, and that's really it."
Learn more about marketing operations, and why it should be the foundation of any successful marketing team, in our recent podcast episode here.
2. Would you recommend hiring someone more junior or more senior when setting up a marketing operations function?
When creating a new function or introducing a new role into any team, it's difficult to know where to begin with the person you hire. It's a common problem many businesses struggle with when hiring for marketing roles, as you're unsure how much experience candidates will need to get the job done.
Emily said, "It depends on the size of your company and your budget, honestly. One of the things we've been seeing over the past few months is there's been a lot of need for marketing operations people, but the market itself for those people is generally low. So, right now, the budget you're going to require to get an exceptional marketing operations person, especially a senior one, is going to be pretty big."
"However, the investment turn-around on that is going to be great," said Emily. "Because they've had experience in the field. They know what you're looking for. So, if you need somebody to come in and fix something, that's when you should get a senior person. You say, 'Hey, we totally messed this up. We need help. Please help us.' And that's where you could get a senior marketing operations specialist. They'll look at your problems and try to do some change management practices to make a positive impact for you."
So, if you're already facing internal challenges in your marketing team, it may be worth recruiting an experienced specialist who can introduce new processes and best practices to get you back on track.
On the other hand, if you're just getting started and building a new team, a less experienced candidate could be a smarter choice to come in and learn as they go.
Emily added, "If you're just starting out, find somebody junior who has a lot of curiosity and isn't afraid to raise their hand when there's a problem. I think that's a foundational aspect of marketing operations which is really important, making sure that they're curious and not afraid to ask questions or ask for help."
3. How would you suggest a marketing operations person should be spending their first 90 days in a new role?
Emily had three key suggestions for how a new marketing operations person should spend their first few months in a new role.
She explained them as follows:
1 – Compliance
"The first thing to do is check on compliance. Make sure all the legal and compliant things are in place. GDPR is real. Castle is real. CAN-SPAM is real. Make sure that they're being done effectively, because now that you're the marketing operations person, you're the system manager for this. Please make sure that you're covering yourself."
2 – Tech Stack
The second thing is to make sure you understand what's actually in the tech stack, and that's where the pre-work comes in.
When somebody comes in for marketing operations and they're the first hire, businesses should at least just tell them what tools are in place. It could be anything from Jotform up to Salesforce. This could be an opportunity to say, 'All right, you have Jotform for this, but maybe let's move to Jira because you're already paying for it.'
So, make sure you understand the stack and why they're using it. A few years ago, I wrote an article about creating a tech stack dictionary. That should be one of the first things you do and something I found really helpful, especially starting in a new company.
All this requires is to note down:
The tool
The vendor name
Internal point of contact
External point of contact
What other tools it's connected to
Any regular maintenance responsibilities you have.
For example, with Marketo, you should be doing a database project at the very least once every half year. So, doing things like that, and creating a maintenance calendar, as part of a tech stack dictionary inside your first 90 days is going to set that foundation for all the other stuff you're going to do later on.
3 – Internal Communication
The third thing is to just listen to other people in the company. I'd recommend setting up interviews with your sales operations people, and with other people from the sales and marketing departments. Talk to the C-suite if you can as well, and ask what things they actually care about inside of marketing.
Ask questions like:
Do you want metrics on conversions?
What do you think success is with a marketing campaign?
Is it them clicking through?
Is it them filling out the form?
Is it them getting to AQL?
Have these conversations as early as possible, and be a sponge, so you can begin to understand what the business is actually asking you to do. Because, especially when it's a first marketing operations person, most of the time companies say, 'Everybody's getting marketing operations, so I need it too.' And that's fine, because they probably do.
However, because of that, the marketing operations employee also has freedom to define what their charter is, because it's more loosely defined, especially if they're the first one.
For advice to help you build a winning marketing team when working remotely, check out this useful guide here.
A few other highlights to look out for in this episode:
More useful guidance for establishing a marketing operations function that's set up for success.
How to measure performance and impact when running a marketing operations function for the first time.
Whether businesses should hire someone with platform-specific skills and experience to match their existing tech stack.
Interview tips and advice for anyone interviewing for marketing operations roles.