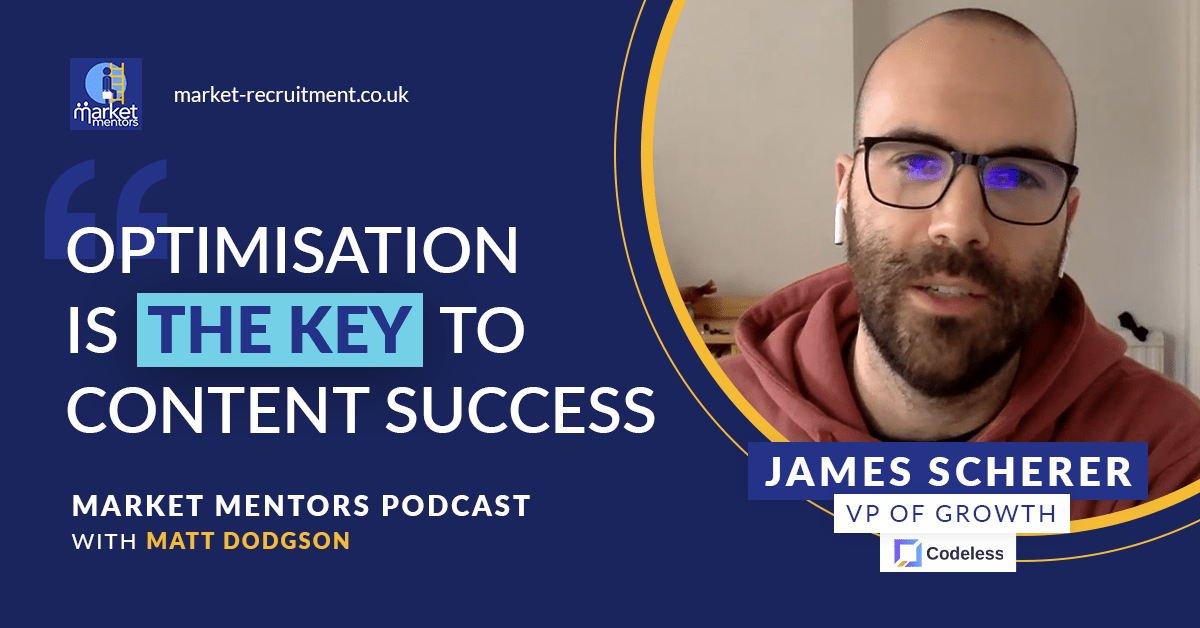 Introduction
Codeless is a content production company that supports fast-growing B2B tech businesses. As VP of Growth at Codeless, one of James Scherer's most notable recent projects has been delivering a large-scale content marketing strategy for tech giant Monday.com.
In this episode of the podcast, James gives us an exclusive insight into how Codeless has driven significant growth for Monday.com and helped position the brand as a leader in the B2B SaaS market.
About Our Guest
Who they are: James Scherer, VP of Growth at Codeless.
A bit of background: James has been interested in marketing since graduating university in 2010, with a degree in English. He's since always had an affinity for 'merit-based' inbound strategies, like content marketing, rather than traditional outbound marketing. Originally from Canada, James is now based in Cardiff, Wales.
Where you can find him:
Prefer Video? Watch a full video of the podcast here…
Episode Takeaways
Here you'll find some of the best advice from the podcast that you can easily digest and learn from.
1. How did Codeless come to work with Monday.com on their content marketing strategy, and how did you approach the challenge?
Although you've probably heard of Monday.com already, for the benefit of anyone who hasn't, it's worth mentioning the company considers its SaaS product a 'workplace operating system.'
Essentially, Monday.com is a platform that allows businesses to organise every facet of their business in one place. That includes project management and collaboration, as well as other elements like CRM, sales pipelines, task management, and so on.
The company's marketing department has around a $12million budget per month, and a majority of that goes towards advertising. When the marketing team approached Codeless for support in late 2020, they were looking to elevate the brand with a huge content marketing push.
James explained, "They came on looking for a high volume of content, and the marketing team had been tasked to find a number of different content agencies to publish a hundred or more pieces of content in every given month. This was mostly long-form blog content targeting a massive list of topics they'd already identified and prioritised."
"They told us they had a goal of doing 800 pieces of content over the next 12 months, with the majority of them in the first six months. And us, being greedy, but also being built to scale, agreed to help. The reason that they wanted that was because they were early-stage, but massively funded."
Such a big investment in content marketing was still a secondary marketing effort for Monay.com, though. When they came to Codeless, they already had other avenues of growth already fleshed out, especially their paid advertising.
James continued, "They wanted to do a huge amount of volume relatively quickly, and we were able to scale up and match what they were looking for. I think we brought on 22 new content writers to help, and we ended up doing about 825 pieces in the first nine months working with them.
"When they first came on to us, they were doing four primary categories of content, which was pillar-oriented stuff. They had the most competitive key phrases they wanted to target, plus comparison content against their competitors, then 'best of' content, supporting content for the pillars, then from there we moved on to begin writing content about new product features and innovations. We've slowed down a bit since then."
Codeless is still working with the Monday.com team on their content marketing strategy to this day. In fact, they just produced another 60 pieces of content as recently as this month, although that's a much lower volume than the early days.
"They wanted to catch up with their content marketing, is the long and the short of it," added James. "And Codeless answered that call."
2. Based on your experience, and your success with Monday.com, what are some key mistakes other B2B companies are making with content marketing today?
With so much experience delivering content marketing projects, and driving significant growth for leading B2B SaaS businesses, James understands what can make or break a strategy.
One of the most common mistakes he sees businesses making today is striking the wrong balance with how much time and effort they invest in their content at the appropriate stages.
He explained, "Most businesses either don't invest enough, or they invest too much. Finding the balance between creating content that Google will like, but not investing so much that if nothing happens with it you haven't spent five grand on a piece of content. It's an interesting and challenging line to walk."
To ease this challenge, and set yourself up for success, James said:
"I'd recommend listeners, and everybody within the content space, consider the creation of great content always, but not amazing content until you have traffic."
"Do not be afraid to update and optimise content after the fact. Great content will get to the second page of Google. Once it's there, if it gets there, that's when you:
Increase the number of internal links to it
Invest in gaining back-links from external sources
Optimise the content further
Update the content if necessary
Add to the word count and increase its value
Try any other tactics to improve and amplify it.
But don't throw everything you have at every single piece of content too soon, because you're going to wear yourself out. You're going to wear your writers out."
Instead, James advised to publish a high volume of quality content without investing too heavily in one specific area or topic before you know what works best for your business.
He added, "Publish a high volume of really good content. See which of those pieces, which of those categories, which of those pillars clicks with Google, and then double down on it after the fact."
"Optimisation is actually the key to content success, not the creation of great content."
3. What skills and attributes do you look for when hiring content marketing managers to handle projects like this one with Monday.com?
As someone who is leading a content production company which is capable of scaling up to meet client demand, James has plenty of experience hiring for content marketing roles.
Whether you're looking to build a content marketing function within your business, or you're on the hunt for a new content marketing role of your own, James offered some useful insights.
He explained, "I think that content is one of those spaces that walks the line between creativity and marketing, creativity and sales. And walking that line intelligently is a core component of it. So, I would look for:
Someone who is charismatic
Someone who can communicate well internally (with writers and editors, sales, product managers, and even the C-suite)
Someone who can communicate well externally (with clients and other stakeholders)
Someone who presents thoughts coherently, clearly, and consistently
Someone with an organised mind
Someone who knows what good B2B content looks like.
Somebody with a background in project management is just as valid as somebody with a background in marketing."
So, it seems the inter-personal skills, and some of the other 'softer' skills, are the priority from James's point of view.
Of course, a content marketer also needs to be able to write well, edit their own work, and understand the creative processes. But it is a valid point that skills like writing and SEO can be taught, and can also be supported by very intuitive digital tools these days. Having the right attitude and competencies are often more difficult to learn.
James continued, "You can train, or request that they get super smart with lead generation best practices, website optimisation, and all the rest of it. What's more difficult to train is an organised mind and a charismatic personality, both of which are just as important to me."
"Don't focus only on people who have a marketing background, or even exclusively writers," added James. "Focus more on the personality of the person, how they communicate, and the base intelligence, because there are so many fantastic training programmes and courses out there. A lot of the rest of it can be taught."
A few other highlights to look out for in this episode:
How James built and managed a team of writers to deliver such a comprehensive content strategy for Monday.com.
How (and why) to devise a category-led content strategy of your own, based on the principles James used with Monday.com.
How Monday.com used an advanced approach to determine the optimum keywords, topics, and pillars to target with their content strategy.
On-page optimisation tips for specific pieces of content, and James's recommendations for digital tools which can help you get this right.