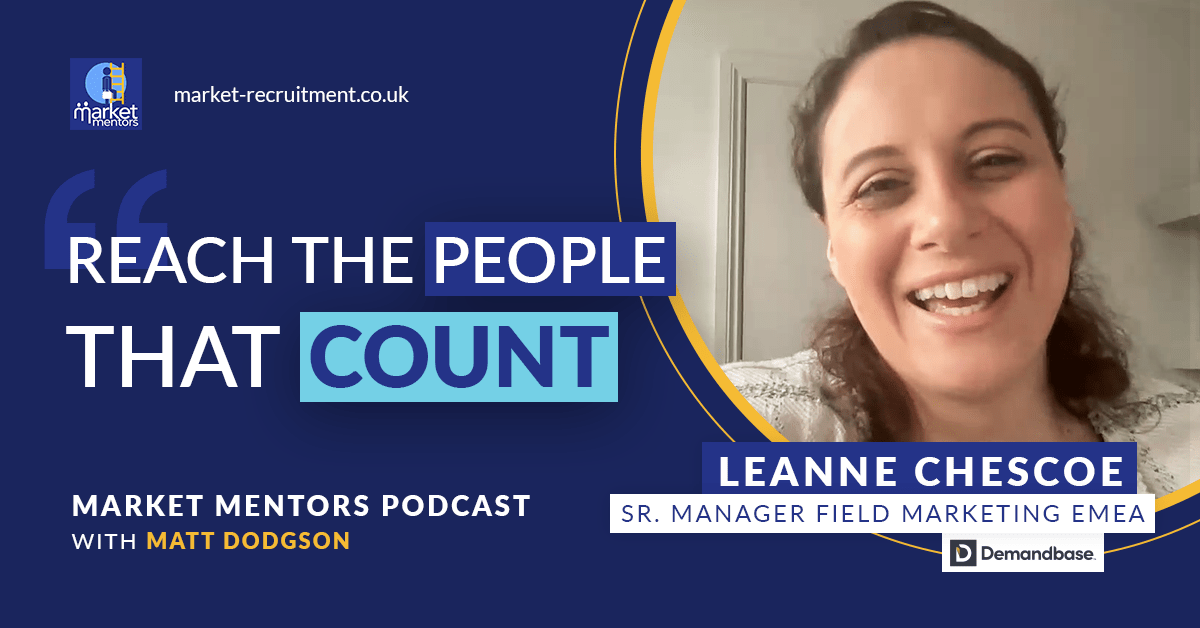 Introduction
Account-based marketing (ABM) is a strategic approach to marketing that targets individual customer 'accounts' with campaigns specifically aimed at them.
This is becoming increasingly popular in today's business landscape, especially in the B2B Tech space where marketers are under more pressure than ever to deliver results.
In this week's podcast episode, Leanne Chescoe provides detailed guidance for implementing an ABM strategy of your own to help drive pipeline and significant growth for your business.
About Our Guest
Who they are: Leanne Chescoe, Senior Field Marketing Manager, EMEA, for Demandbase.
A bit of background: Leanne has been working in marketing for almost 15 years, and has been with Demandbase since 2016. As well as being an ABM expert, she is also an ambassador for the Women in B2B Network.
Where you can find them: You can connect with Leanne on LinkedIn here.
Prefer Video? Watch a full video of the podcast here…
Episode Takeaways
Here you'll find some of the best advice from the podcast that you can easily digest and learn from.
1. What advice would you give to marketers looking to get started with account-based marketing in the current B2B tech landscape?
Does this scenario sound familiar? You have lots of customer and prospect data to work with.
Unfortunately, that data is fragmented, scattered across a variety of systems, and your sales and marketing teams aren't all aligned on the same set of accounts?
If so, you're likely facing a number of challenges and limitations:
You don't have visibility or insight into all your account interactions and activity.
You can't identify the right accounts to target with the right communications.
You're struggling to orchestrate relevant interactions with prospects across the right channels.
There's disparity between your marketing tactics and your sales activity.
Your sales and marketing teams aren't aligning with one common view of your accounts.
Tracking marketing and sales activities, and measuring success, is difficult.
Many businesses find themselves facing these challenges at some stage. Thankfully, Leanne had some advice for using ABM to bring structure and direction to your sales and marketing efforts.
"I think the first part is really about embracing the data, and creating that single view of all of your account data so it's in one place," said Leanne. "That way, your sales and marketing teams can act as one cohesive team. That's really critical for any go-to-market strategy to work effectively."
The second part of that is to gain more clarity about the market, and the target accounts, you should begin to prioritise.
Leanne continued, "Once you've got all that data foundation in place, then you start building your total addressable markets. As a marketing department, work with your operations team and your sales team to really understand who are the best accounts you want to target. Who matches your ideal customer profile?"
Once you've done that, Leanne suggested looking to digital tools to help you begin to leverage the appropriate data and take action with it.
She added, "There's technologies out there that can help you build a target account list based on the accounts that match that profile, then you layer on intent data. Out of those accounts that tick the ideal customer profile box, who are the ones that are in the market right now that you can go and focus on?"
---
The Complete Hiring Guide for Account Based Marketing Jobs + Expert Advice on How to Find the Right Fit
---
2. What advice do you have to help marketers ensure their sales teams are aligned with this type of ABM strategy?
As mentioned above, getting alignment between sales and marketing is crucial to ensure you're both hitting your targets and performing well.
To help make this a reality in your own business, Leanne said, "You need to really activate and empower your sales team by giving them that account intelligence, so they have all that information."
Leanne suggested a number of ways to do this, including:
Regular reports sent out via email.
Slack channels dedicated to individual accounts or your overall ABM strategy.
Push notifications based on customer activity and behaviour.
Customer engagement feedback.
Integrating all your systems to maintain accurate and up-to-date account info.
Sharing other data-driven customer insights.
Clearly, it's wise to make things as easy as possible for your sales team, so they're fully aware of all the relevant data related to each target account and how best to use that. It's also useful to have regular meetings, to bring both teams together and ensure everyone is on the same page.
Leanne explained, "Another thing we do with our sales team every month is what we call our ABM stand-up. So that's myself, the sales-person, and their SDR getting together on a monthly basis to go through all the intent data for all our target accounts."
"This includes analysing things like which accounts are showing high intent, what web pages they visited, what that engagement looks like, who are the most engaged people, where they're having that engagement, and so on. And then we ask, what are we going to do? What is the next best action for us to take with each account?"
Leanne added, "Having those regular meetings with the sales team, showing them all of that data, working together and coming up with a plan where you can help them, that's been really effective."
3. What sort of metrics should be tracked in these kind of situations to stay focused and measure success?
Before getting into specifics, it's important to note that you should keep your ABM lens firmly over all the metrics you do choose to measure before doing any analysis.
To quote David Ogilvy:
"Don't count the people you reach, reach the people that count."
Leanne discussed this point further, and some of the metrics she suggested tracking include:
How many target accounts you're engaging with.
Whether those target accounts are in the pipeline.
The percentage of target accounts you have in the pipeline.
Whether those target accounts actually visit your website.
How much time they're spending on your site.
What content they're engaging with.
How many people within your target accounts are engaging with programmes.
How many contacts you have within your target accounts.
How many of those target accounts are moving into pipeline and becoming closed business?
At Demandbase, Leanne and her team also regularly make the comparison of a target account against a non-target account to help them understand how closely they're working towards their goals.
She said, "We'd look at a comparison of a target account versus a non-target account. So, what is the average deal size? What are the close rates and funnel velocity? Generally, what we see is a target account closes much quicker than a non-target account, because we've been able to identify them earlier on in the buying journey when they're just starting to show that intent signal. This means we can engage with them a lot quicker in the buying journey, but also we're aligning on those different interactions as well."
"And we see those average deal sizes increasing," said Leanne. "Because we're able to have those conversations earlier and prove the value of our type of solution."
A few other highlights to look out for in this episode:
Some potential challenges to be aware of with this approach, and how to avoid them.
What Leanne considers her ideal tech stack for her marketing strategy.
What Leanne feels businesses should be doing to close the gender inequality gap.
Leanne's advice for young women in marketing looking to progress in their careers today.