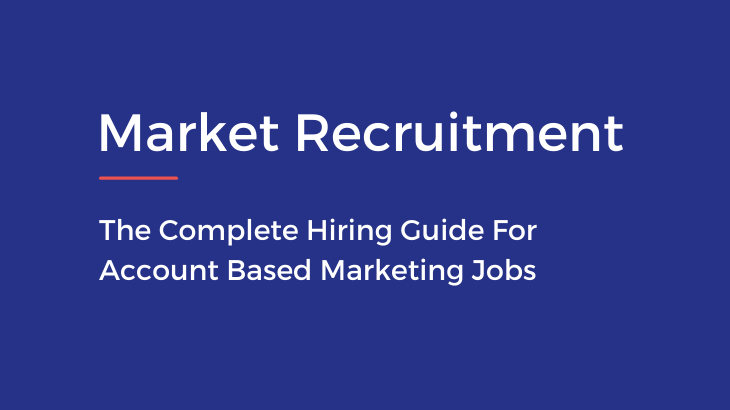 In this complete hiring guide for account based marketing jobs, we're going to talk you through everything you need to know to hire the very best ABM'ers, so you and your business can start reaping the benefits.
Ask any D2C performance marketer about paid ads and they'll tell you how important it is to target consumers with precision. Relevant, custom and personalised user journeys are critical to success.
And the same is true for B2B. Enter Account based marketing.
Account-based marketing or ABM is a marketing strategy that aligns sales and marketing helping you land and grow the account, through personalised marketing campaigns.
But like any B2B marketing tactic or tool, you need the right people on your team to plan and execute successful ABM campaigns.
And ABM'ers are some of the most sought after marketers right now in the B2B Tech space, so if you're looking to hire one today then let's get started.
Recap: What is ABM?
ABM or key account marketing is a 1:1 approach where marketing and sales team up and treat each prospect as a market. While ABM generally works alongside inbound marketing, the difference lies in creating personalised content. (ITSMA's definition)
Benefits of ABM;
Aligns sales and marketing
Offers a better CX
Produces targeted campaigns
Optimizes the business approach
Strengthens customer relationships
Do You Need ABM at Your Company?
If you're thinking about whether or not you need to hire someone for your ABM job, it's worth considering if you need to use ABM in the first place.
The traditional sales funnel focuses heavily on lead generation. Marketing is usually tasked with generating leads, and the emphasis on quantity leads to a ton of unqualified leads being passed onto sales.
Sales teams also spend a ton of time on lead generation instead of what they should be doing—closing. In fact, according to Pipedrive's State of Sales Report 2020-2021 lead generation is a top challenge for sales teams.
The other problem with this model? Marketing leads ≠ sales ready.
ABM, on the other hand, starts by identifying your potential customers that have the biggest revenue potential and then targeting them specifically with content and a personalized sales approach.
Is ABM Only for Large Companies?
Historically, ABM has been used by large companies. And quick search today will still show many enterprise tech companies with live account based marketing jobs, but why?
For one, inbound marketing is relatively less complicated and expensive. And since the efforts of marketing, sales and customer success have to be co-ordinated, some experts believe that it is only suitable for large companies.
While others cite the ABM for small and medium businesses is just as beneficial. In an article for B2B Marketing, Alex Clarke explored whether SMEs can use ABM.

"The principles of ABM are relevant in targeting any size of organisation." – Mike Boogaard, co-founder and MD of ABM agency ALIAS Partners
"ABM works because it keeps us focused on the important features of powerful marketing communications" – Andy Bacon, lead ABM advisor

How Does Account-Based Marketing Work?
Fast forward and imagine you've filled your ABM job, it's now time to get ABM working in your business.
And there are 4 fundamentals of a best practice ABM campaign:
3 types of ABM
Choose the right accounts
Align with sales and create SLAs
Find the proper channels and offers
3 Types of Account-Based Marketing
ITSMA has defined three approaches to ABM—one-to-one ABM, one-to-few ABM, and one-to-many ABM.
Each type has its merits and requires a specific level of investment.
One-to-one ABM – Marketing and sales get really granular with their campaigns since they're targeting a small number of accounts.
One-to-few ABM – The focus is on account clusters that are similar and campaigns can be run to target the same attributes.
One-to-many ABM – Larger account lists means martech is heavily used to personalise outreach.
Choose the right accounts
Marketing and sales work together to create lists that match the ICP (ideal customer persona) based on the ABM approach. The closer you get to your revenue goals, the more you should invest in outreach and personalisation.
Align with sales and create SLAs
The "who, what and when" is the most crucial part of ABM campaigns.
Who's going to reach out to the account?
What is the message going to say?
When should sales reach out?
Since marketing and sales butt heads a lot, it is essential to establish SLAs well ahead of time to avoid issues later in the process.
Find the proper channels and offers
Here's a great resource from ITSMA on how B2B marketers should divvy up their offline and online campaigns.
For instance, the one-to-many approach would benefit from online campaigns, while one-to-one would require you to set up booths at in-person events.
And you can choose the offer based on the stage of the account in the ABM funnel.
Given what it takes to run a successful ABM campaign, no one can do this solo so it's always worth considering this before you hit go on your account based marketing job.
---
Check Out This Video – Hiring an Account Based Marketer
---
ABM Jobs -Who Do You Need on Your Account-Based Marketing Team? What Are Their Responsibilities?
An all-star ABM team should ideally have:
Head of ABM
Sales/BDRs
Marketing Operations
Digital Marketing Manager
Field Marketer
Integrated Campaigns Manager
Content Manager
Depending on the size of your organisation, the perfect team may need to be scaled up or down. But let's take a look at some of the ABM jobs or roles you should be hiring for:
Head of ABM – The person who oversees your entire ABM program and reports on the results to the C suite.
Integrated Campaigns Manager – This person works across different teams in the company to make sure all offers and channels are aligned and optimised.
Content Manager – Since personalised content is the name of the game, you need a manager that can support your efforts at scale.
Digital Marketing Manager – The person who is responsible for all your online ABM activities. Align your ABM and digital strategy to run both online and offline activities.
Field Marketers – The person who helps execute events and campaigns on the ground and acts as a bridge between potential customers and your salespeople.
Marketing Operations – Martech enables you to track the ROI and connect the systems and people in ABM.
Sales/BDRs – Sales is an integral part of the ABM team. Your BDRs turn interest into a relevant opportunity.
Here's an org structure to help you visualise ABM roles in your company:
Where Should This ABM Job Fit Into Your Existing Marketing Team?
ABM isn't a separate arm of marketing—it's a type. So while you may have dedicated employees to lead ABM initiatives, the others in the marketing team will work with them on campaigns in some capacity.
Here's how to determine how your existing team can support your efforts:
Who helps determine your ICP and optimal business segments? Usually, Product Marketing owns this, so let them run point on this.
Who is responsible for reviewing account data regularly? Marketing Operations can help you with this.
Who drives opt-ins and develops plays? Demand Gen calls the shots here, so have them handle these ABM activities
Who communicates with sales and other stakeholders? Revenue Marketing or Marketing Ops handle this.
---
Further Reading – 3 Account Based Marketing Examples to Take To Your MD
---
Hiring for ABM Jobs – Step-By-Step Guide (+ Interview Questions From Experts)
You know who you need on your team and how they'd fit with your existing team. Still, the real question is how do you find the right talent for your account based marketing job?
We've broken it down into 8 steps:
Identify your needs
Create a job description
Have a recruiter & hiring manager meeting
Post and promote jobs
Screen applicants
Hold job interviews
Roll out a job offer
Onboard the new hire
Step 1: Identify your needs
Here are a few questions to ask:
Who do you need on your ABM team? Someone to help with existing activities or someone to lead? What skills should they have? What kind of experience are you looking for? And do you really need someone in ABM right away?
Step 2: Create an ABM job description
Who's your ideal ABM'er? Depending on the exact role in the team, the responsibilities of an ABM person would differ. But nailing the job description (JD) is crucial in finding the right person for the role.
Here's an ABM job description for an ABM manager:
Account-Based Marketing Manager Job Description
We are looking for a senior, strategic and commercially minded account-based marketer who will be responsible for defining and delivering marketing initiatives that generate new sales pipeline and expand on existing opportunities within target accounts. Working closely with our sales teams, you'll play a key role in growing our ABM marketing function, an exciting and strategic area of focus for our business as we move towards our Series B fundraising.
Responsibilities of the Account Based Marketing Manager
Strategy; create and execute multi-touch account-based marketing plans that focus on demand generation and deal acceleration within our most strategic accounts, including 1:1, 1: few and one: many initiatives to help achieve sales revenue goals in the EMEA market.
GTM; research specific industry sectors, organisations and personas to produce targeted materials and messaging, including customised collateral to support the sales teams across the entire sales cycle.
Events; plan and execute small scale events (lunch learns, breakfast meetings or webinars) for targeted accounts.
Sales Support; develop strong relationships with account teams and customers. Act as the link between the sales team and global marketing, ensuring materials meet brand requirements and messaging is consistent.
ROI; measure and report on the impact of marketing campaigns to support overall account and business goals.
Account-Based Marketing Manager Requirements
6+ years B2B marketing experience, ideally in the software industry.
Proven track record with account-based marketing initiatives, targeted vertical campaigns, or demonstrable success impacting pipeline growth.
Experience developing and executing integrated marketing campaigns using digital tactics, events, webinars and emails as well as content creation – having often had to manage multiple marketing programs simultaneously.
Excellent communication skills including the ability to develop, and repurpose, written sales and marketing copy.
Strong commercial acumen with the ability to understand and articulate key business drivers to senior decision makers in a variety of industry sectors.
Proven ability to work collaboratively and cross-functionally, with experience of working closely with a sales organisation.
P.S. Check out other job descriptions you can use when hiring
Here's an ABM job from LinkedIn for an ABM Digital Specialist:
A strategic thinker with a proven track record of successfully leading, managing and implementing best-in-class integrated campaigns. You will develop an ongoing dialogue with the targeted buying groups through personalised experiences across the buyer journey. You will directly contribute to generating a new pipeline and increasing Customer Lifetime Value.
The ideal candidate is a detail-oriented contributor with a passion for data-driven decision-making and experience in developing ABM programs using data analysis, web, email, SEM and paid media to generate and progress engagement.
Responsibilities
Leads end-to-end digital orchestration of ABM campaigns and key activation moments to support the business objectives and strategy, using our ABM tools
Develops the campaign architecture and channel mix in coordination with other teams to drive engagement across the buyers journey for specific buying group roles and target accounts
Defines the target list of ABM accounts in close collaboration with the marketing operations and regional marketing & sales teams
Leads the content strategy by partnering with Product Marketing and Content Marketing teams to develop story arcs, buyer journey aligned content plans and key messaging
Partners with Web Team and Product & Content Marketing teams on digital footprint and strategy related to supporting the campaign objectives
Develops nurture strategy and framework in collaboration with Marketing Automation Specialists and Regional Marketers as required to support localisation
Partners closely with SDR and global Sales team to ensure strong marketing and sales alignment
Track ABM account engagement metrics to ensure business impact is realized from ABM programs.
Requirements
Bachelor's degree required, marketing or business-related degree a plus
3+ years of Professional B2B marketing experience leading demand generation programs preferably in the tech and/ or information security space
1+years supporting a named or target account model or working within a strategic account team (Experience in Account-Based Marketing highly desired)
Positive, can-do attitude, with the ability to work with marketing and sales professionals, and ability to prioritize numerous projects simultaneously
Quick starter who is willing to roll up their sleeves and do the work when needed.
Proficiency with marketing automation and CRM tools like Marketo and Salesforce.com
Experience with ABM tools such as 6sense & People.ai is a plus
Data driven and familiar with ABM demand unit waterfall metrics
Strong leadership and consensus building skills, with a willingness to continually embrace personal and professional development
Comfortable working with ambiguity and change. Must be able to work in a fast-paced environment.
Performance Indicators
Target account engagement
Target account opportunity pipeline creation/acceleration
Database growth/accuracy of key contact personas within target accounts
Sales'/partners' utilization of marketing programs and subsequent feedback
Response rates to marketing programs within accounts
Customer lifetime value increase.
Pro Tip: When constructing the ideal candidate profile, look at your competitors and who they've hired to fill in for ABM roles.
Step 3: Have a recruiter & hiring manager meeting
Make sure your recruiters and hiring managers are on the same page about the ideal profile and all the technicalities involved in the role. It's important the recruiter you're working with has a strong understanding of what ABM is. How many account based marketing jobs do they fill? How would they assess what a good ABM person looks like? These questions are worth firing at the recruiter to make sure you're working with someone who has the expertise to help you.
Step 4: Post and promote your ABM job
Where you post and promote your ABM job is equally important to finding the right talent. LinkedIn and ITSMA are obvious choices.
But here are 10 other job boards you should try:
Market Recruitment*
Adzuna
CV-Library
Indeed UK
Monster UK
Otta
Reed.co.uk
Totaljobs
Unicorn Hunt
WorkInStartups

*Whether you're looking for the first employee or an executive, we help you find the right person for ABM roles.

Places where you may want to promote your ABM job:

These two LinkedIn groups focused on ABM:
Step 5: Screen applicants
Screen the candidates that applied for the role by making sure they meet the right pre-requisites and evaluate their CVs, cover letters and past experience. If they came through a referral, inquire about their work and see if it's a good fit for you.
Step 6: Hold job interviews
Job interviews require a ton of planning and preparation. A bad hire can cost you more than time and effort—it can cost you money. So it's imperative you find the right candidate.
And it comes down to asking the right questions. We asked 8 ABM experts to share the one interview question that helps them assess someone's ABM skills, and here's what they ask potential hires:
'What account tiering or triaging criteria would you use to decide which type of ABM programme to deploy? e.g. one-to-many, one-to-few or one-to-one.'
'What's the connection between account-based marketing and revenue growth?'
'What does it mean to be truly "customer-centric" in the context of ABM?'
'Why should you choose ABM over other forms of B2B marketing?'
'If you were to advise me on how to start tackling ABM within my organisation, what would be the top 3 priorities you would suggest I focus on?'
'What is your experience in the full continuum of ABM, from strategic account selection, to building and/or supporting the technology stack?'
'How would you orchestrate the discovery period of an international-based customer? Draw me a timeline, actions and parties involved.'
'How important is it for you to build sales into your ABM plan, and how would you go about it?'
Step 7: Roll out a job offer
Make sure you include a detailed list of roles and responsibilities, the contract, and all the information about their salary, perks and benefits. It's essential both parties sign off on this before Day 1.
Step 8: Onboard the new hire
Set them up for success from their first day on the job. Create an onboarding plan that lasts at least a year to help them exceed expectations in their role and introduce them to the company culture. Provide them cover from unrealistic expectations and remove any barriers that might impede their progress.
---
---
Hiring for ABM Jobs? Listen to These Experts
Kaushik Satish, Director – Marketing (North America + UK) at Sense, shares, "Because ABM needs to work in tandem with sales, you need to hire people who have strong empathy for salespeople and the ability to build a deep understanding of the customer journey. They need to be able to anticipate sales needs and challenges—some of which their sales counterparts themselves might not be able to articulate—and build for it."
Filip Matekovic, Head of Marketing at Hunch, recommends focusing more on data and processes than storytelling and the need for a tech stack that allows you to go beyond the classic outreach. Matekovic also suggests taking a look at these Slack communities to find your next ABM'er:

The Trenches
Levi Olmstead, Senior Content Marketing Manager at Whatfix, shares some hiring questions:
"What are creative ways that a candidate has been persistent with hard-to-close accounts that have paid off? What tactics that are outside the norm have been successful?
What software tools would you choose to be a part of your ABM "must-have" digital stack? What ABM-related tools could you not live without?"
Olmstead adds that ABM professionals that thrive are typically scrappy individuals that don't necessarily have "set" ways.
"When I'm hiring for "scrappy" or "growth" roles, I like to look at eclectic backgrounds that have found success in many different roles. New professionals looking to impress are typically great hires for these roles, as they haven't learned unproductive habits or have yet to cement specific ways of working. BDRs and SDRs are great backgrounds to have as well, as they have typically had tough cold-calling numbers to hit, and aren't afraid to be persistent and get their hands dirty in tactical ways."
Chloe Addis, Head of Marketing at Headley Media, says that some essential skills are non-negotiable.
"With the role being focused on data and analysis, we wouldn't shortlist anyone that didn't have strong technical and evaluation skills. The right candidate would need to be able to walk into the position knowing how to use marketing programmes and take the insights to target the right audience strategically. We would also need them to be able to interpret the data to report on the impact of our marketing and lead generation accurately."
3 Tips to Find the Right Candidate for ABM Jobs
What you need is an influencer that knows strategy and has a sales mindset. Finding the ideal mix can be trying. Here's what to look for:
Tip #1: Do they like working with sales? Are they driven by the same motivations?
Someone that likes working with sales teams and has quota and revenue goals on their mind is the ideal fit. Look for past experiences with sales teams and how they navigated tricky situations.
Tip #2: Can they influence people?
A lot of ABM is orchestrating co-ordinated efforts between multiple teams and roles. Getting everyone's buy-in is crucial to ABM success. Can this potential candidate positively influence others to steer the campaign in the right direction?
Tip #3: Are they strategic?
If you hear "ABM is a campaign," that's a huge red flag.
ABM is a strategy, and without that strategic mindset, you might end up with someone who checks off a bunch of tasks from a list that have no real impact on your revenue. And even if the job is primarily an execution role, can they also think strategically about how to approach things.
Final Thoughts
If you're looking to fill an ABM job now or in the future, we hope you've found this guide useful.
Account based marketers are some of the most in demand marketers out there right now. So it's important to consider everything we've covered in the guide and also think about what might attract someone to your ABM job in the first place.
And if you need any help with hiring, or just want some advice on what you can do to make your hiring more successful, then feel free to reach out to us, we'd love to connect with you.