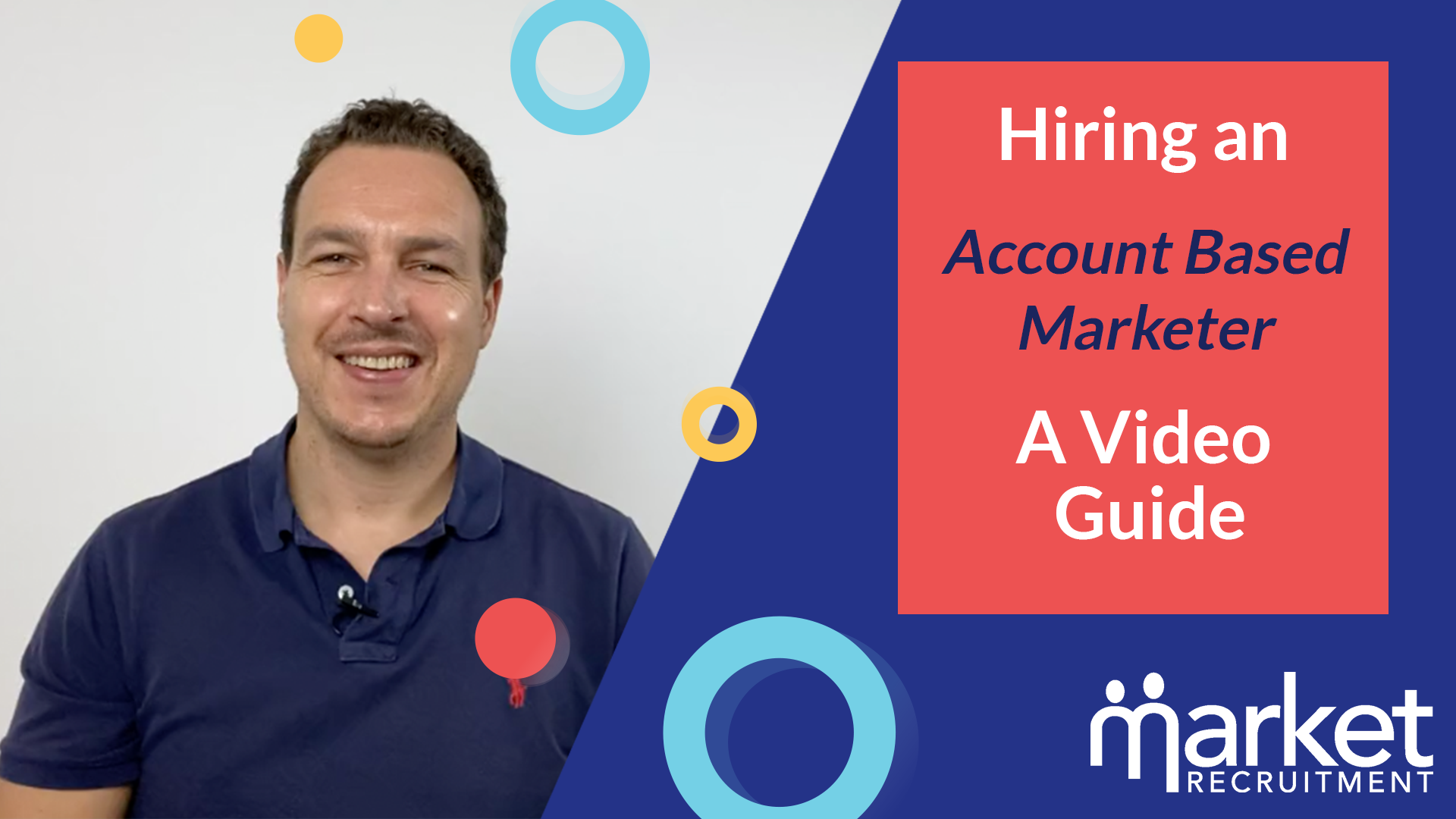 What is account based marketing? 
So the ITSMA's definition of account based marketing is, 'treating individual accounts as markets in their own right.'
And it's a great way to either sell more into a strategic account or win over a prospect.
Basically, as an ABM'er, you'll work cross functionally with sales and marketing to understand the company you want to target.
And that means jointly building a plan for that account which includes both sales and marketing tactics. And the key difference between ABM and general marketing, is that you're taking a customer centric approach to it.
And the first stage in to understand that customer better.
What is that customer or prospect looking to achieve?
How are they going about it?
What problems are they facing?
How are they going about tackling that at the minute?
And then how does your service or product help them with that?
With that information, from a marketing perspective,  you're then building a proposition or solution that's specific to the client and then start creating a program of marketing activities to promote that to the key stakeholders in the company.
Why should you consider hiring an account based marketer? 
There are a number of reasons why you should hire an account based marketer.
It might be that you need a more coordinated approach with sales to win new accounts
It could be that you want to up-sell or cross sell into an account
Or that you need to change the perception an account has of you
But whatever the reason might be, ABM is a long term approach and something that can't be turned on or off month by month. And because of that, it's something that your leadership team needs to buy into and commit to if you're going to get the most from it.
And it's worth adding that some people assume ABM is always one-to-one, but it can be one-to-a few and one-to-many. It may be that you want to penetrate a vertical or a particular segment, so if you have objectives like that then ABM is worth considering as a strategy too.
How should ABM fit into your current marketing team? 
So there are two ways to start account based marketing in your business.
The first is to hire an ABM specialist, and have that person sit alongside your existing marketing team. And because account based marketing can be more strategic, it's important for them to have the right support. And that generally means good content production.
Ultimately once you've identified accounts to go after, understood their pain points and built some propositions to take to them, you need content to use in your campaigns.
And if you're working for a big company, that could be content that's produced by a global team. Or it could be produced at a local level by a content marketer. Or an external agency.
The other way, is to build an ABM program into a broader marketing role. If you have a field marketer, you could slice a percentage of their time and get them focussed on account based marketing. Now the challenge here is time, but naturally, they will already have a strong relationship with sales.
And in this scenario you'll probably need to support this person with certain aspects of account based marketing – mapping the customer, researching that business and creating the content. In effect, this person would own the strategy and be responsible for managing the end to end execution of the campaigns, but the individual time consuming components could be done by someone else.
What skills does an account based marketer need to have? 
So as you can imagine, an account based marketer will need a unique blend of skills.
Because after all an ABM'er will have a variety of responsibilities which include;
Building relationships with sales
Understanding the sales process
Doing analysis and research
Strategically building plans
Selling and communicating ideas
So from a skills perspective, you're really looking for a blend of things. If you think about it, a great ABM'er is probably a blend of sales, marketing and research.
As a company, you want to find someone who is happy being a sole contributor, with the commercial acumen to run these programs and the ability to influence and communicate to a wide base of stakeholders.
And because of the siloed nature of the job, you also want to focus on someone who is naturally proactive, a natural networker and someone who puts forward ideas and solutions to problems.
What background should your ABM'er have? 
So, first of all, specialist account based markers are very hard to find.
So if you're looking to hire one you need to make sure you pay the right salary to attract these types of candidates.
An experienced account based marketer in London these days can command north of £80,000.
And that's because of their unique balance of skills. To get those you will have to pay more than you would normally pay for a marketer.
But, what if you can't find or afford a specialist ABM'er?
Well, I'd suggest looking in three areas.
The first is partner marketers. Because in partner marketing you're typically working with the partner as an account. And depending on what type of partner they may be, you'll be meeting them to set goals, build joint propositions and create campaigns. Those skills and responsibilities are very closely tied to ABM.
The second is field marketing. Field marketers are inherently close to the sales organisation and will have skills that are all centred around winning new clients. So provided they have the strategic ability and the softer skills to collaborate with teams on projects, then field marketers can transition well into ABM.
And the third is a little left field, but it can certainly work. And that's recruiting someone from PR. 
PR people are good at building relationships, selling ideas, asking great questions and being good writers. Those are all great relevant skills.
And all you need to check here is that they're business minded enough and won't get fazed by the amount of research and analysis involved.
You can view a job description for an account based marketing role here.
How can you learn more about account based marketing? 
So your first port of call should be ITSMA, you can see a link in the text below this video.
ITSMA first coined the term account based marketing back in 2003 so they're at the forefront of the debate and ideas in the ABM industry.
They run training, webinars, create research and have salary guides, so definitely worth a look.
There is also this book by Bev Burgess, which is fantastic. I read this on holiday and have gone back to it a few times. What makes it so good is that it gives you a blueprint to follow if you're considering starting account based marketing. Right from deciding if it's right for your business, through the execution and then onto how to develop your skills further. It's a must read. Again there's a link to it in the text below.
The next recommendation is courtesy of Bev. And she suggests Actors in Industry who are able to help you with the softer skills you'll need to be really awesome at ABM.
And finally, we'd recommend our good friends over at B2B Marketing. They run a great event that's focussed on ABM. I know this year they had a ton of great speakers and case studies from the people who have been in the trenches doing ABM.
So I hope that's useful. Of course if you want to talk about your ABM career or for some help hiring an ABM'er then feel free to reach out to me or book a call on our website to speak to one of our team.