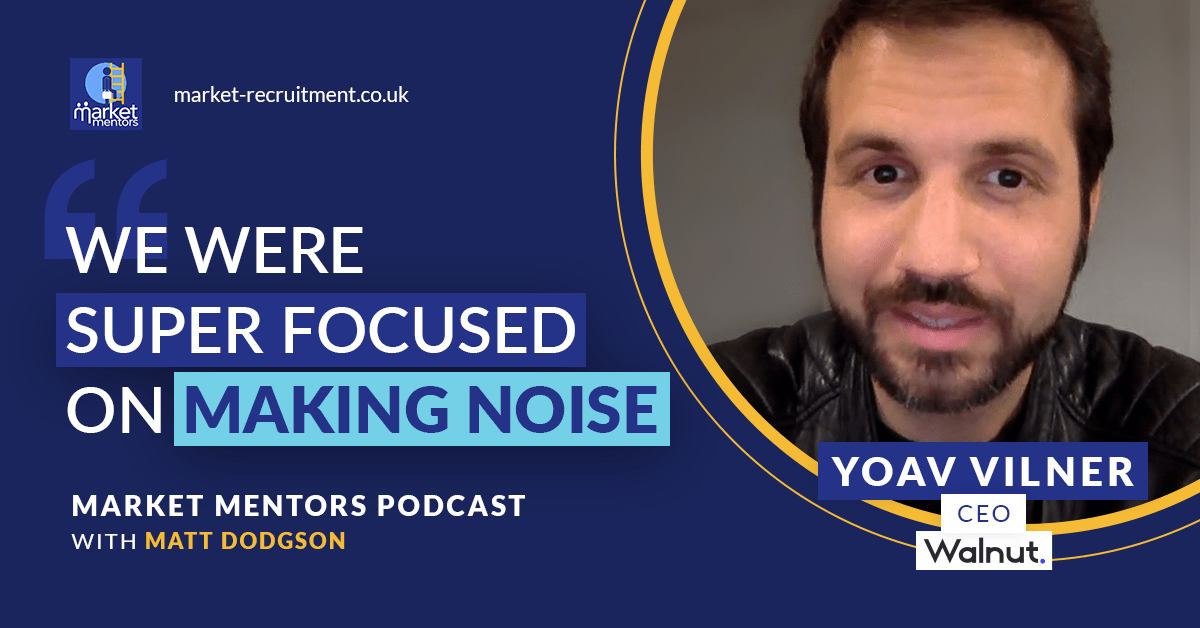 Introduction
In today's digital marketing landscape, every company has a platform online to make noise and promote their own products or services. With that in mind, your Startup's brand could be the point of differentiation that allows you to cut through that noise and gain an advantage over your competition.
In this episode, Yoav Vilner talks to Matt Dodgson about how he's achieved success founding and scaling a number of start-ups by focusing on building a strong brand from the very first day.
About Our Guest
Who they are: Yoav Vilner, Founder and CEO of Walnut.
A bit of background: Yoav has a strong track record of founding and growing start-ups, and was named on the Forbes 'Marketers to Watch' list in 2017. He founded his current business in 2020, and they've recently raised $35 million in Series B funding just four months after their Series A and only 1.5 years after their launch. 
Where you can find him:
Prefer Video? Watch a full video of the podcast here…
Episode Takeaways
Here you'll find some of the best advice from the podcast that you can easily digest and learn from.
1. Startup branding – why is it so important to have a strong brand today, and what's your advice for getting started?
With so many start-ups making plenty of noise in virtually every category these days, it's more important than ever for your business to have a strong brand and a distinct identity.
We know that almost every business now has a website, a mobile app, a social media presence, an e-newsletter, and everything in between. Therefore, having a strong brand that resonates with your target audience is the key to standing out from the crowd.
Yoav said, "I think there's like a movement now of B2B companies trying to talk and sound a bit more like consumer companies, because they realise you have to be memorable. You really have to be cool and fun and visually appealing. In the past, B2B companies would be more like enterprise, boring type of companies, but most landscapes are very, very competitive right now. Like you said, marketing tech, sales tech, and everything. I think the good brands definitely win."
Of course, branding is something that's very common for businesses to get wrong and is easy to do badly. Doing Startup branding well, on the other hand, is extremely complex.
"It's like a puzzle with a million pieces," said Yoav. "It's not just a logo, it's not a blog post, it's not just the way you launch your product, it's not the way you answer your customers. It's pretty much everything all at once, so it takes a lot of time to build out. It takes a lot of time to experiment, and you should do it from day one because it's going to take a while."
So, Yoav strongly recommended start-ups begin thinking about their brand, and how they'll use it to engage target audiences, as early as possible. It could prove a costly mistake to leave it too late to start building your brand, as you may end up falling behind your competitors.
Yoav added, "So usually when I've seen a start-up remember, 'Oh, we've been around for three years now, so we have to bring in a CMO or VP to start focusing on our brand.' Usually, their competitors would've done it much earlier and beat them to it."
2. How do you approach measuring how effectively your startup's brand is working for your overall business?
There's a popular notion in the marketing world that the perception of your brand is like people waiting to talk about you once you've left the room. This makes it a difficult challenge to measure the effectiveness and success of your startup branding, because gaining truly honest feedback is so rare.
Yoav agreed with this idea, saying, "It's impossible to measure. I know a lot of tools, and start-ups are trying to do it, trying to quantify your brand recognition against a competitor. I think that's impossible, because what people really think they wouldn't be writing online in the different comments and Twitter and everything."
So, what can you do to try and pin down the impact your brand is actually having on your overall business? Yoav had a few suggestions to offer, starting with gathering feedback from people who have no ties to your organisation.
He continued, "It's such a hard thing to solve. It's so many touch-points that you don't have directly with the people and what they really think about you. If you want to have a really clear opinion of how people perceive your product, you should try and get feedback from a couple of dozen, or even hundreds, of people randomly. You should ask someone that's not part of your company to get that feedback, so the other side feels comfortable sharing it."
"VCs are always on top of how people perceive different products, too. Try to ask someone from the VC world to sniff around and see what people are thinking about your product. There's a lot of things you can do, but I don't really know of a magic solution."
3. How do you approach hiring for marketing roles in the early stages of start-ups, and what sort of qualities do you look for?
In terms of deciding when you should bring someone in to fill a marketing role, Yoav said that he feels start-ups should include this in the first 10 people they hire.
"No doubt, no need to wait [to hire for a marketing role]," he said. "If you do, it will only get harder to fill in the gap."
This makes sense, especially when considering that you need to begin thinking about how to position and establish your brand from day one. A marketing specialist, regardless of what level you're hiring for, will play a valuable role in ensuring your brand is well developed.
Yoav went on to suggest that a balance of different skill-sets for specialist roles is a wise approach when building your marketing team.
When it comes to what qualities and attributes to look for when hiring for marketing roles in a start-up, he said, "I think every good marketing department should have people that are creative and artistic for the content, PR, and social side of things. But I also think you need a scientist type of person. You need people that are good with the data, CRMs, and automation. When you expand your marketing team, you should focus on these personas."
A few other highlights to look out for in this episode:
Tips to leverage the personal brands of your employees and stakeholders as extensions of your business.
What other things Yoav believes need to be in place on day one for a tech start-up.
Which tools Yoav uses to manage and keep up with all the different aspects of his startup's branding.
Even more useful insights into Yoav's impressive track record of scaling start-ups in the B2B tech sector.