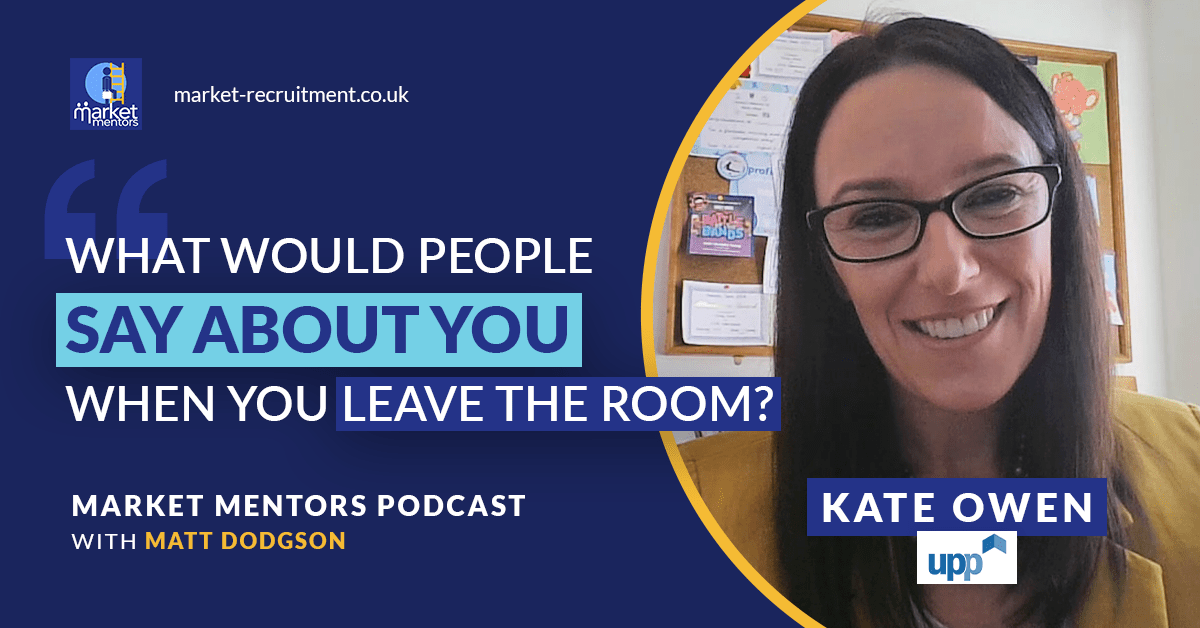 Introduction
A Chief Marketing Executive (CMO) is the top of the food chain, as far as marketing roles go. But many of our readers often ask us what it takes to get there, what the role involves, and what influence a CMO can have on their wider business?
In this episode of the Market Mentors Podcast, Kate Owen gives us a fascinating insight into her career and how it led her to her current role of CMO at UPP.
About Our Guest
Who they are: Kate Owen, CMO for the University Partnerships Programme (UPP).
A bit of background: Kate has over a decade of experience across the whole marketing spectrum, and has previously worked for organisations such as Thomson Reuters, Starbucks, and the NHS. She now leads the marketing function, and sits on the executive board, as CMO for UPP.
Where you can find her:
Prefer Video? Watch a full video of the podcast here…
Episode Takeaways
Here you'll find some of the best advice from the podcast that you can easily digest and learn from.
1. Could you tell us a bit about what your role as a CMO involves, and how it differs from other senior leadership positions like director or VP?
It's a common mistake for growing businesses to hire for the wrong marketing role first. Whether that's a marketing team that needs a hands-on director but gets a CMO, or a company that needs a CMO but hires a director.
To help you avoid this pitfall, Kate explained her role and how it supports both the marketing function and the wider business.
A CMO job is broader than just marketing
She said, "My role here is much broader than just marketing, actually. It spans all facets of B2B and B2B2C within marketing, so it covers both elements of that, as well as all of those other areas."
"For me, probably the crucial difference [between a CMO and a VP or director] is probably about being part of setting that more strategic agenda for the business overall, with the customer, the consumer, and the brand at the heart of that."
Kate continued, "This is my first board executive role, it's actually been about almost letting go of some of those marketing aspects, which is ironic given that I've spent most of the last 20 years focusing on developing and executing marketing and comms skills across different sectors."
So Kate's role is far more strategic than she was used to earlier in her career, and she suggested it's necessary to go beyond the skills of a marketer to be successful as a CMO.
She said, "I think being a CMO, being skilled at marketing and comms, and driving revenue gen and positioning the brand, I don't think that's enough if you want to be a CMO. Building relationships and having a point of view at board level across lots of different topics, whether that's product, portfolio, strategic direction of provider business, financials, HR, for example, I think having that broader opinion and view is really important."
"As a CMO, I can bring to the table that view on customer needs, changing markets, and brand evolution, and how that needs to change to address those needs and really make sure that marketing, I suppose, is an engine for the company. At the same time, it's about really working collaboratively with my co-exec counterparts to deliver against that wider corporate strategy."
2. What advice would you give to junior and mid-level marketers who have ambitions to progress into a CMO role or leadership job in the future?
Kate highlighted a few areas to focus on if you're looking to progress in your career as a marketer.
Having ambition
She said, "Having that ambition in the first place is really important, knowing that you've got that ambition and taking risks. You need the desire to always want to do more creatively that sets you apart from the crowd, and that aspiration to constantly learn and improve and make something better. I think that doesn't only help produce results, but it makes work more fun."
Working hard
Kate continued, "I know that it's a cliché, and everyone probably says they work really hard, but I do really believe that hard work gets rewarded. I've been really fortunate actually across my career to work with some amazing, inspiring people that have really pushed me to achieve more. I suppose often at the time you might not feel like that, but I think having people around you, managers, leaders, teams that support you and celebrate the success with you, as well as recognising those areas for improvement, I think is crucial on that journey on becoming a leader."
Always delivering
"Then, I think, delivery," added Kate. "So always delivering and executing what you say you're going to do. Over-promising and under-delivering are never going to set you up for success. And if you are going to take those risks, and want to take those challenges, you need to be able to build that trust initially. So, doing that aspect of the delivery and the execution, I think, is key."
Building a personal brand
Finally, Kate pointed out that having a strong personal brand is also essential for anyone looking to become a leader in today's marketing landscape.
She said, "I've always felt quite passionate about your personal brand. So, authenticity. I remember someone saying to me years ago, 'What would people say about you when you leave the room?' So, trying to harness those three areas, but also thinking about your personal brand so that you're leaving the right impression as you progress in your career is important, whether you're 16 or 60."
---
Looking to hire a CMO or marketing leadership role into your business? Check out our Retained Services
---
3. What current trends do you see changing the marketing landscape, and how will these impact B2B and B2C marketing strategies moving forward?
"Post-COVID, companies are trying to balance this massively increased demand of customer expectation and engagement," explained Kate. "This is creating these great end-to-end experiences. For me, the evolution is about bringing what works across all of these different acronyms and strategies and tactics together, tailored to the industry you work in and the company you're part of."
"For example, B2B is this single view of an account with multiple buyers. B2C is the business selling to an individual. H2H, which for those of you who don't know, means human-to-human. I think when companies actually define themselves as a B2B or B2C company, they can limit themselves in some cases."
"In B2B, if your primary goal is to sell to a business, you often sometimes bypass channels, like an Instagram or a Pinterest, because you don't necessarily consider those channels to be B2B. But that's changing. It's the same with B2C. Just because they're a consumer audience, why would you bypass LinkedIn? It doesn't mean that your bio isn't necessarily on those channels."
So it's more important than ever to keep an open mind and embrace a multi-channel strategy in the current marketing landscape. Customers today are consuming information online almost constantly throughout each day, and it could be a mistake to overlook additional ways to reach them with your marketing.
Kate continued, "This labelling forgets that it's often people that decide to purchase our products, our services, and you could be missing out on key segments without realising it. Even if you're selling to huge global corporations, ultimately it's a single person or a small committee that's making those decisions."
"As marketeers, we all talk about tailoring messages and knowing our audiences, but if you're basing that messaging purely on a business benefit or a consumer behavior, you're going to miss out on the ability to connect with that person behind the decision. So, I think it's the amalgamation of all those that I'd like to see, and how that evolves over the next few years."
A few other highlights to look out for in this episode:
Kate talks us through how she prepared to move into her first C-suite position.
Kate shares some of the most valuable lessons she's learned as a CMO so far.
Kate explains how she's working to elevate the role of marketing at the board level within UPP.
Discover where Kate goes to continue to learn and grow as a CMO today.