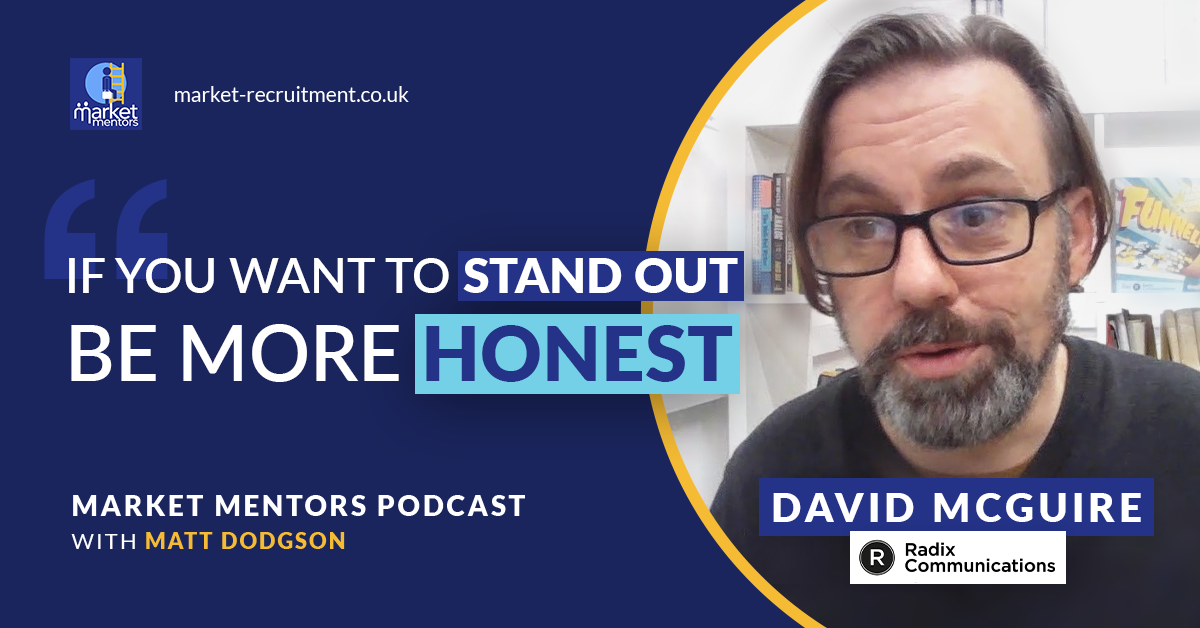 Introduction
B2B content writing has experienced a boom period over the past two years, as the global shift to remote working has changed the way buyers interact with marketing and sales.
In this episode, experienced copywriter David McGuire talks to Matt Dodgson about how B2B Tech companies can work strategically with their writers to maximise the value gained from content marketing.
About Our Guest
Who they are: David McGuire, Creative Director and Co-Owner of Radix Communications.
A bit of background: David has almost 20 years of experience as a professional copywriter, and is currently based in Cornwall.
Where you can find them:
Prefer Video? Watch a full video of the podcast here…
Episode Takeaways
Here you'll find some of the best advice from the podcast that you can easily digest and learn from.
1. What are some of the most important trends currently influencing B2B content writing?
The nationwide lockdowns during the COVID-19 pandemic had a big impact on marketing, as all face-to-face and in-person activity came to a screeching halt.
Increasing demand for B2B Tech copywriters
As a result, there's been a surge in demand for content writers over the past two years, especially in the B2B space.
According to this week's guest, this has played out in the shape of two key trends. David said, "Firstly, all the face-to-face, all the event marketing, and all that stuff went on hiatus. Obviously, there were online events and hybrid events, but people had to find new ways to reach out and, frankly, new ways to spend their budget. So, there was a lot of content being made."
"Also, because the workplace changed so much, all of those B2B technology companies, the way that people work is what those companies do, so they all had new things to say all at once. None of the agencies or marketing teams could get enough writers to write all this stuff."
It's interesting to see there was such a close correlation between the change in where and how we work, and the change in our approach to marketing.
The bar for quality content is rising
The second key trend to emerge is a need for higher quality writing, due to the sheer volume of content in today's digital business landscape.
David continued, "The other side of it is that such a big glut of content has really put a premium on quality. So, the writers who were really good ended up being in demand, not just agencies and freelancers, but also writers in-house. Organisations were overloaded."
And it's easy to understand why content writing has become a more popular marketing tool for B2B tech businesses in recent years. Unlike other channels and tactics, your content strategy is something you own and have full control over.
It's also important to note how that shift to remote work, and the huge influx of content into the market, have changed the B2B buying cycle.
David added, "Now, when building a rapport between the buyer and the brand, the salesperson has less opportunity to do that today. So, you need more quality content to build that kind of trust with customers."
2. How should businesses hoping to improve their content marketing approach their first engagement with a new copywriter?
If you're planning to launch a content project, you must ensure you provide the writer with a clear and relevant brief to guide them. That's just as important with a six-month content plan as it is with a one-off blog article.
David said, "What copywriters look for in a brief will vary from project to project and from writer to writer. But there's a number of things that will help:
The objectives – the purpose of the content, the desired outcomes
The target audience – who they are, what they care about
Where you can find that audience hanging out online
Should the content inform the reader, inspire them, educate them, amuse them, etc.?
Brand identity – tone, voice, and where your brand fits in the market
The format – where and how the content will be published
What you're going to do with the content visually
What channels you'll use to distribute the content
Any other information that may influence how they write for you."
Any writers reading this will appreciate the importance of a detailed brief. And for businesses, this is crucial to ensure you receive a finished product that actually delivers what you need.
But David suggested that it's sometimes necessary to go further than a written brief.
If your business has a subject matter expert, whether that's the CTO, the product manager, or anyone else, it's useful to let your writers pick their brains.
David explained, "We find a telephone conversation or a Zoom call can really help us tease that stuff out from our B2B clients. The thing that will always help a writer is if we can have access to the subject matter expert. The thing that writers love is when we get to talk to someone really clever and then translate that for the audience. Find out what they know and make it sound like them in the content, but be more engaging and interesting."
3. What can a business do to maximise the value they gain from their relationship with their content writer?
The key to getting the most out of a content writer, according to David, ties in closely with the above point.
It's essential for content writers to fully grasp the brand they're writing for, the audience they're trying to connect with, and the task they're being asked to complete.
David said: "A lot of it is about helping them to understand your market and helping them to understand your customer. And some of it's about the jobs that you give them that enable them to learn, develop, and get under the skin of it."
Once you do have a content writer in place, there are some more ways you can help them establish an understanding of what your customers are looking for.
David explained, "Anything you can do that gives your writer that insight will really help. It could be briefing them on case studies and getting them to talk to your customers directly. If you can't do that, there are call recordings they can listen to."
"When I was young, I worked on an exhibition stand for one of my clients, not doing the sales but because I'd written all the materials. As a result of that, I was overhearing all the sales conversations and all the language that people used."
"So, anything you can do that brings the writer closer to the audience," said David. "Also putting them in touch with your sales people. Your product marketing team will know why things have been built a certain way, why they've been designed a certain way, what they feel your messaging should say. But the sales people will know what works. The sales people will know, this is the bit that when they say it, the lights go on behind someone's eyes. Knowing that stuff's great as well."
A few other highlights to look out for in this episode:
Tips for B2B tech businesses to find and recruit talented content writers.
Advice to help with the reviewing and quality checking processes for written content. Steal David's 15 point quality checklist.
A discussion about the importance of soft skills for a good content writer today. 
Recommendations for where you can learn more about content writing, freelancing, B2B marketing, and more.