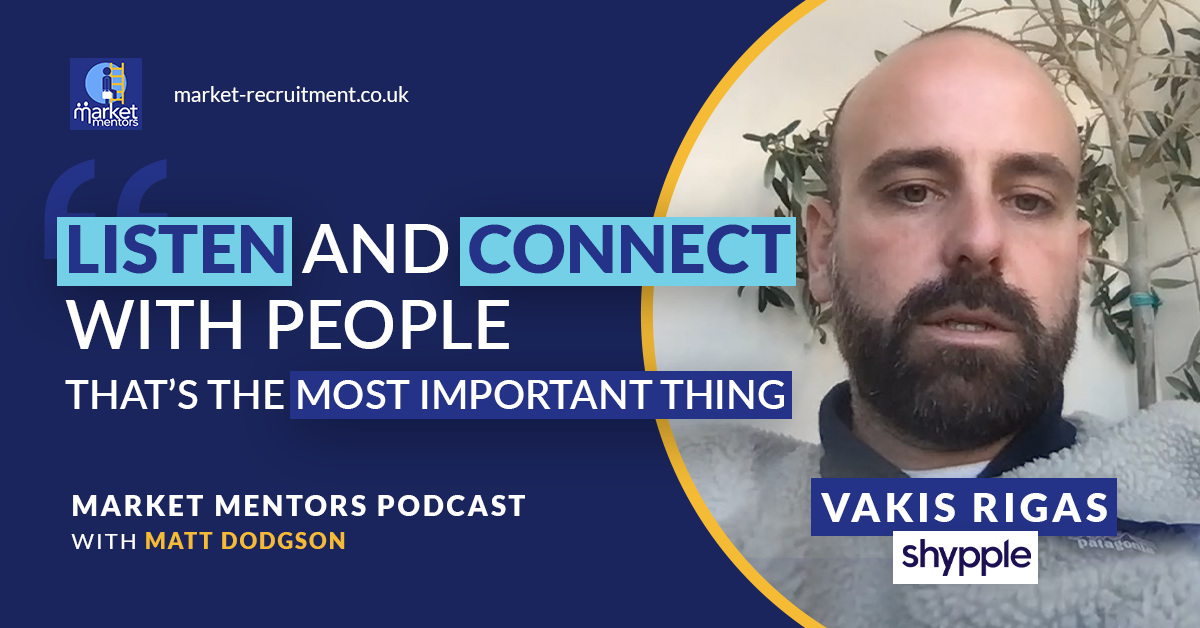 Introduction
It seems that ambitious start-ups are launching innovative new tech products every day. And as the tech landscape becomes more competitive, the demand for outstanding product marketing is also on the rise.
In this episode, Vakis Rigas joins Matt Dodgson to discuss the increasing importance of product marketing for businesses today. Vakis also shares his thoughts on what makes a great product marketing professional.
About Our Guest
Who they are: Vakis Rigas, VP of Marketing at Shypple.
A bit of background: Vakis has almost 15 years of experience working across a variety of marketing roles, including more than five years at Google and two years as Head of Product Marketing at Typeform.
Where you can find them:
Prefer Video? Watch a full video of the podcast here…
Episode Takeaways
Here you'll find some of the best advice from the podcast that you can easily digest and learn from.
1. What exactly is product marketing, and why is it so important to businesses today?
Product marketing can be a tricky thing to define for some people, as it's such a broad role.
This week's guest even admitted, "I first came into it not knowing it was called product marketing when I started."
But with plenty more years of experience under his belt, Vakis now believes a good definition for product marketing is:
The function that helps you carve out a space for your business or product to compete in.
Vakis Rigas
He also emphasised that product marketing involves much more than just messaging and positioning.
A product marketing job should also include things like:
Exploring how the product solves your customers' challenges

Reporting customer insights and research findings back to your product managers

Analysing the market and the competitive landscape

Enabling sales teams with content creation and product collateral

Finding ways to improve your product, or to build better ones.
But why has product marketing become more important than ever for businesses today? Vakis points to the rapid growth of the SaaS landscape, and the rising number of tech start-ups launching each year.
This market saturation is making it harder for everyone to make decisions about their products.
Vakis explained, "If a tech business doesn't have someone who really understands what job you're hired to do as a company, or as a piece of software, then it's going to be difficult for you to compete. You're going to be in a position where you think you're competing against everything, and that's really dangerous."
But product marketing allows you to nail down the specific challenges your product solves for your customers.
"More specifically," said Vakis, "it can help you identify the job that your customers are hiring you to do." Only then can you find your product's true positioning.
2. What skills and attributes separate a good product marketer from a great one?
"If a product marketer can listen and connect with people, that's the most important thing," said Vakis.
And this doesn't just apply to prospects or customers, but all the various teams and departments within the business too.
The ability to understand the needs of everyone involved with the product is a sign of a great product marketer.
That means building strong relationships with: 
Customers

Stakeholders

Sales teams

Product managers

Product engineers

Other marketing teams

And even the C-suite
Another essential skill great product marketers need is storytelling.
Why? Because an important part of product marketing is building compelling narratives. These are critical in demonstrating the value of your product to your customers.
So, not only do product marketers need to be good listeners, they also need to be good writers.
Vakis explained that a great product marketer is..
"Someone who knows how to cut out all the excess information that's not valuable. Someone who can convey things very clearly in a short way. I think they're the ones who get it better than others."
Vakis Rigas
Vakis also recommended a good way to improve at this type of storytelling is to use relatable analogies.
"One of the most challenging parts is when you're trying to get someone to understand something. If you can't create a bridge to something they do understand today, it's difficult to get them to understand what the product is that you're trying to sell."
3. What should product marketers be looking for in their roles today? And what do budding tech start-ups need to consider when hiring for these roles?
Vakis recommended that anyone searching for a new product marketing role should look into the 'job' each company is performing for its customers.
Successful product marketing requires a clear focus on solving a specific problem for the customer. Businesses that attempt to do too many things at once will struggle to achieve success.
Vakis explained..
"If the organisation is willing to go more niche with their product, because they understand they can find more value by doing that, then that's a green flag for me. If they're worrying about a tonne of different competitors, that's a massive red flag for me. Because that means there's no focus. They don't know what they're developing [the product] for."
And for businesses in the early stages of launching a tech product, Vakis suggested, "If you have your first marketing role that you want to hire, hire a product marketer."
A product marketer will be a valuable addition because they'll be able to hone-in on the problem you're solving for your customer at the deepest level.
Tech businesses must aim to understand the most meaningful pains and gains they're addressing. By doing so, you can then position your product as the perfect solution to that problem.
A few other highlights to look out for in this episode:
Product marketers keen to develop their skills will find several recommendations for helpful learning resources.
Readers from tech start-ups will gain advice about the right point along your journey to hire a product marketer.
Vakis outlines how he'd approach his first 90 days as a start-up's first product marketing hire (spoiler alert: start by getting to know the customer!).
Matt and Vakis also share some interesting examples of brands who have already nailed their product marketing.