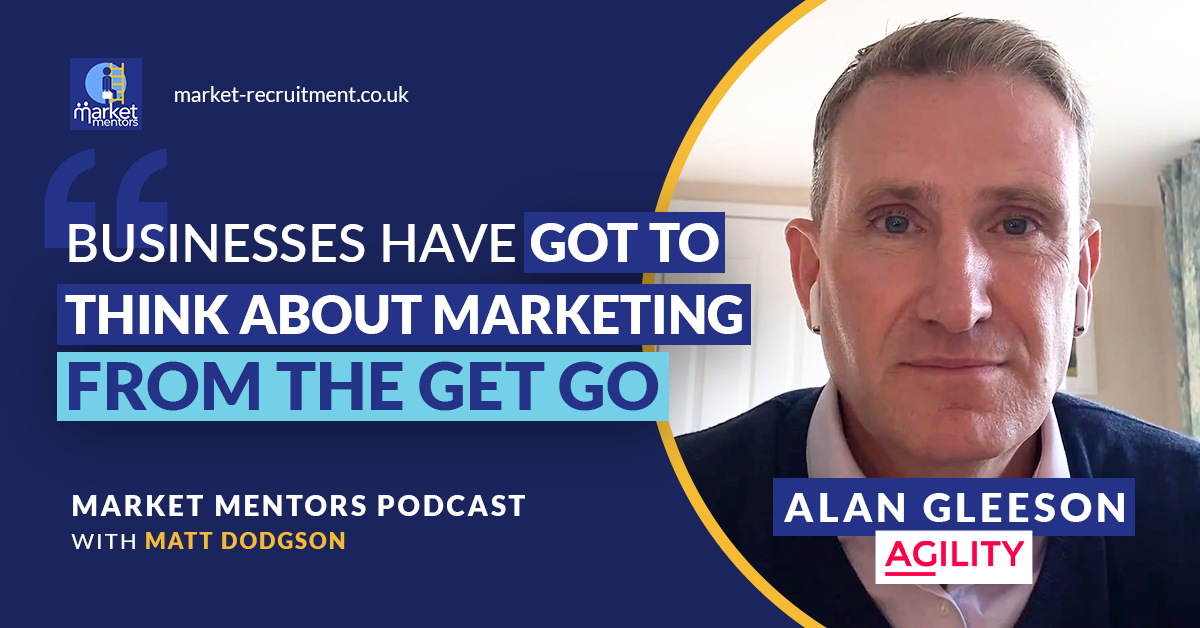 Introduction
B2B SaaS marketing is a complex challenge which most companies struggle with in their early stages. 
Faced with conflicting priorities, tight budgets, and pressure to deliver fast results, it's unsurprising that tech marketing is so hard to get right. 
In this episode, Alan Gleeson provides valuable advice for how B2B SaaS companies should approach their marketing to achieve long-term success.
About Our Guest
Who they are: Alan Gleeson, B2B SaaS marketing consultant and Founder of Work with Agility.
A bit of background: Alan boasts an impressive 20 years of experience in tech marketing, and also has an MBA from Oxford University. In his spare time, he coaches junior rugby at Ealing Trailfinders RFC.
Where you can find them:
Prefer Video? Watch a full video of the podcast here…
Episode Takeaways
Here you'll find some of the best advice from the podcast that you can easily digest and learn from.
1. Why is B2B SaaS marketing unique, and how should it be approached? 
Unlike traditional marketing in the B2C space, with big budgets and high volumes of online transactions, B2B SaaS marketing is more of a long-term concept.
The basics of B2B SaaS marketing are, as Alan explained…
All about trying to attract people to a website then trying to convert them.
Alan Gleeson
"But then you've got to retain them to get the longevity. Because what's baked into it is that you de-risk it up-front for people. You're really trying to say that this is a long game, and the unit economics really only works if people stick around for the long haul. It creates challenges for you at all different stages of the junction."
Another unique aspect of B2B tech marketing is that no two products are ever the same. Great marketing in the B2B tech space is very nuanced, and will look different for each individual business. That means there's no generic playbook, which makes it a tremendous intellectual challenge.
Additionally, SaaS start-ups today face an unprecedented level of competition. More innovative products are entering the market than ever before.
When trying to find your feet in such competitive markets, Alan added…
"Businesses have got to think about marketing from the get go, because ultimately there's a website that needs to be built and traffic needs to be driven to that website. It's very hard to compete in your space, especially with things like SEO and content. The sooner you get some of these bits and pieces into place the better."
2. What are some of the biggest pitfalls with B2B SaaS marketing, and how can they be avoided?
Alan shared several common pitfalls he's seen many businesses fall into, and how you can avoid them: 
Losing of focus
Too many start-ups try to do too many things at once, too soon, and then fail at nailing down their main focus.
This often happens when businesses don't generate enough leads or see enough growth early on. That creates temptation to experiment in more markets, target different channels, or start adding new product features. But those kinds of decisions tend to just bring more challenges.
Alan advised that it's best to start as narrow as possible and get a handle on that first before trying to expand.
Failing to understand your customers
Another mistake some early-stage SaaS companies make is to neglect conversations with prospects and customers.
With marketing, it's easy to spend most of your time on the more exciting things like designing a flashy website.
But Alan emphasised the importance of spending time "in the trenches" talking to your target customers, listening to their pain points, and understanding how you can best help them.
It's also beneficial to put feedback mechanisms in place for other departments to share insights from their own conversations.
For example, sales people can provide marketing with new keywords that prospects are using on a regular basis. You can then use these to refine your messaging and improve your website's SEO.
Starting with the wrong hire
Tying into the above point, most tech start-ups often start by hiring the wrong type of marketing person.
It's common to want demand generation and lead generation from marketing first, to bring revenue into the business early on.
But hiring a product marketing specialist is the better route to take. Why? Because they'll support that need to know how to position your product as the ideal solution to your customers' problems.
Alan explained..
"That first year you need a product marketer. You need somebody that's not under pressure to generate leads, because the whole point of that dynamic is that they need to be talking to prospects and ideal customer profiles. They've got to be in listening mode, not selling mode.
That's really difficult in Europe because you're probably under pressure from VCs, or a board, or the CEO, to get cash in the door as quickly as possible. But if you try to do it prematurely, your marketing people won't understand the pain."
Alan added, "When I look back at my career, having been in B2B marketing for a number of years, that's the bit that I look back on with some of my previous roles and think I missed a trick there. They were pushing me to generate leads, but I should've pushed back and said it's premature, we need you to spend more time in the trenches."
You can learn more about the importance of product marketing for tech companies here, in another recent podcast episode.
3. How can start-ups scale up the output of their marketing on a tight budget?
Of course, a condition of what marketing is capable of achieving is often dependent on budget and resources. 
Alan shared his advice for scaling up your marketing output, even if you're unable to hire a full-time marketer or build a full team just yet.
He said, "I'm a great believer in the freelance market. I think there's a huge number now of talented people that are available. And there's an emerging ecosystem of freelancers that are very specialist. It's very, very cost-effective because you aren't bringing them on to the books as a full-time employee."
If you want to find people who can bring the necessary expertise and deliver results, Alan suggested: 
Asking your network for recommendations, as word-of-mouth recommendations are often the best source for this

Using popular freelancer platforms, such as Upwork

Looking into B2B SaaS-specific freelance communities

Speaking to

specialist recruitment companies

about the talent they have available

Searching far and wide, including services from abroad.
A few other highlights to look out for in this episode:
What companies should be looking for in candidates when hiring for B2B SaaS marketing roles today.

How to interview for marketing positions, and determine candidates' suitability for a challenging role in a fast-growing business.

Advice for marketers to prioritise their workload and manage stakeholder expectations in an early-stage start-up.

Tips for building brand awareness and generating interest in your B2B SaaS product.