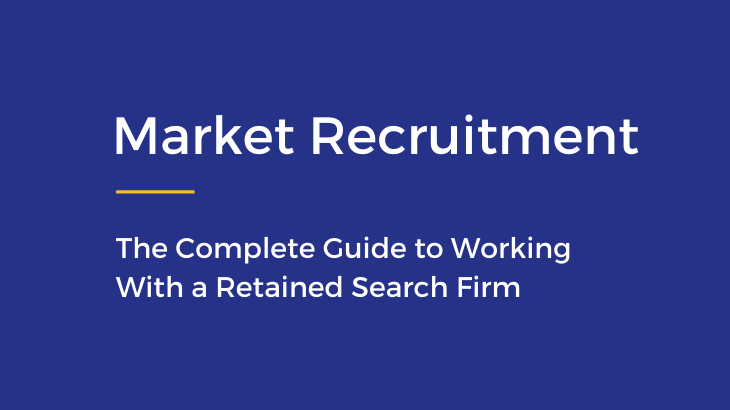 In this Complete Guide to Working with a Retained Search firm, we'll cover what retained and contingency search is, the pros and cons of each, and what a retained search process entails, as well as what it costs.
Finding great B2B marketing talent is harder than ever. B2B Marketing job vacancies are at a record level in London right now, with many companies who have held off recruiting for the last couple of years now deciding to accelerate their hiring.
Plus, B2B marketers are playing an increasing role in helping their tech employers build awareness of their solutions, create demand, and turn that demand into revenue.
Because of this, more and more employers are turning to executive search or retained search firms to help them identify and hire the marketers they need.
Never used an executive search or retained search service before?
Then read on and find out what it entails and whether a service like this could be right for you.
What is retained search?
A retained recruitment search is a type of professional recruitment service where an employer pays a fee to a recruitment firm to secure their exclusive services in filling a vacant position. The retained search firm will typically agree to provide a guarantee period, during which they will replace the candidate free of charge if they leave within a certain time frame.
What is contingency search?
In contrast, a contingency search firm only gets paid if and when they successfully place a candidate in a role. There is no exclusivity agreement and no guarantee period. Unlike a retained recruiter, contingency firms tend to work on a larger volume of roles, often across different industries, and as such may not have the same specialist knowledge as retained firms
Which recruitment method should you choose – contingency or retained?
Before you decide on what service to use it's worth considering what the main difference is between executive search and contingency.
The main advantage of retained executive search is that it gives you access to the recruitment firm's entire team, who will work exclusively on your vacancy. This means they can dedicate more time and resources to finding the best possible candidates.
Another key benefit is the guarantee period. This offers peace of mind that if the candidate doesn't work out, you can get a replacement at no extra cost.
If you choose to go with a contingency search, you may be able to save money as you only pay if the recruitment firm successfully places a candidate. However, you won't have the same level of dedicated support and the guarantee period isn't as extensive.
---
6 Must Ask Executive Search Questions – Before You Pay a Retainer
---
Disadvantages of Contingency Recruitment
There are some disadvantages of contingency recruitment, including:
– A smaller pool of candidates as recruiters don't have the time to dedicate to headhunting compared to a retained executive search.
– Lower quality candidates as firms are often working on several roles simultaneously and may not have the time to dedicate to your vacancy.
– No guarantee period. If the candidate leaves within the first few months, you could be left paying for recruitment services that you haven't received any benefit from.
How does a typical retained search process work?
Once you've decided to use a retained search firm, the next step is to shortlist a few firms and interview them. This will allow you to assess their specialist knowledge and ask any questions you have about the recruitment process.
The retained search process typically involves the following stages:
1. Defining the role and setting criteria – Search firms will work with you to define the role and create a job description. They will also set criteria such as salary, location, and required skills/experience.
2. Screening candidates – The recruitment firm will identify potential candidates and assess their suitability for the role.
3. Interviewing candidates – The shortlisted candidates will be interviewed by either the recruitment firm or your team.
4. Offering the job – Once a candidate has been chosen, the retained search firm will negotiate the best possible salary and terms on your behalf.
How does a retained search or an executive search process work at Market Recruitment?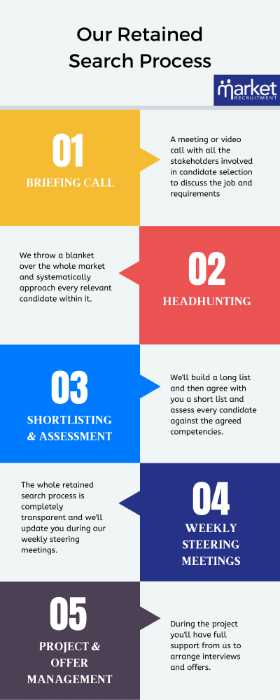 When we're working with a client, they've normally come to us because they've found it hard to find a marketer with the particular skill set they need, or it's a senior marketing role within their business so they're looking for a more in-depth service.
Our executive search or retained search service includes the following steps;
Briefing
The first step is to have a meeting with all the stakeholders involved in the section process to discuss the retained search in detail, this will include the job spec, what the company is looking for, the culture of the company, and how to find the right candidate.
In this briefing call we'll discuss the following;
what your business does (product/solution, target audience, GTM, etc.)
current team structure and where marketing fits within that
what exactly do you want this marketer to do and accomplish?
what skills, behaviours, and experience does the marketer need?
what is the reason why candidates will want to join your business?
future career potential
what types of companies could they have worked for?
what companies and candidates should we avoid?
what information would you like us to collect as we go through the process? (salaries, perception of your brand, etc.)
agree on the behavioural competency-based questions
agree on the functional competencies needed
geographical location
salary and benefits
educational/technical qualifications
interview process and timelines
Having this meeting with all the stakeholders involved helps ensure everyone is on the same page when it comes to the type of person you're looking for.
After that briefing call, we will summarise the discussions into a hiring document and send that back to you to agree on and conduct any final tweaks.
Headhunting
Once the executive search brief has been agreed we will then move on to approaching relevant candidates in the market through headhunting. Unlike job board advertising, headhunting is the process of approaching and recruiting suitable candidates who may not be actively looking for a new role right now.
With your specific criteria in mind, we'll systematically approach everyone with the right skills and experience in the market.
We will also complement that headhunting by searching our database of potential candidates. This means we can quickly identify the best marketers for your vacancy and approach them with your offer.
In every retained search process during the headhunting phase, we will be building a long list of suitable candidates. Once this list is built we'll share the list with you so we can jointly agree on who should move forward to the shortlist stage.
Shortlisting and Assessment
Once the shortlist has been agreed upon, we'll then conduct assessments with each candidate to ensure they meet your requirements.
Each of our executive search consultants has experience in conducting competency-based interviews, where we'll assess candidates against the agreed functional and behavioural competencies.
During this process, we'll also be looking for tangible evidence of them achieving what you need them to accomplish in your business.
Shortlist Presentation
We'll then present the shortlisted candidates to you with an overview of each, their skills and experience as well as how they would fit into your business.
Weekly Steering Meetings
The whole retained search process is completely transparent and we'll update you during our weekly steering meetings. During each update, we will share all of the results of the search so far with you. You will see every candidate identified, approached, assessed, and the outcomes, as the project progresses.
This ensures the project remains on track, and if any tweaks need to be made we can identify them quickly.
Project Management
During the project you'll have full support from us to arrange interviews with each candidate, taking feedback at regular intervals and ensuring each party is fully informed at every stage.
Offer Management
Once a suitable package has been agreed, we will present the offer to the successful candidate and support through any negotiation, to ensure all parties are happy with the final arrangements and stay in regular contact with both you and the candidate until he/she starts.
How much does a retained search process cost?
First of all, it's worth remembering the cost of making a bad hire. Because running a contingent search often doesn't go into the same amount of depth, so whilst a contingency 'no-win no-fee' process may sound like a win-win, that's not always going to be the case.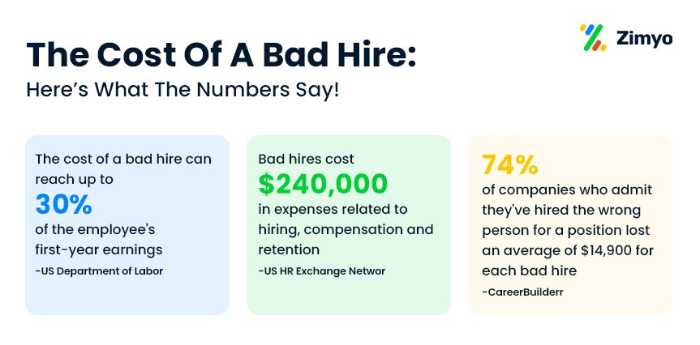 Fees for retained search can vary depending on the seniority of the role, the complexity of the brief, the timescales involved, and the geographical location. However, as a general guide, you can expect to pay search firms 20-35% of the candidate's first-year salary for a successful placement.
For example, if you're looking to hire a Marketing Director on a salary of £100,000, the retained search fee would be £20,000-£35,000.
It's worth noting that some retained search firms will charge an upfront fee, while others will structure their fees so that you only pay once the candidate has been successfully placed.
What does Market Recruitment charge for its retained search service?
At Market Recruitment, we charge between 20-25% of a candidate's first-year basic salary.
And that also comes with our industry leading 12 month guarantee.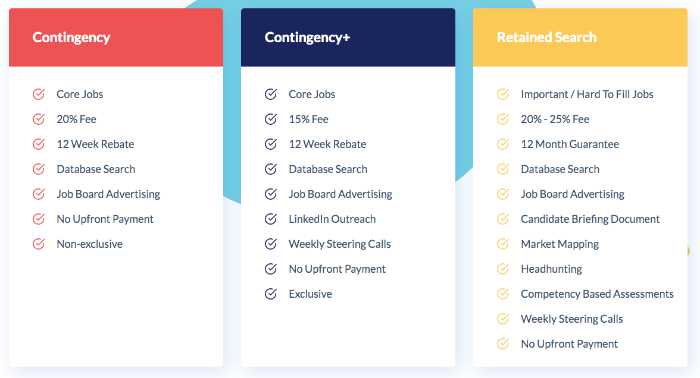 Final thoughts
Using an executive search firm or using a recruitment agency on a retained basis isn't the right way forward for some companies.
So carefully weigh up the pros and cons of each service.
If the marketer you're looking to hire is a crucial role within your business or has a hard skill set to find, then that's normally a good indication that executive search or retained search is the best way forward.
It's also worth remembering that search firms' capabilities will vary, so we'd always recommend interviewing a few companies to understand their area of expertise. The majority of search firms are generalist in nature, so perhaps won't have the deep knowledge or network you require to hire the best marketing talent into your tech business.
If you're thinking of working with a retained search firm to help with your senior marketing hires, we hope this guide has been helpful. And if you feel we might be able to help then get in touch with us today to discuss your specific requirements.