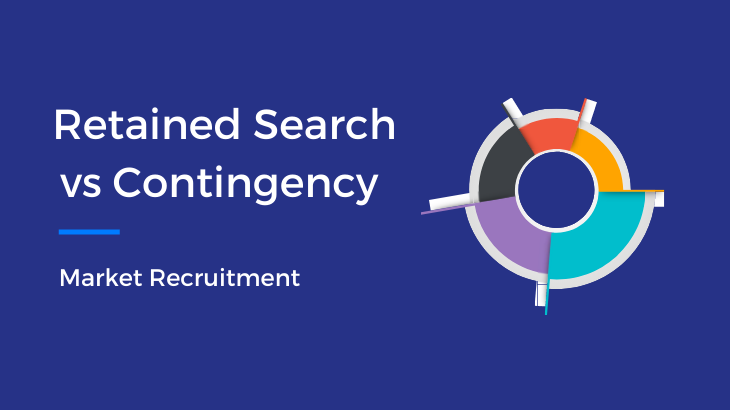 What is a retained search vs a contingency search – well we're going to break down what both of these services are, and discuss their pros and cons!
There's no doubt that there's a huge amount of change going on in the employment market right now. So if you're about to start hiring, you need to think carefully about what kind of recruitment service you need so that you're not still hunting for talent months down the line.
One of the solutions, is to work with a recruitment agency, but what sort and what kind of service should you seek out?
When partnering with a recruitment agency, there are usually 2-3 different services on offer. Two of the most popular services are either retained search, or contingent recruitment, which have similar principles but ultimately should be used at specific points depending on your needs.
What is retained search?
Retained search is when you partner with an executive search firm, or a contingent recruitment agency on a retained basis, to complete a complex or niche mandate.
Examples of this in our sector would be;
A Startup closing a Seed or Series A round and needing to hire a Head of Marketing to accelerate growth
A niche and hard to find skillset – product marketing, marketing operations – normally at a strategic level
Retained search involves paying an up-front fee, and results in a thorough and comprehensive mapping of the market to find the best talent, not just the available talent. The search firm will operate on an exclusive basis and only present candidates to that organisation, acting as an extension of your brand.
What is contingency recruitment?
In its simplest form, contingent recruitment involves a "pay on success" model whereby the recruitment partner will only receive payment once the candidate has started with the organisation. It's a common form of recruitment that can be used for junior through to mid and senior-level appointments. And right now, the majority of recruitment agencies globally operate on a contingent basis, whether this is for permanent or contract placements.
The pros of retained search
Reliable: Working on a retained service is reliable due to the fee structure as well as the nature of a retained assignment. Traditional search firms will never agree to a project that they are unable to fulfil, which gives you a much more reliable service. As an example, here at Market Recruitment, we fill 96% of the jobs we're instructed on through our retained search service.
Almost 100% guarantee: Similar to being reliable, there is close to 100% fill rate when working retained. This is due to the market mapping that takes place, but also due to the briefs and deliverables that are agreed upon before the search takes place. You should always find out a search firm's fill rate before engaging, as well as similar searches that they have executed to ascertain whether they would be the right fit for you.
Comprehensive go-to-market strategy: Along with market mapping and headhunting, retained search consists of a much more comprehensive go to market strategy that will be agreed upfront. This ensures that your brand/organisation is represented accurately and also that the opportunity is marketed and presented in an enticing way. This can be particularly effective for Startups or those who have less presence in the market. Retaining a recruitment agency buys more of their resources and time to market you in the best way possible.
In-depth methodology: Retained assignments are based on in-depth analysis and exploration of the market. Along with this, the processes and the way in which candidates are presented is a lot more structured, whether this is through a long-list or a formal report detailing key information about each candidate. Additionally, retained recruitment usually involves more complex interview techniques, enabling them to do deep-dives on candidates and qualify them across a matrix of hard and soft skills, for example using psychometric or other personality tests.
The cons of retained search
Upfront payment: The biggest con of retained search is upfront payment, which can sometimes deter organisations from engaging in the first place. However, when conducting a retained search there is a much better guarantee of return on investment both financially and from a time perspective.
Longer process in some cases: Although contingent recruitment can also take a long time, retained search naturally is more lengthy due to the level of research and market mapping that takes place.
The pros of contingency recruitment
Pay on success: There is no up front payment commitment when working with a recruitment agency on a contingent basis, which is what makes it so attractive to a number of organisations. The pay on success model ensures that you are only paying for the contingency service once the candidate walks through the doors of your organisation.
Access to high-quality candidates: Acontingent search, especially if working with a specialist recruitment agency can still produce incredibly high-quality candidates. The more niche the recruiter, usually the better their candidate relationships are. As previously mentioned, contingent recruitment is one of the most popular services, so recruiters are still reliant on forming good relationships with high-quality talent to guarantee successful partnerships with their clients. If you're not having success with your current recruitment agencies, search for an agency that is a specialist in the area you're looking to hire for.
The cons of contingency recruitment
No guarantee: Unlike retained recruitment, there is no guarantee with contingent recruitment that you will secure the talent. Recruiters are usually working on multiple jobs at any time, so you will not be prioritised unless you pay for it. If your role is a priority, or incredibly niche, you should probably consider it on a retained basis.
No exclusivity: Working on a retained basis guarantees exclusivity, meaning you, and only you will have access to this talent during the interview process. The contingent model means that the recruiter is well within their rights to send an outstanding candidate to more than just you if they have multiple clients on their roster.
No in-depth market analysis: Although contingent recruitment does involve research and headhunting to find candidates, it is not as extensive as a retained search model would be. The methodologies will still be thorough, but they will not go into the detail that is sometimes needed for more complex search assignments.
Differentiation: If you're an early stage Startup or a company with limited brand visibility, or equally operating in a sector that is "less appealing", it's harder for recruitment agencies to sell your company to prospective candidates. Especially if they are working with organisations who have more appealing roles, or a more robust presence in the market. Although a recruiters' job is to promote your organisation and get people excited about it, it's hard to do this comprehensively on a contingent basis if you don't have any brand presence to begin with.
Final thoughts
In summary, when thinking about contingency recruitment vs retained search, there are pros and cons to both methods. However, there are clear situations when it would benefit you to run a retained search over a contingency search, so it's important to select the right service at the right time.
The key is to ensure that you have scoped the market and interviewed multiple recruitment agencies who have different service offerings, so you can find the right partner for you.