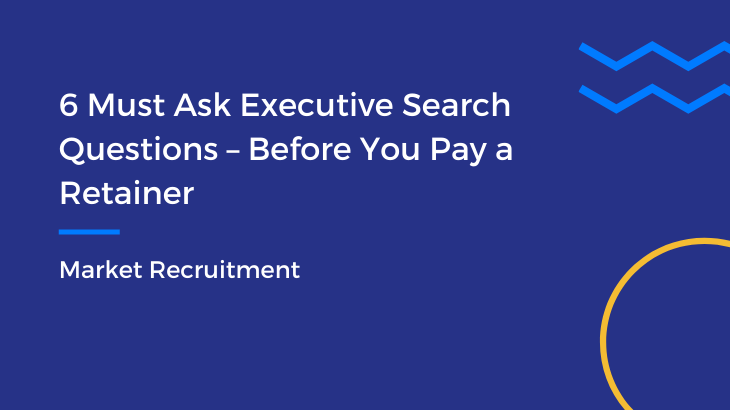 Before you pay a retainer, it's important to ask an executive search firm these key questions.
Finding the correct search partner can often be difficult, particularly if you've never engaged with an executive search partner in the past.
There can often be the paradox of choice, leaving executive teams confused about whether they need a search partner or not. And then selecting the wrong partner can lead to wasted money on fees and unfilled jobs within your business. A double whammy you want to avoid.
So, to help you, we're going to break down 6 key questions to ask an executive search firm, so you can assess whether a service like this is right for you in the first place, and if so, qualify which is the best company to partner with.
Why work with an executive search agency in the first place?
Before we dig into these questions, it's important to discuss why you should consider partnering with an executive search firm in the first place.
An executive search agency, or retained search firm, differentiates from your traditional recruitment agency in a number of ways. Firstly, it's a thorough and in-depth process that can scope local and international markets with a fine-tooth comb, giving you exceptional data, knowledge, and insight when making a critical hire. In essence, executive search equals high quality.
Secondly, executive search firms can (near enough) guarantee success in finding you talent, which gives you a much better return on investment, both from a time and financial perspective.
And finally, working with an executive search agency enables you to have a succinct and comprehensive go to market strategy, due to the fee structure as well as the aforementioned approach. This can be great for senior leadership roles or difficult to find skill-sets, as well as for companies that don't have a well established employer brand.
---
The Complete Guide to Working With a Retained Search Firm
---
1. Should we use an executive search service for this role?
If you're ever advised to use executive search methods for every single role, then you've been misinformed! There is a clear difference between retained search and contingency recruitment.
If you're looking for a niche skill-set, or trying to fill an important role that is incredibly senior, then these are the two main times when using an executive search firm is appropriate.
A good search partner will consult you on whether you need them or not, so ensure that before you choose a partner you are interviewing a few different options to get an understanding of how they qualify roles and if they are overselling their services to you.
2. What is your area of expertise?
This is a crucial question to ask early in the process of looking for an executive search firm to partner with.
Working with a specialist not only ensures that they already have an existing network of candidates, but you won't have to teach them about your industry or specialisation as their knowledge will already be there. 
For example, we are focused specifically on placing marketers into B2B tech companies, meaning that our partnerships are most of the time rooted in this specialism, as it benefits our clients and candidates most. There are some executive search firms that are more agnostic, which can work, but it isn't completely advisable for complex mandates.
This specialism helps you find the best candidates because you can get advice from the consultant you work with early on in the process. As a company, we can help with;
salaries – what should you be paying to attract the right sort of candidates
team structures – how should you structure your marketing team
types of marketing roles for the stage of your growth – i.e. a Startup need a certain type of marketer versus an established B2B tech brand, likewise, if you're product-led versus enterprise led, then again, the type of marketer or candidate will differ
A great way of measuring this is by asking for previous case studies from clients, as well as testimonials. This will enable you to gauge how well-versed a search business is with filling positions of a similar nature. Granted, you may have a role that is unique in the market, but we recommend asking for 2-3 similar case studies as a minimum so you can have the confidence that you're making the correct choice.
3. What do you charge?
Understanding the fee structure will help you to ascertain what partnership will work best for you. Most executive search firms operate using similar models, you can find ours here.
A typical recruitment fee for an executive search service is split into three milestones;
Milestone 1 – a third to start the research, market mapping, shortlisting and assessments
Milestone 2 – a third on delivery of the shortlist
Milestone 3 – a third paid on offer to the candidate
However, there are a few ways you can structure the fee so if you're not sure which model would work best for you, ask for a few payment options.
And with every search, there should be a guarantee if that candidate doesn't work out. Normally, a new search will start with no cost to the company.
4. How long does the executive search process take?
Depending on the search, it can take anywhere between 8 weeks to four months for more complex searches. Timescales will usually be agreed upon upfront depending on the brief, but on average, a search can typically be completed within 12 weeks. As these are usually complex or senior-level roles, we always recommend ensuring that the correct stakeholders are available to keep the process as prompt as possible.
You should always set expectations with your executive search partner on timescales, and also you will be consulted on what to expect in a best-case scenario. Due to the seniority and often difficulty of a search, try and ascertain in advance when you'll need to make this hire so you aren't behind on your hiring strategy.
5. How do you assess candidates?
Understanding how your prospective retained partner assesses candidates can be a great litmus test to decipher whether it aligns with your expectations as an organisation and whether or not the partnership will be a success.
A robust assessment process
Typically, search firms will go through a thorough assessment process that includes a long list and a shortlist process, where they will assess candidates both on technical skill or capabilities, cultural fit, and soft skills/other personality-based questions. Some search firms may also use psychometric testing or other in-depth competency screening processes, again depending on the role, seniority, and industry.
Experts in their field
The consultant that you work with should have strong knowledge of the discipline you're hiring for so they can assess a candidate properly.
As an example – two CMO's may have similar backgrounds on paper, but unless you can unpack their marketing skills, it will be difficult to understand if they're a fit for your company, it's go-to-market strategy and the goals you want to achieve.
One of the biggest mistakes we see in the B2B Tech industry, is companies hiring a CMO too soon. Some companies exit a successful Series A or B fundraising round and assume that's the point that they need to hire a senior marketer. However, that's not always the case. And an experienced consultant will be able to advise you on what type of marketer they think is best for your business.
This is one of the key executive search questions to ask because your goal is to find a firm that assesses candidates in a way that you are comfortable with. It shouldn't be worlds apart from hiring processes that you already run, and should consist of interview stages that make sense for the size of your organisation. It is common that there will be more interviews in comparison to junior or mid-level roles, but this should be agreed on a case by case basis. 
6. If you were our Executive Search partner, what will we receive?
Aside from the obvious, which is an excellent network of candidates and market knowledge, a good executive search firm should give you complete clarity on the process, and ultimately take the majority of the responsibility out of your hands.
Effectively, the recruitment process will be 90% outsourced, meaning that the only internal involvement will be interviewing and then integrating the candidate into the organisation once they have received an offer.
From headhunting, screening, onboarding, to relationship building, communication, and final execution – a good search firm should tick all of these boxes, and ultimately have the same goals and values as you.
Plus, the search firm, and particularly the main consultant you work with, will represent your company in the market. When they speak to talent, do you feel confident in them discussing what your business does, the role itself and why a candidate should consider company? It's a key question to ask.
In summary
In summary, partnering with an executive search firm can take some time in the beginning whilst you're scoping the market and interviewing potential options; however, in a talent short market like we operate in today, it's an incredibly thorough and effective way to find the best talent in your market.
If your B2B Tech or SaaS business wants help recruiting critical roles and be able to access the best marketing candidates in your market, then check out our retained recruitment services and get in touch today.