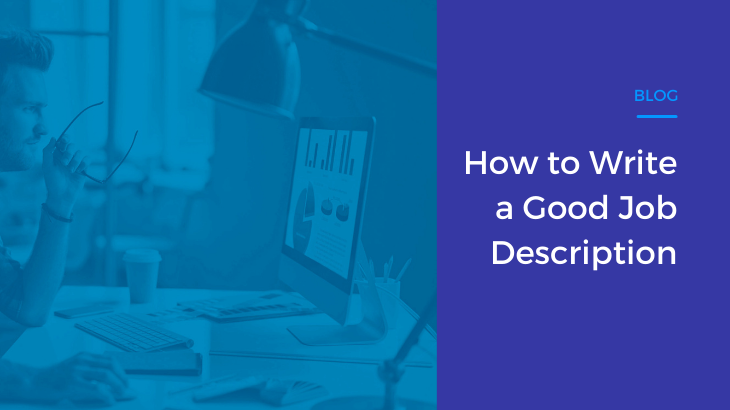 A job description is a written document that describes the responsibilities, duties, related tasks and skills needed to achieve success in the job you're hiring for.
However, a job description isn't to be confused with a job advertisement.
A job description is primarily an internal document that helps you formulate a job, hire for the job and then to use as a point of reference in performance reviews.
Normally a job description will be shared with a prospective employee early on the hiring process. Because it's important that the candidate understands what you want them to do.
And that's why it's still a very important document to help you attract and hire the best people. A well written job description will help you get the candidate excited to learn more about your business and the job they're interviewing for.
So, to write a good job description, follow these pointers;
Choose the right job title
Think carefully about the title of the marketing job you're looking to hire for, and in particular, what level of candidate you're looking to attract to it.
Most good marketers want to see progression when they move jobs, and a key way they measure that is through the title of the job they're applying to.
As an example, a Marketing Executive who has 2 years experience in a role is less likely to move to another Marketing Executive role. Instead, they'd be more likely to apply to a Senior Marketing Executive role.
Of course, title alone doesn't influence them applying, but it's an important aspect to a job.
Sell your company
In London there are many B2B Tech firms looking to hire marketers. So why should someone join your business?
And it's a question you have to directly answer in the job description.
BambooHR gives a list of reasons at the bottom of their job description to highlight the key benefits of joining them to prospective candidates.
Where does the job fit into the marketing team
Being the sole marketer for a company is very different to being one marketer of 30.
Likewise, it's a very different marketing job when you're reporting into the CEO rather than a CMO.
So it's important to clearly describe where the role fits into the marketing team (if there is one) and the wider business.
Doing so can save you time as you qualify out or in candidates before you start going down the interview process.
In an ideal world, you'll be able to show a prospective candidate an organisational structure early on. But a sentence simply describing the reporting line is good too.
Describe marketing responsibilities in detail
Give candidates a good sense of what a typical work day will involve.
For example, if you're looking to hire a Field Marketing Manager, instead of using a vague description – 'you'll be responsible for driving leads into the sales team from your marketing campaigns', use the following;
Planning; create and execute high performing marketing programs using a data-driven approach. Support and align with the EMEA sales team's priorities, and focus on driving pipeline and revenue. Understand and deploy different strategies and plans to reach new prospects and drive expansion opportunities with existing customers.
Integrated Campaign Management; continuously invent and deliver fully integrated campaigns that drive sales results. Orchestrate multichannel campaigns, leveraging channels and tactics such as digital, social media, web, media, PR, virtual and in-person events, and email. Also support and execute account-based strategies and programs.
Sales Support; be a partner to sales teams and leaders. Participate in sales team calls, in-person meetings, quarterly business reviews, and joint planning sessions to ensure alignment.
Just as important as giving candidates a sense of what a typical day will involve, is giving candidates enough information so they can discuss their relevant experience for the job.
Candidates can take the detail you've provided in each bullet point in the job description and provide some context behind their knowledge and experience in that area.
Less time in the interview is then spent on discovery and more time can be spent on understanding the fit.
---
Want further advice? Check out our Ultimate Guide to Writing Job Descriptions
---
Be conversational
The last thing a candidate wants when reading a job description, is to be swamped by acronyms and company terms.
So write your job description in a conversational tone, with clear and concise sentences, that strike the balance between giving enough detail on the job but not too much.
Using your company's tone of voice in the job description gets across your company's culture to prospective candidates. It gives them an insight to your culture.
And that might save you interviewing candidates who'd prefer a different culture or help engage the people who would be a great fit for your business.
A well crafted job description is an important step in the hiring process. If you're looking for some example marketing job descriptions, check out our job description directory to save time and get started quickly.