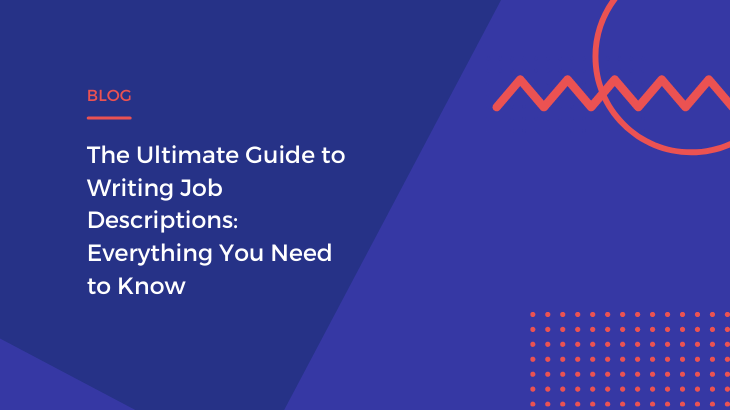 Do you want to write job descriptions that attract the best talent? Or maybe you're a company who wants to create accurate and compliant job descriptions quickly and easily. Whatever your needs, this guide will help.
In this ultimate guide to writing job descriptions, we'll cover everything from what a job description is, to why they're important, to how to write them effectively. And we'll also provide helpful resources along the way so in no time you'll be interviewing highly qualified marketers!
What is a job description
A job description is a document that outlines the essential duties, responsibilities, and requirements of a specific job. They are used to help both companies and employees understand the role and expectations of a position.
---
About To Start Hiring? Check out our Marketing Job Description Templates to kickstart things.
---
Why use job descriptions
Job descriptions can be extremely helpful when it comes to hiring new employees. By having a clear understanding of what is expected in a role, both the company and the potential employee can better assess if it is a good fit before and during an interview. Job descriptions also provide a framework for measuring success within a role, making it easier to identify when an employee is not meeting expectations.
How to write job descriptions
When writing a job description, it is important to consider the essential duties of the marketing position, as well as the company's culture and values. It is also helpful to include an overview of the marketing skills and experience required for the role. Once you have a draft of the job description, it is important to have someone else review it to ensure that it is clear and concise.
While job descriptions are not always necessary, they can be extremely helpful in the hiring process. By taking the time to write a clear and accurate job description, you can save yourself a lot of time and energy in the long run.
---
Further Reading – How to Write a Good Job Description
---
What does every job description need to include?
The most important elements of a marketing job description are the job title, a brief description of the role, and a list of responsibilities and expectations. The job title should be clear and concise, and the role description should give potential applicants an overview of what the position entails. As for the responsibilities and expectations, these should be specific enough that there is no confusion about what is expected of the successful applicant.
In addition to these key elements, a good job description will also include information on:
The company or organization offering the position
The location of the role (if applicable)
The salary or wage range for the role
Any necessary qualifications or skills required for the role
By including all of this information, you can help potential applicants determine if they are a good fit for the role before you interview them and whether or not they want to apply.
If you, or your organisation, is looking to create a job description from scratch, there are a few things to keep in mind. The first step is to ensure that the job title is clear and concise. The role description should be brief, but it's important to include enough information so that candidates understand what the position entails. As for the responsibilities and expectations, these should be as specific as possible so that there is no confusion about what is expected of the successful applicant.
It's also important to consider your audience when writing a job description. Are you targeting experienced marketing professionals, recent graduates, or something else? Tailoring your job description to your target audience will help you attract the best candidates for the role. Let's now go into each section of the job description in more detail.
Job Title
Make the job title specific. Targeted job titles are better than generic job titles, so make sure keywords describe the roles accurately. Avoid language that confuses job seekers. And ensure that the level of the title i.e. Senior, Head of, is a true reflection of the responsibilities within the marketing job.
Job Summary
Start with an interesting summary. Your summary should provide a brief summary of your company and expectations for the job. Bring your readers into your story and tell me the uniqueness of the business. Your job description is an introduction to your organisation and the employer brand. List the reasons a person might be interested in your company culture.
Think of this section as your Employer Value Proposition (EVP). An EVP is the unique set of benefits that an employee receives by working for your company. This is what makes someone want to work for you and not your competitor. So make it count!
Some things to consider when writing your EVP could be:
Work/life balance
Flexible working hours
Company culture
Learning and development opportunities
The chance to work on interesting or innovative projects
Once you've considered these factors, you can start to craft your EVP statement. Remember, this is a summary of what makes your company an attractive employer, so make it punchy and impactful.
Responsibilities and Duties
This is the section of the job description where you describe what the marketer will be responsible for doing on a day-to-day basis. Ensure that you list all the jobs responsibilities clearly.
As an example, for a Marketing Manager job you might list some of the responsibilities as follows:
– Developing and managing marketing plans
– Researching demand for the product/service
– Managing and motivating the marketing team
– Overseeing implementation of the marketing strategy – including campaigns, events, digital marketing, and PR
– Liaising with external vendors to execute promotional events and campaigns
– Analysing market trends and identifying new opportunities for growth
Qualifications and Skills
The qualification and skills section of the job description is important, as it will help you determine whether a candidate is the right fit for the role.
In this section, you should list the essential and desirable qualifications and skills that are required for the position. For example, if you're looking for a digital marketer, you might require experience with Google AdWords and HTML.
If there are any specific software programmes or tools that are used in your company, make sure to include these here too.
Also talk about some of the softer skills, or competencies, that a candidate might need. For example, the ability to work well under pressure or excellent communication skills.
Remember to use language that is clear and concise, so that job seekers can easily understand what you're looking for.
Salary and Benefits
88% of UK job seekers consider employee benefits important. So in the salary and benefits section of the job description it's important to list all the perks and benefits that come with working for your company.
Including things like healthcare, pension contributions, flexible working, and annual leave allowance will make your job description more attractive to potential candidates.
You should also include a salary range in this section. This doesn't have to be an exact figure, but giving a salary bracket will give job seekers an idea of what to expect.
Location
Make sure to include the location of the role in the job description. If you're looking for someone to work in your London office, then say so! Providing this information up front will save time later on in the hiring process.
If you offer a hyrid working arrangement then mention this too. With more and more people looking for flexible working, this is an attractive option for many job seekers.
Application Process
The final section of the job description is the application process. In this section, you should include information on how to apply for the role. This might be via email or online form. You can also include a link to your careers page.
It's important to make this process as easy as possible for potential candidates. If it's too complicated, you might deter people from applying altogether!
Is a job description the same as a job advertisement?
While the job description and adverts are detailed about roles and qualifications, there are differences. Job descriptions are internal documents containing more detail. This data will be customised for each company. And it can be used by both internal employees and candidates as it's the basis for an advertisement. Whereas a job advert is an external facing document, used to appeal to potential candidates. The goal of an advert is to ultimately get people interested in applying for the marketing role.
What are the limitations of a job description?
A job description can be a valuable tool for both the employer and the employee, but it does have some limitations. First, it should be noted that a job description is not a contract – it's simply a way to outline the responsibilities and expectations of the position. Secondly, job descriptions should not be used to discriminate against potential employees; instead, they should be used as a guideline to ensure that all candidates are evaluated fairly. Finally, job descriptions should always be updated as needed to reflect changes in the role or company. For example, if the company decides to add new duties or requirements to the position, those changes should be reflected in the job description. By keeping these limitations in mind, you can make sure that your job descriptions are effective and fair.
Now you know everything there is to know about job descriptions! By following the tips in this blog post, you can be sure that your next job description will be clear, concise, and attract the best candidates for your role.
If you're still not sure where to start, our team of experts can help. We've written hundreds of job descriptions and can tailor them specifically for your needs. Get in touch today to find out more.
---
Further Reading – Disadvantages of Job Descriptions
---
Job Description Template
If you're just looking for a marketing job description template, then you can download the word version to help you with the structure and layout of the job.