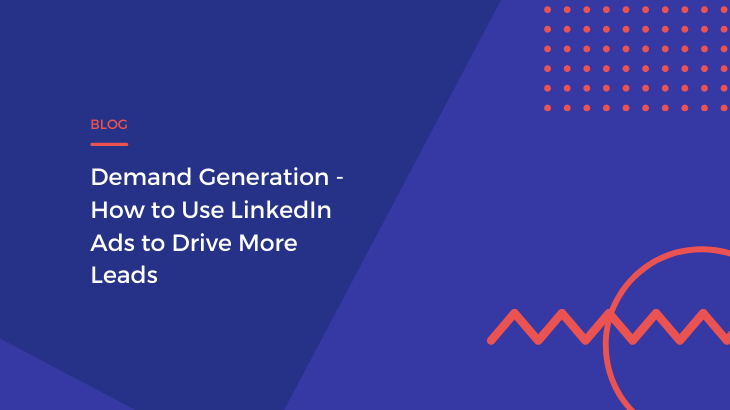 80% of B2B leads come from LinkedIn. (LinkedIn Insights)
For SaaS, LinkedIn serves up your target audience on a silver platter.
In fact, 43% of marketers have sourced at least one customer from LinkedIn.
While you can grow your organic reach on LinkedIn, integrating paid ads into your demand generation strategy is a far more effective way to reach a wider audience.
What is demand generation marketing?
First, let's define demand generation.
Often confused with lead generation, demand generation is a collective effort by marketing and sales to accelerate the pipeline, capture existing demand, and generate demand. ‍
Essentially, lead generation is a part of demand generation.
So, demand generation marketing is a go-to-market strategy employed by companies that plays nice with sales and impacts revenue directly.
Where do LinkedIn ads fit into your demand generation marketing?
We've already established LinkedIn is good for lead generation. But, did you know that LinkedIn is also the best platform for lead generation?
Hubspot studied 5,198 B2B and B2C businesses to conclude that LinkedIn is king for lead generation.
And organic content takes care of capturing demand.
LinkedIn's break down of the top 10 most followed pages offers up the following insights to grow organically –
Use videos and short-form content
Make diversity and inclusion a part of your communication
Showcase innovation
Lead socially responsible initiatives
Shine a light on your best talent
But what about creating demand? Or, getting in front of people that have a problem that your product solves or making them realise that they have a pain point in the first place?
That's where LinkedIn Ads come into play.
This is not to discount the role LinkedIn Ads play in harvesting demand and accelerating the pipeline but more on that later.
As of January 2020, LinkedIn Ads reached a whopping 663.3 million users.
But reach does not mean revenue.
So, this raises a couple of questions. Are LinkedIn ads effective? If so, Is advertising on LinkedIn expensive?"
Let's tackle that one by one.
Compared to other ad platforms, LinkedIn's lead conversion rates are 3x higher. So, LinkedIn ads are definitely worth it.
That brings us to the cost of advertising on LinkedIn.
The average CPC or cost per click for LinkedIn Ads is $5.26. Comparatively, Facebook's average CPC is $0.97, which is significantly lower, but it does not yield the same quality of leads.
LinkedIn Ads are also more expensive than Google Ads. Google has a broader reach, so if you are a B2C company, you'll find Google Ads far more effective, but for B2B, LinkedIn is the holy grail.
---
Additional Reading – The Complete Hiring Guide for Demand Generation Jobs
---
LinkedIn Ads – pros and cons
‍
So, what's the catch with LinkedIn Ads?
Like everything else, there are potential downsides that you have to consider before you start using it for demand generation.
Let's dive in.
Pros of using LinkedIn Ads‍
Better lead quality
Since the target demographic uses LinkedIn, the quality of leads generated on LinkedIn is far better.
Reaches the right target audience
LinkedIn is the only platform that allows you to target someone based on their employer, professional qualifications, designation, education level, and companies they follow.
Easy to set up
Unlike other platforms, LinkedIn keeps it super simple when it comes to setting up ads. You can create an ad in less than 5 minutes.
Diverse LinkedIn ad formats
You can choose from video, images, or organic content to run a LinkedIn Ad. LinkedIn also offers the ability to run conversational ads through Conversation Ads.
Cons of using LinkedIn Ads
Must meet the minimum budget
You have to meet LinkedIn's daily minimum budget to run ads. Usually, it's about $10/day, but it makes it unsuitable for marketers with lower budgets.
Clunky UI
If you've used Google or Facebook Ads, then you're going to miss the ability to duplicate ads or create them in bulk. There's no media library, so you have to upload the same image every time you need to replicate an ad.
Lack of custom reports
The reporting features leave a lot to be desired. You don't have access to custom metrics like other ad platforms, and it can be hard to justify the budget without it.
Limitations in targeting
Although targeting options are better than other platforms, you cannot target a specific gender or age – only a range – due to compliance reasons.
---
Further Reading – 10 Best Interview Questions to Ask a Demand Generation Marketing Manager
---
How to use LinkedIn Ads to drive more leads
I unpacked how brands used LinkedIn Ads for lead generation and distilled it down to these five strategies:
#1. Test different ad formats
Corporate Visions, a B2B messaging, content, and sales skills training company, spent thousands of dollars on an ad campaign.
It bombed because they didn't have a process to analyse the ads and ended up generating leads that weren't qualified.
By leveraging audience optimisation recommendations, they realised that Carousel ads outperformed other formats and started investing more in Carousel ads.
This minor tweak, along with other recommendations, helped Corporate Visions double marketing influenced revenue in a year.
There are four different types of ads you can run on LinkedIn:
Sponsored Content – Single Image Ads, Video Ads, Carousel Ads
Sponsored Messaging – Conversation Ads, Message Ads
Lead Gen Forms
Text and Dynamic Ads – Text Ads, Spotlight Ads, Follower Ads
Test different ad formats with a controlled budget before you invest more. Since LinkedIn ads are not cheap, not testing the right format can be a pretty expensive mistake.
#2. Experiment with the target audience
Even before you think of running an ad, any demand gen marketer would map out the buyer persona.
But setting up an ad on LinkedIn doesn't just mean setting up the ideal target audience and calling it a day.
You need to refine your audience to improve conversions and acquire quality leads.
Corporate Visions fine-tuned their audience by excluding people with job titles that saw the ad but were not clicking on it as much.
#3. Leverage LinkedIn for the entire funnel
Matmatch, an online platform that matches end-users and suppliers of engineering materials, used LinkedIn Ads for all stages of their funnel.
To generate awareness, Matmatch used Carousel Ads and Sponsored Video Ads.
They captured demand through Sponsored Content and Sponsored InMail along with LinkedIn Lead Gen Forms.
Using Insight Tags, they were also able to retarget users that had visited their website to increase conversions.
The full-funnel approach grew Matmatch's user base from a few thousand to 150,000+ monthly users in less than a year.
Matmatch also generated a thousand qualified leads growing their supplier pipeline by ten times.
This mini case study shows that with the right demand generation strategy, marketers can leverage LinkedIn efficiently to serve the right content at the right time to reduce sales cycles, boost brand awareness and generate quality leads.
#4. Customise and personalise your ads
CA Technologies, a B2B company that offers enterprise software solutions, found themselves in a dilemma familiar to many B2B companies.
They were able to generate leads, but those leads didn't move to the next stage in the funnel.
What they were missing is personalisation and customisation, which is extremely important for ads.
And consumers agree. 67% of consumers believe that content should auto-adjust based on context for a real-time personalised, experience.
CA Technologies was able to achieve this with LinkedIn's Dynamic Ads.
They created a unique ad to display their brand name and LinkedIn's member's profile image like so –
This campaign resulted in an 11.3% conversion rate and the cost per lead was 68% lower than other social channels.
You can use other elements of LinkedIn member's profile data such as job title, company name, or their first name.
#5. Nurture your leads through follow up ads
LinkedSelling, an agency that helps B2B companies generate leads and appointments, started playing around with different LinkedIn ad formats to test the waters.
The metric that mattered to them the most was a demo with their sales team so they centered each activity around that.
Similar to Matmatch, they applied a full-funnel strategy. They displayed Sponsored Content to cold prospects that were looking for lead gen solutions.
But for warm leads, instead of directing them to the website, they did a follow-up via Sponsored InMail to start conversations or leveraged personalised Dynamic Ads.
The custom follow-up campaigns paid off.
LinkedSelling generated 820 new leads and saw a 7:1 return on their ad spend. The most exciting outcome was the reduction of the sales cycle.
With the follow-up ads and sales teams reaching out to those qualified prospects, their closing time reduced in half.
Instead of focusing on only one ad format or trying to get the leads off of LinkedIn, trying to nurture those leads on LinkedIn has merit.
The emphasis then is not on selling but providing value.
How to learn more about LinkedIn Ads
Since running LinkedIn Ads is far more expensive, it's best to arm yourself with as much information as possible before including it in your demand generation strategy.
Mastering LinkedIn Ads requires you to have a learning mindset.
Here are a few ways you can gain actionable insights:
1. Explore LinkedIn's marketing solutions hub
‍
LinkedIn has a vast wealth of resources to set you up for success, along with case studies and product tutorials.
2. Follow the hashtag #LinkedInAds on LinkedIn‍
The best way to stay on top of industry trends and ad insights is to follow the hashtag LinkedInAds. You will see posts from other marketers trying out new features or agencies that cater to businesses and offer valuable tips.
3. Attend webinars and workshops
If you have a limited amount of time to learn, then workshops and webinars are great strategies to amass information in a short window of time.
LinkedIn hosts webinars to help you get started with advertising. If you'd like to stay notified of webinars, follow the hashtag LinkedInAds and LinkedIn Ads experts so that you see relevant content in your feed.
4. Listen to podcasts
Since podcasts are a demand generation tool, listening to podcasts to learn about LinkedIn Ads is an excellent strategy since no one is trying to sell you a course.
‍
AJ Wilcox, founder of B2Linked, a LinkedIn Ads agency – the only Certified LinkedIn Partner – hosts a weekly show called The LinkedIn Ads Show Podcast that delivers on its promise.
5. Pursue a certification ‍
Udemy, Coursera, edX, and LinkedIn have courses to certify you as a LinkedIn Ads expert. Nothing beats implementation and hands-on experience but pursuing a certification is a step in the right direction.
6. Read books by experts
For visual learners, books on LinkedIn advertising are another great way to absorb crucial information.
You can find several ebooks online – one by LinkedIn as well – that can accelerate your learning.
How to execute your LinkedIn Ads campaigns
Even though LinkedIn Ads are easy to set up, it's not a cakewalk.
Most of the brands I studied had poured money into LinkedIn without seeing the right results until they adjusted their strategy.
That being said, executing a LinkedIn Ads campaign can be handled four different ways:
1. DIY (Do it Yourself)
With a controlled budget and a cap on the frequency of ad impressions, you could set up a LinkedIn Ads experiment before deciding to invest a substantial amount.
LinkedIn allows you to choose self-service or managed campaigns. Managed Campaigns give you access to LinkedIn's marketing experts. In most cases, you would have to select the Managed Campaigns option since all ad formats are not available to self-service advertisers.
2. Agency
The next option is to hire an agency with experience in LinkedIn demand generation if you don't have time or the resources to run this in-house. But, keep in mind that the agency fee will be an added expense on top of what you're paying for LinkedIn Ads that are already expensive.

3. Freelancer‍
This is the most budget-friendly option if you want to outsource your Ad campaigns without running your budget into the ground. Hiring an expert in LinkedIn Ads for demand generation couldn't be a great option for your business.