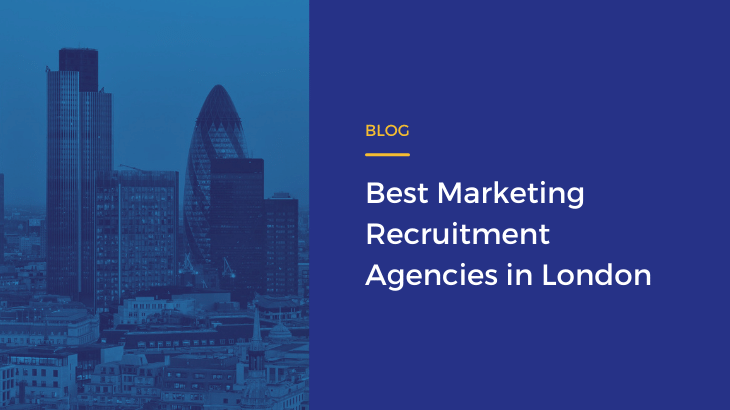 Finding the right marketing recruitment agency for your business is crucial. Hiring the very best talent into your business can mean the difference between achieving your business goals or not. So you need a recruitment agency that understands your market and the type of talent you need.
Fortunately, there are some excellent specialist marketing recruitment agencies to help you. And we've pulled together a list of the best in 2022 for you to consider. 
Here's our list of best marketing recruitment agencies in 2022:
Market Recruitment
Market Recruitment is a specialist B2B marketing recruitment agency placing marketers into B2B Technology & SaaS companies.
Based in Throgmorton Street, London, they've been established for over 10 years and were set up by two Directors who have over 20 years experience.
They place marketers into the following types of roles;
Demand Generation
Field Marketing
Content Marketing
Digital Marketing
Growth Marketing
Product Marketing
Marketing Operations
Product Management
Market Recrutinent works with a variety of clients from Startups who have just raised a seed round of funding or a Series A, to Scaleups and Global B2B Tech Brands.
With the Directors still delivering the projects themselves, they offer an unrivalled level of support, knowledge and delivery and since their inception they've successfully completed over 400 projects for clients.
Their services include contingency recruitment, retained search and recruitment process outsourcing, or as they call it, recruitment as a service.
Ball and Hoolahan
Ball and Hoolahan place marketing candidates into the FMCG and Retail sectors, having been established over 30 years ago. Their UK HQ is in Blackfriars London, but the business sits within the Empresaria Group based in Crawley.
They work with a variety of clients, from new food and drink Startups to some of the global brands we see on our supermarket shelves today. And they place marketers into jobs across brand management, category marketing and trade marketing to name a few.
Within their broad sectors they work with clients across the following areas;
Food
Drink
Beauty
Personal Care
Pharmaceutical
Travel
Entertainment
In addition, they sometimes do some work in the Professional Services sector although they're primarily known as a FMCG and Retail specialist.
Charity People
Charity People place a variety of candidates, including marketing communications and digital marketers, into the Charity and Not-For-Profit sector.
Based in Bermondsey, London, they have been established for over 30 years and work with organisations which include Charities, Universities, Membership Bodies and Institutes.
As well as placing marketing candidates they also place candidates into the following roles;
Human Resources
Finance
Data Management
Office Support
Fundraising
Board and Senior Leadership
Today, they continue to promote the Charity sector as a great place to work and have now placed over 30,000 people into the industry.
---
Looking for a recruitment agency to help you hire marketers into your B2B Tech company?
Book a call to discuss how we can help you today.
---
Creative Recruitment
Based in GraceChurch Street, London, Creative Recruitment have been trading for over 35 years. They describe themselves as the first truly integrated boutique recruitment agency and place marketing candidates into creative roles on a permanent, freelance or contract basis.
They also pride themselves on their culture which embodies honesty, integrity, loyalty, speed and efficiency.
Inspired Selection
Founded over 20 years ago, Inspired Selection is a recruitment agency that's dedicated to the publishing industry. Having worked in the publishing industry themselves, they know their industry inside and out.
Their values talk about; inclusivity, empowering their employees and customers, being kind and working collaboratively.
As well as placing marketers into publishing firms, they also place candidates into the following types of roles;
Sales
Operations
Administration
Design
Finance
Production
And within the publishing industry, they service clients across: academic, professional, educational and trade.
Totum Partners
Totum Partners is a specialist recruitment agency focussed on the professional services sector. Within professional services, they works with businesses across; accounting, recruitment, law, management consultancy and real estate.
Based in Basinghall Street in London they currently employ over 25 people and describe their difference as;
Powering up professional services firms
Talent to make a difference
Leveraging insights and making a difference
As well as placing marketing candidates into professional services firms, they also place candidates into the following roles;
Sales
Finance
IT
Leadership
Project Management
Transformation and Change
HR
Morgan Law
Established over 20 years ago, Morgan Law is a specialist recruitment agency that places marketers into the public sector. Based in Oxenden Street, London, they currently employ over 60 people with the Directors having worked in recruitment for upwards of 14 years.
As well as placing marketers into the public sector, they also place candidates into the following roles;
Secretarial
Programme and Change Management
Finance
IT
Human Resources
Executive / Leadership
Some of the clients include; Age Concern, Amnesty International and the Imperial NHS Trust.
Selecting the right marketing recruitment agency
Selecting the right marketing recruitment agency for your company requires you to know what you need at that particular time. As you can see from this list, every recruitment agency will offer you something different. Is it important that they understand the sector you work in? Are you looking to hire someone senior and need a retained recruitment service?
To decide on what marketing recruitment agency is the best one for you to work with, spend some time looking at their offerings and make sure you schedule a call with them to ask them some questions. It's important they have the level of knowledge and experience to represent your brand and help you achieve your hiring goal.
Market Recruitment is a B2B marketing recruitment agency for the B2B Tech and SaaS sectors in London.