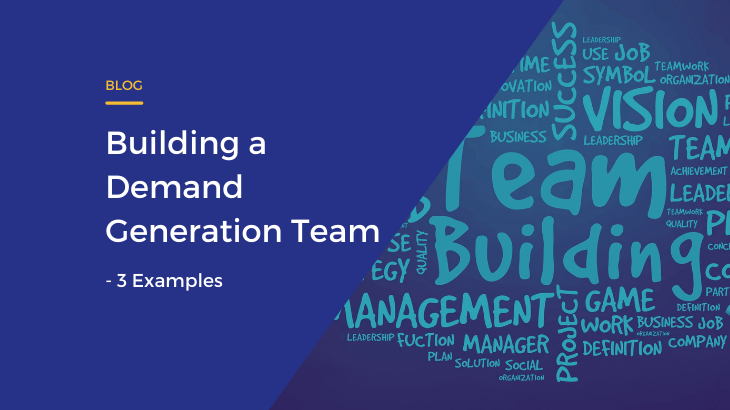 Generating more demand for your B2B Tech business isn't easy.
Not only are you competing with more companies, but it's getting harder and harder to cut through the noise and get your message heard.
But if you're serious about growth, then building a top notch demand generation team is a key pillar to your success.
And with many approaches to this, we're going to dig into why it's important to crack on and build a demand generation team now and the various options open to you.
What is demand generation marketing?
Demand generation marketing supports a company's demand generation strategy, and is used to create awareness of your solutions with prospects and then nurture those prospects down the funnel until they become a customer.
But unlike lead generation, which is purely focussed on generating leads, demand generation marketing is also responsible for driving demand from within your customer base.
At a high level, both sales and marketing will create the demand generation strategy, and then they'll individually create their own plans to support the goals of that strategy.
And because of the changing nature of buyers and the recent effects the global pandemic has had on the growth of businesses, the spotlight is now on demand generation marketing to deliver even more.
It seems investment in demand generation is higher, but so too are expectations.
---
Additional Reading –The Complete Hiring Guide for Demand Generation Jobs
---
What does a demand generation marketing team do?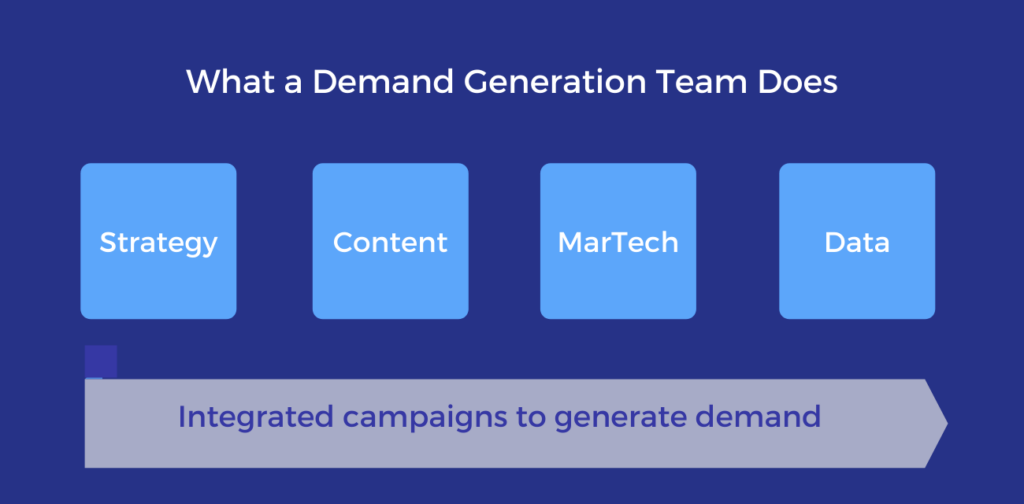 The modern B2B marketing role is multifaceted. And that's no different in the demand generation marketing team.
Each demand generation marketing campaign that is executed, will be integrated across a variety of channels, managed in marketing automation platforms, require great content and be backed up by data and insights.
So in order to be successful each demand generation team must be able to work across these four key areas;
Strategy
First and foremost, it's crucial to get the strategy right.
It's all well and good creating a great campaign, but if it doesn't resonate with your target persona's, then it won't be successful.
So a key part of the demand generation marketing team's time is spent on building that strategy. And then communicating it to key people and stakeholders within a business.
It's vital that sales and marketing are aligned on it, so it's wise to get their engagement on it early.
Then once you have your strategy in place you can start to move onto it's execution.
With the technology advances of recent years, marketing technology is playing a prominent role in the effectiveness of B2B demand generation marketing teams.
So making sure the right MarTech stack is in place, and optimised for success, is a key part of a demand generation marketing teams activity.
Benefits of a MarTech Stack;
Centralise data – you can centralise data across the organisation so everyone has a view of the customer and what activities have happened

Time Saving – you can automate lead nurture sequences to save you time

Insights – you can use data to see what marketing campaigns are working and what isn't, helping you pivot and save budget or invest more to win more

Personalisation – you're able to target your persona's or target markets with highly personalised messages and offers, helping to drive more engagement and leads
Content
Creating great content that resonates with an audience, for each stage of the funnel, is a crucial part of a demand generation team's responsibilities.
At the top of the funnel, teams will create content that builds awareness with their target persona's. At this stage, it's about making people aware they have a problem, rather than focussing on your solution to that problem.
At the middle of the funnel, content will help a prospect evaluate whether or not a solution is the best solution for them.
And at the bottom of the funnel, teams will focus on creating content aimed at influencing a purchase and the necessary paths for prospects to convert.
Data and Insights
It's important to the success of demand generation campaigns to base a strategy on sound data.
And that will include looking back at historical data from the campaigns you've previously executed. Teams will look to see what marketing channels worked, what the conversion rates were and what the return on investment (ROI) was for each tactic or channel.
That way teams can create goals to achieve and the demand generation metrics they need to measure to make sure they're achieving those. 
Typical roles on a Demand Generation Marketing team
Your demand generation team will be structured differently depending on whether you're a Startup or a Global B2B Tech leader.
However, in order for demand generation to deliver the best results, it's important to build a team of specialists to help create and execute your strategy.
And that team will have the following roles;
Director of Demand Generation
A Director of Demand Generation is responsible for overseeing the whole demand generation function.
That will include;
Hiring, coaching and managing everybody in the team

Creating the demand generation strategy

Overseeing the execution of the strategy

Setting budgets, overseeing spend and reporting on ROI

Reporting the C-suite and key stakeholders about initiates, wins / losses, strategy and input into broader demand generation ideas

Deciding on the MarTech stack
Demand Generation Marketing Manager
A Demand Generation Marketing Manager will take the overall strategy and build marketing plans and campaigns to help the business achieve its goals.
Depending on the size of the demand generation team, this will either be a project based role where this person would coordinate the execution of integrated campaigns. Or, if it's a smaller team, this person will build and execute the campaigns themselves.
Key aspects of the job will include;
Translating the overall strategy into campaign plans

Testing marketing channels to help deliver demand

Tactical roll out of demand generation marketing campaigns

Reporting on ROI and key demand generation metrics
Marketing Automation Manager
If you're a bigger company with a larger marketing technology stack, then it's more than likely you'll have a dedicated marketing operations team to manage and optimise your technology.
But typically, within a specialist demand generation team, you'll have someone who manages the marketing automation platform.
It's important that sales and marketing teams are aligned so this person will also work closely with the sales team.
Their role will focus on;
Ensuring the marketing automation platform supports the customer journey

Defining and implementing lead scoring

Building and executing nurture campaigns

Overseeing data quality 

Managing lead flow between the marketing automation platform and the CRM

Working with the sales team to ensure alignment 

Reporting on MQLs, SQLs and other key metrics 
Content Marketing Manager
Without content you don't have a campaign. So it makes sense to have someone on your demand generation team who is focussed on your content marketing strategy.
And that could be someone with the experience and seniority to build the strategy, or perhaps someone more junior who can take that content strategy and start to create content for each part of your demand generation funnel.
Key aspects of this role could include;
Create the content marketing strategy

Oversee the execution of the content marketing strategy

Create content for each stage of the funnel

Keyword research to help with SEO

Link building to increase domain authority

Content promotion across a variety of channels
Copywriter
Having someone focus on writing long-form and short-form content is a wise move. Writing copy is a real skill, and can help get a reader's attention and influence whether they convert.
Plus, depending on the volume of content your team is producing, your Content Marketing Manager may need to spend the majority of their time promoting content and helping produce podcasts and videos.
A copywriter will get involved in;
Create long-form and short-form content to help convert prospects

Write content to support thought leadership

Optimise copy on the website and in landing pages to help conversions

Create collateral to support the sales team
Designer
Let's be honest, we're all a sucker for good design. You only have to look at some of the most successful B2B technology company's today to see the importance they put UI, UX and brand to their success.
So a lot of demand generation marketing teams have someone who can design assets to be used online and offline, helping content stand out and be easier to consume.
And this person could be a classic Graphic Designer, or someone with more technical ability across HTML, CSS and Javascript.
---
About to Start Hiring? Save Time and Steal Our Demand Generation Job Description Templates
---
Three Options to Build Your Demand Generation Team
Depending on your company's goals, the resources it has and the speed at which you want to grow, there are a number of options to build your demand generation team.
Here are three common options;
Hire an Entire Demand Generation Team
If you're a well funded VC backed Startup or a large established B2B Technology business, then hiring an entire demand generation marketing team could be a good option for you.
Every role in the demand generation team we've discussed is a specialist one. So to maximise the results from your efforts, you need those specialists to combine to help drive incremental demand.
A key advantage to this approach is that you control the whole process. You're not reliant on external agencies or 3rd parties.
Hire Demand Generation Freelancers
Hiring an entire demand generation marketing team takes time. So a quicker route to market, is to hire freelancers with the expertise you need and build an on-demand team.
This also has the benefit of being able to test the channels you decide on, the messaging you take to market, with the ability to throttle up or down the volume you need depending on what works for your business at that particular time.
Once you've then identified you can generate a positive ROI, you can then start to hire for certain roles and you scale your efforts.
Have a Hybrid Demand Generation Team
The final option is to have a hybrid team. And is probably the best option for smaller marketing teams or Startups.
Essentially, a company would hire a Marketing Manager and have part of their role focus on demand generation.
We'd recommend you hire a T-Shaped marketer into this role.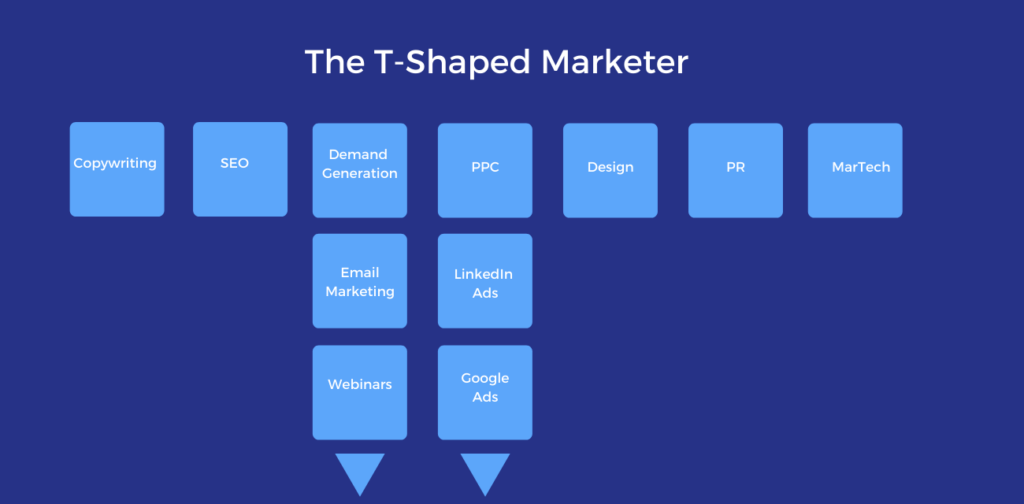 A T-Shaped Marketer is someone who is broad in their knowledge, so they can build strategies and hire freelancers and agencies because they understand the theory.
However, rather than being able to execute on every aspect, they'll normally be an advanced marketer in two or three areas. So, hire someone who's an expert in demand generation and then that person can hire expert freelancers to help with content creation, design and PPC.
Where to go from here
Of course, demand generation isn't easy. There are many companies competing for the same prospects and it's getting harder and harder to cut through the noise and be heard.
However, there's no doubt that a team of specialists focussed on demand generation will bring you the best results.
So whichever way you decide to build your demand generation team, make sure you have a clear strategy and give your model the resources and time to make things happen.