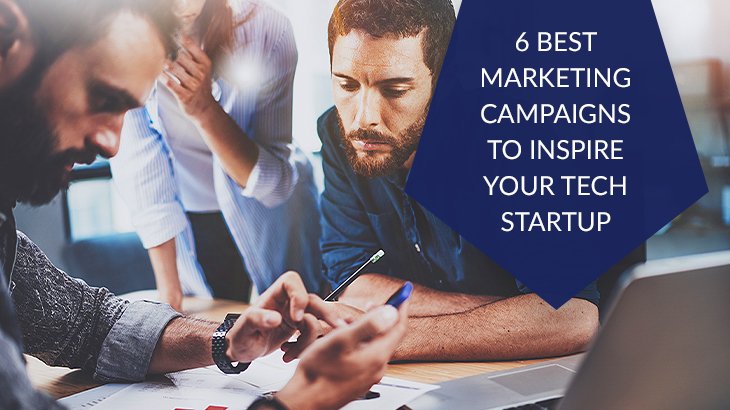 If you're a stranger to marketing, it can be discouraging and frustrating trying to generate promotional ideas when it doesn't come naturally to you.
Fear not; some people get paid to do it.
Yes. I'm not joking, people get paid to think of ideas that generate you more business.
The Tetley Tea Folk made having a brew a little more comforting.
Churchill The Nodding Dog made care insurance a little more agreeable.
Does anyone remember this advert?
I'm not saying you need a mascot to make your business sound appealing, but you certainly do need a sticky marketing campaign.
We're going to run through some of the best B2B marketing campaigns, and show you how other companies have made themselves appealing.
1. Electronic Data Systems/Fallon — Cat Herders Commercial
If you were bored by the first bit of that title, you can't be bored by the second bit!
EDS was an American multinational B2B technology service and equipment provider who managed to create a campaign a lot more interesting than their name.
The Super Bowl is one of the most watched events in the world, and the commercials are symbolic.
For viewers, it's all about the spectacle, who will create the best ad? For businesses, it's simple, we're going to show an advertisement to over 100 million people, so it needs to be amazing.
EDS enlisted Fallon to create their Super Bowl ad, and it didn't disappoint.
It was a 30-second ad that showed western cowboys herding cats across the Montana Plains.
The ad played on the commercial jargon 'it's like herding cats' — giving the impression EDS can solve the improbable by 'herding cats'.
It showed that EDS had a sense of humour, but were also focused on solving business problems.
If your business is perceived as a little 'serious', you can inject some fun into it without making it a joke.
While commercial ads work, consider whether it's the best way to spend your funding.
Ad campaigns like this one are expensive, EDS and Fallon had to use stuntmen, cats and horses — plus, they had to pay for their Super Bowl slot.
The ad received six awards, and then-president Bill Clinton described it as his favourite commercial, not bad publicity.
2. Accenture — High-Performance Print Ads
There's been a lot of spiel from marketers claiming that 'print is dead' since the rise of digital.
Whether it's a few who've had a bad experience or digital marketers trying to divert attention their way, who knows.
What I can say is, it's rubbish.
You could have forgiven Accenture for thinking the same thing — in 2009 their advertising mascot Tiger Woods was outed for infidelity, destroying their advertising credibility in the process.
They created a few fluffy ads that contained various animals in them — a sheep, a polar bear — but none stood out, and they lacked any conversion potency. The text was generic, and the main focus is on the image.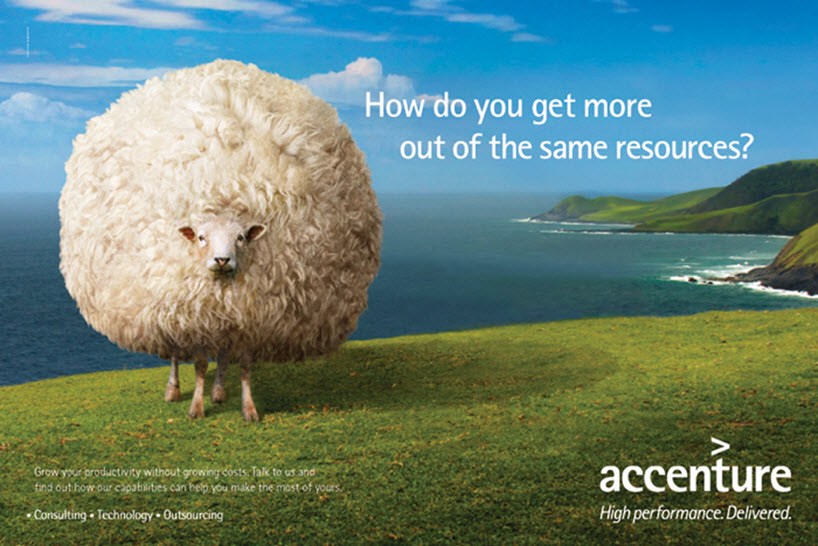 They decided to change things. The images they chose were different, and they were connected to the text that supported them.
They also blended the logo, the text and the images together, rather than creating boxed areas for them to slot in.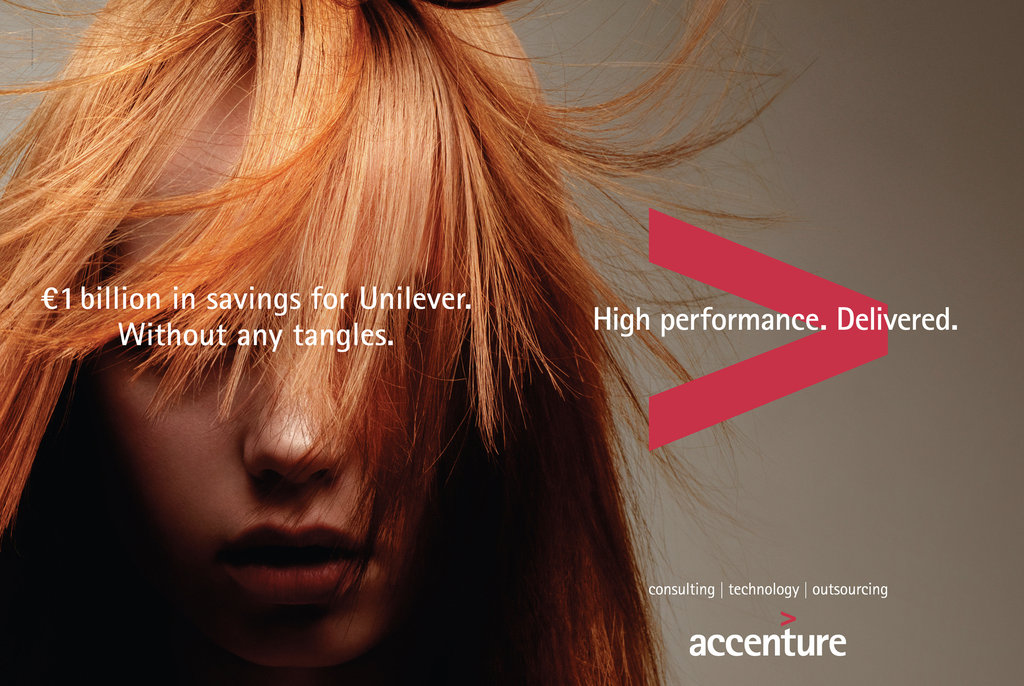 See how Accenture include a positive metric, which is a conversion factor. They use bold colours, and the text has a humorous tone, relating to the business they work with.
Notice how all the elements overlap, which makes the image a lot more fluid, as opposed to the sheep, which is quite rigid.
Print campaigns are expensive, and it's difficult to determine whether you've attained any tangible results, so ensure it's the right decision before you invest.
3. Inmarsat — Trade Show VR/AR Booth
Augmented reality and virtual reality are fast becoming a way for B2B tech companies to show what a product can do.
Inmarsat is a British satellite communications company who provide mobile and data services to various aviation companies.
The company wanted to introduce their commercial version of GX Aviation, so aeroplane passengers could experience unprecedented WiFi speeds wherever they were.
The trouble was, they had a particular buyer, an executive of one of 250 worldwide airlines — around 2500 decision makers.
And they only had a 24-month window to deliver, after reports in 2016 suggested airlines would be willing to invest in internet services in the next couple of years.
Transporting a commercial airline to every trade show wasn't an option, so they created the 'Connected Air' exhibition to give customers an idea of what the experience was like.
Visitors were invited onto flights where they would be seated in a cabin or cockpit, and given a tablet.
Using augmented reality, the user would be transported into a simulated flight and experienced how the journey is enriched through connectivity.
The campaign was also pushed on social media and through the press.
This resulted in increased engagement, partnership leads, positive response from customers, and a surge in corporate stock valuation.
Dominic Walters, senior director of marketing communications 
and strategy, Inmarsat Aviation said:
"Live events have truly put Inmarsat Aviation on the map. Instead of prospects asking us 'who are you?' they're now looking to us for thought leadership and partnership. We've shifted the conversation and our positioning. We're now regarded as true industry innovators."
4. Bosch — B2B Influencer Marketing
Influencer marketing for B2C businesses is fairly simple, you find someone with a large following, send them a product and get them to promote it in some form.
B2B influencer marketing is a little different. You have to take away all the fluff and product benefit speak.
Bosch wanted to promote their new 'connected tools' and ToolBox app in the UK market, however, tradesmen are traditionally sceptical when it comes to buying new gear — especially if the tools they've got work.
Bosch dodged the product benefit angle and went for a 'pioneer of the tool industry' focus.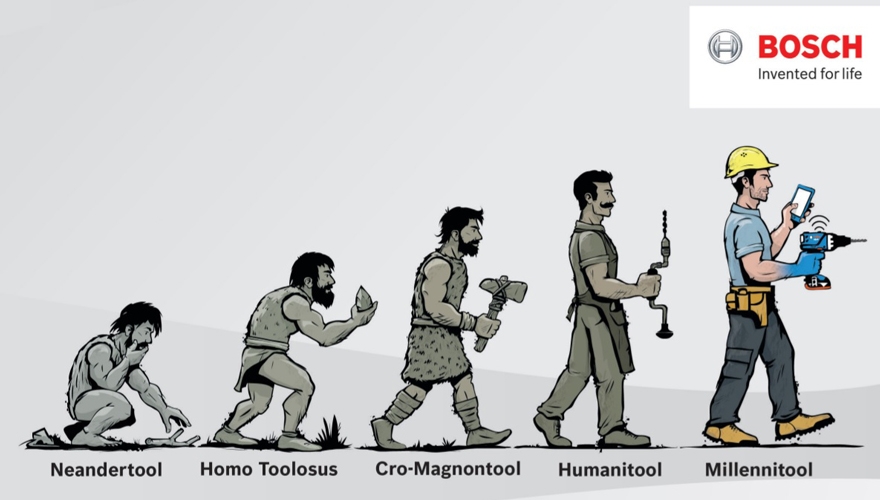 'From Neandertool to Millenitool' was the tagline.
They did a collaboration with OnTheTools on Facebook and shared images such as the one above.
Smaller influencers were targeted who had a relevant follower base, to perform product reviews.
They only spent £27,926 on this campaign which had a reach of 780,101, and an engagement rate of 28,331.
5. Adobe — Incredible UGC Instagram Marketing
Wow.
Adobe's Instagram account is something else. Talk about showing what you do. The colour, composition and creativity in these images are remarkable.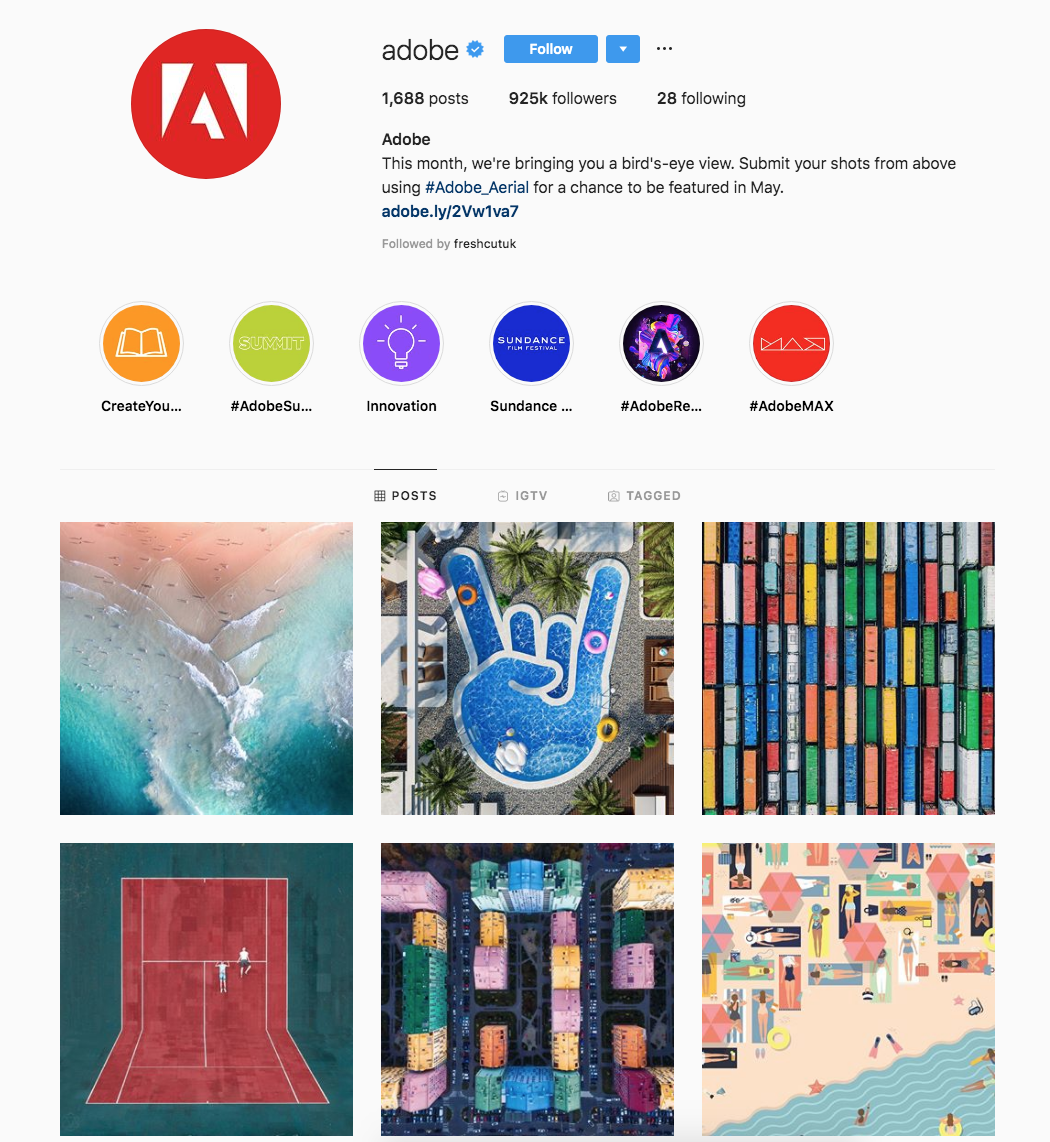 Notice how Adobe has a theme for each month, with May 2019 being 'bird's eye-view' month.
The best thing about their monthly campaigns is that all the content is user-generated, so it's cheap and easy to manage.
Plus, what better way to get people to buy your product than by getting your customers to show the outcome of using it?
It's genius.
In their stories section, they show how they invite designers in to reimagine their logo, swipe up, and it leads to a blog, which leads to this video. A perfect example of repurposing content.
6. Grammarly — Multi-Functional Email Marketing
Grammarly is an online grammar checking tool that's used by business professionals, writers, students, and anyone that needs help with their grammar.
Grammarly operates on a freemium business model, so as soon as anyone signs up for the free service, Grammarly starts to nurture them through an email drip campaign.
The first example of this is their welcome email. There are clear benefits on offer and the CTA to go premium isn't in your face, they probably know people don't pay straight away.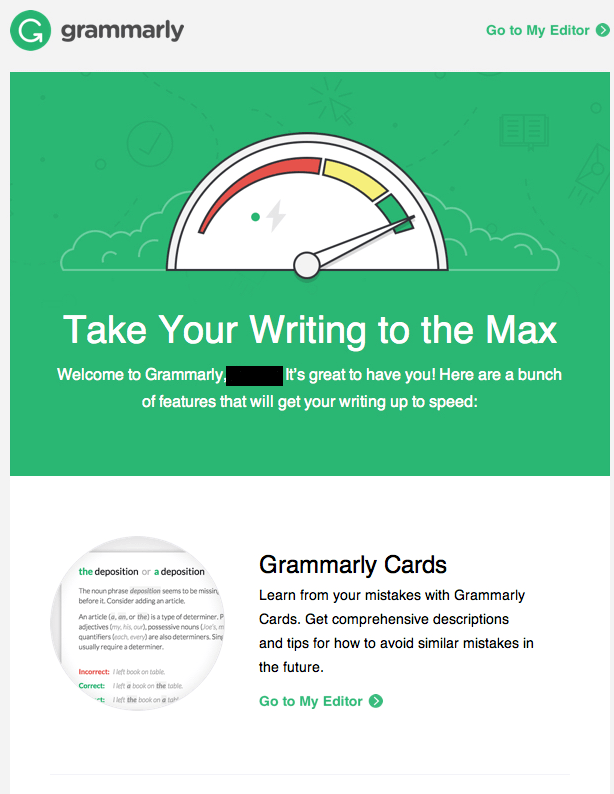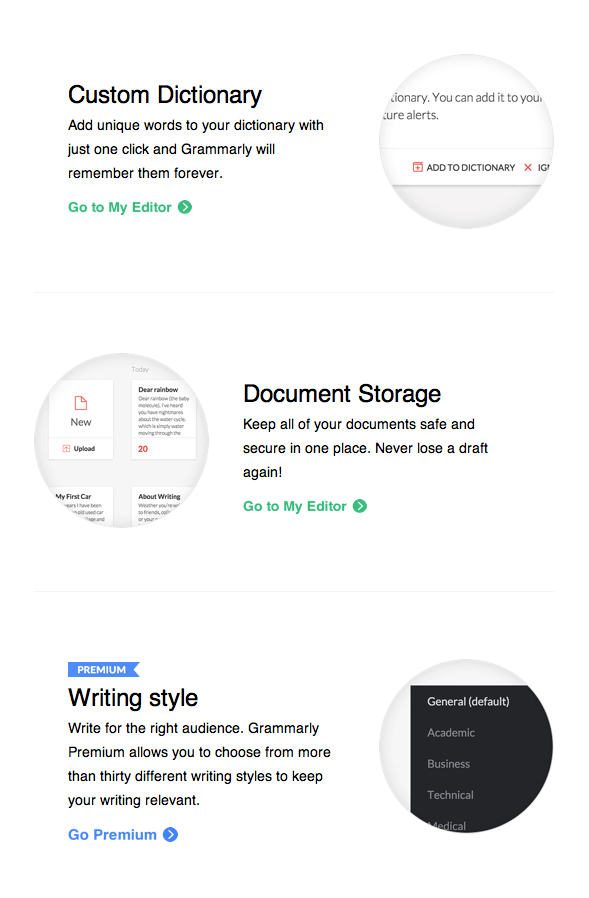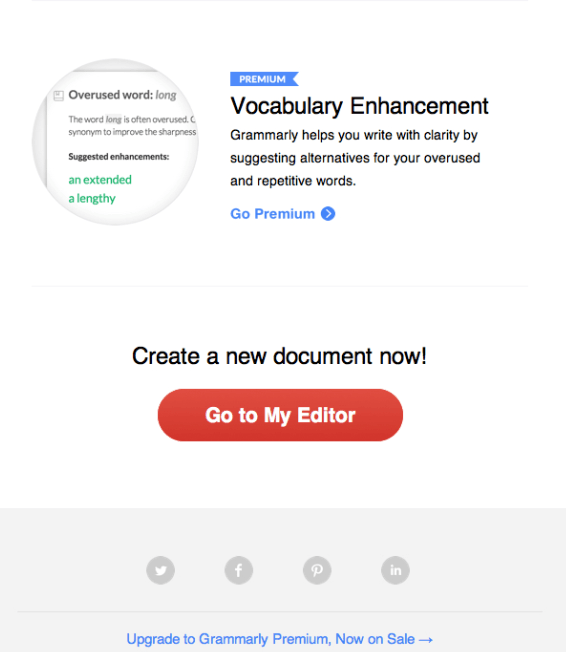 Grammarly will also send out tips and tricks emails, which are an attempt to show value, and prove they know a lot about grammar!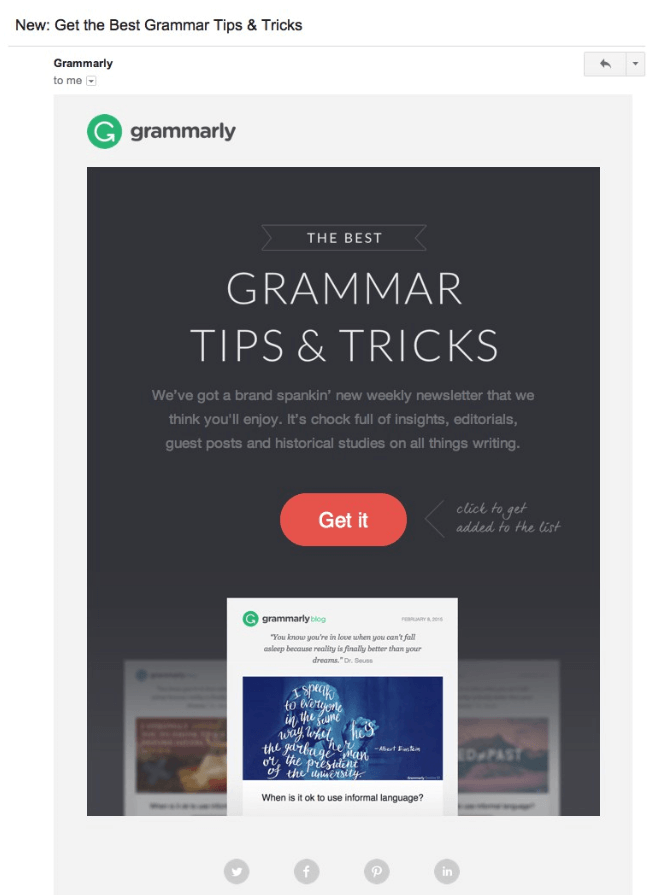 There's also a browser extension add on email: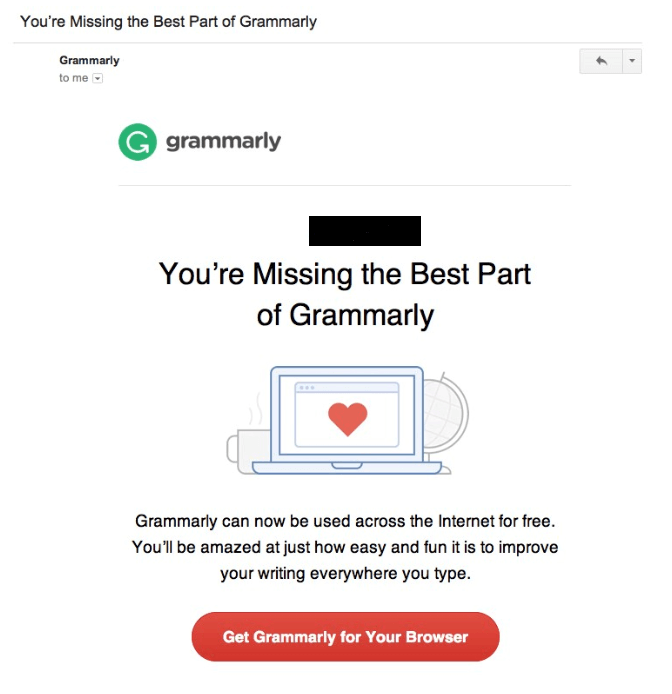 And a re-engagement email if you stop using the tool: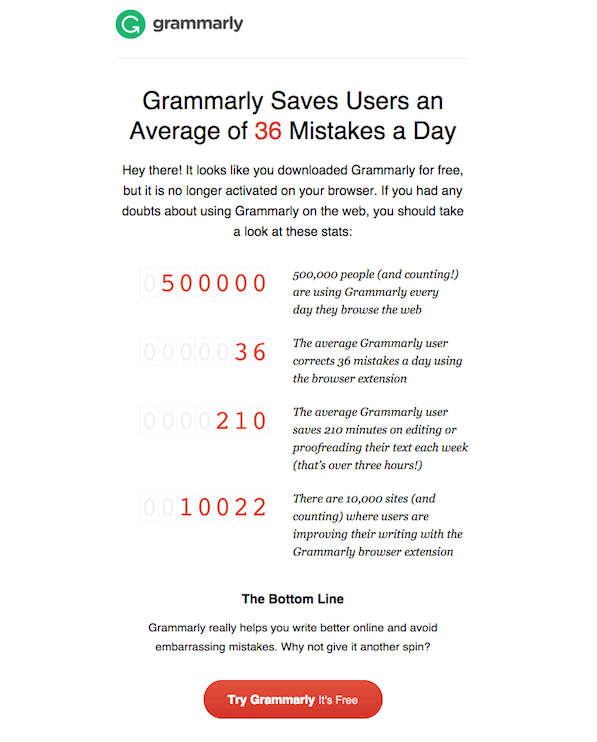 Grammarly has to be careful with sales emails (as all freemiums do), the idea is to make people feel like they aren't buying a product, they're getting it for free and making an upgrade because they want to. These emails facilitate that process.
What's Your Next Marketing Campaign?
When you're deciding what your next campaign is, here are a few things to consider:
Budget — what type of budget are you working with?
Audience — who are you aiming your marketing material at?
Marketing Tactics — what marketing are you going to use to engage with prospects?
Remember, you can be as creative as you like, but it has a price!