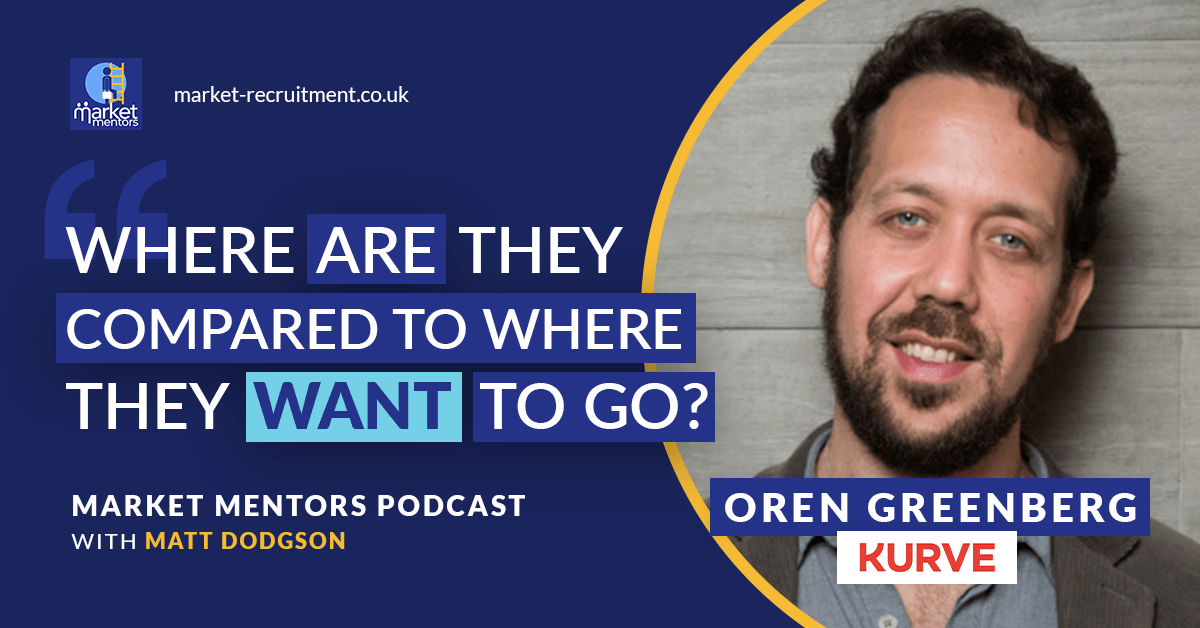 Introduction
Kite is a leading print-on-demand company, serving Shopify online store owners, social media influencers, and various other brands with merchandise printing services.
In this week's episode, Oren Greenberg tells us about how he took Kite on a growth marketing journey, helping to build out the marketing function from scratch and scale the business with a 10x increase of revenue.
About Our Guest
Who they are: Oren Greenberg, Growth Marketing Consultant and Founder of Kurve.
A bit of background: Oren has almost 20 years of experience helping businesses grow with strategic marketing, and has equal interest across both B2B and B2C brands.
Where you can find him:
Episode Takeaways
Here you'll find some of the best advice from the podcast that you can easily digest and learn from.
1. What was the background of this project with Kite? Why were you brought in to help the brand?
Just before Oren joined Kite, Canon had recently bought them out and invested in scaling the business. This was part of a broader project Canon was running at the time, and Kite was one of their incubated businesses Oren was tasked with supporting.
Hiring the marketing team
He explained, "They originally brought me on as an outsourced CMO, and I built the whole marketing function using agencies and freelancers. It was entirely outsourced, which is unusual. A lot of businesses I support are hybrid."
"So, I had to build an entire team. I curated and filtered out people through my network. I was effectively doing what an in-house CMO would do, but I was just fractional. I was only doing it part-time, effectively."
Helping Kite achieve its growth goals
And the goal for Oren was to help Kite grow rapidly, as part of that larger initiative for Canon. He continued, "They needed the expertise. I think the mothership, the marketeers there, were focused on the core brand. They didn't have the bandwidth to really focus on it."
"When you're in a rapidly-scaling business, it's very different to someone who's working in an established business. In terms of process, systems, thinking, team structure. They needed speed, but they also needed expertise."
"Overall, it was an impressive result, considering the set-up. It's unusual to have such a heavily outsourced function of the business, a core function, for it to actually work better than other little in-house teams I've seen was quite interesting."
2. What were your first steps to getting that growth marketing function in order when you joined Kite?
With challenging revenue growth targets to aim for, Oren needed to get off to a flying start. And he did that by first getting the right pieces of the puzzle in the right places.
He explained, "I think all marketing functions need people, because you need specialists to deploy, and to manage the different channels. You needed to build the team to get this tech stack in place."
Getting the growth marketing foundation in place
"Then, I needed to do the marketing hygiene. Confirming positioning, confirming messaging, confirming personas. Making sure that the fundamentals of the marketing strategy were in place."
"Then, go through the process of getting tracking in place and start the experimental process of producing creative. Deploying it for different audiences, testing different variants of copy and funnel options. Lots of different gadgetries, from chat bots to landing pages."
"Fundamentally, I need to get the people in and build a sprint-based approach to running experimentation on the digital channels."
Communicate success early on
Of course, it's also crucial to ensure you can demonstrate the value you're delivering to the wider business as early as possible.
Oren said, "And then, relay what we're doing, what we're seeing, how we're thinking about it, what we're doing next. Relay that into coherent, simplified reporting for management. The challenges we're facing, the obstacles that we've had."
One final point Oren suggested growth marketers should keep in mind is how you're matching up with your competition. He added, "Also, the competitive context. What are the other competitors doing? What are we seeing? How are we comparing?"
"There's a lot of moving parts to this engine. I'd say this is probably very familiar, hopefully, to any marketeer listening."
3. What was your top-level plan of attack for Kite's marketing strategy in particular?
Oren suggested that successful growth marketing relies on finding a clear message that is able to resonate with your target audience
He said, "Not to oversimplify it, but effectively, good marketing is getting the right message, which talks to the pain point for that specific audience. We had our different personas or different audiences. You need to identify what channels they live in. Then, we needed to test these different messages that we believe talk to the core of their problems."
"You do the customer research and you understand how people are thinking about the problem. Then, you use their language or repackage their language in a way that resonates with them to communicate."
For Kite, that was all about helping their target customers identify the opportunity to sell more merchandise by working with the brand.
Oren continued, "Fundamentally, it was about how to sell more merchandise and make more money. That was really the basic one, but you can package that and massage it in lots of different ways to give it nuance for different audiences. To make it more personalised."
Decide on the best growth marketing channels to use
Once you have that key message and target audience in place, you then need to pursue the best channels that will allow you to bring the two together.
"The three core channels we approached were to reach out to people who have a Shopify store and have a conversation through social and cold outbound," said Oren. "The second core channel was Facebook Ads, because it was by that time easier to build custom audiences and target those creatives and the influencer types."
"The third was Google Ads, because obviously it was search volume and people in the need state, which would mean lower cost per acquisition and a lower cost of acquiring a customer."
"People who have higher intent tend to convert more cost-effectively, because they're actually interested and actively looking for your solution. Those are the three primary channels that I prioritised, and I believed would deliver the growth."
A few other highlights to look out for in this episode:
How Oren approached budgeting for different marketing activities and channels.
Which metrics Oren prioritised when tracking and measuring growth for Kite.
What marketing tools Oren found most helpful when scaling Kite.
More insight into the growth and success Kite achieved with Oren driving the marketing function.