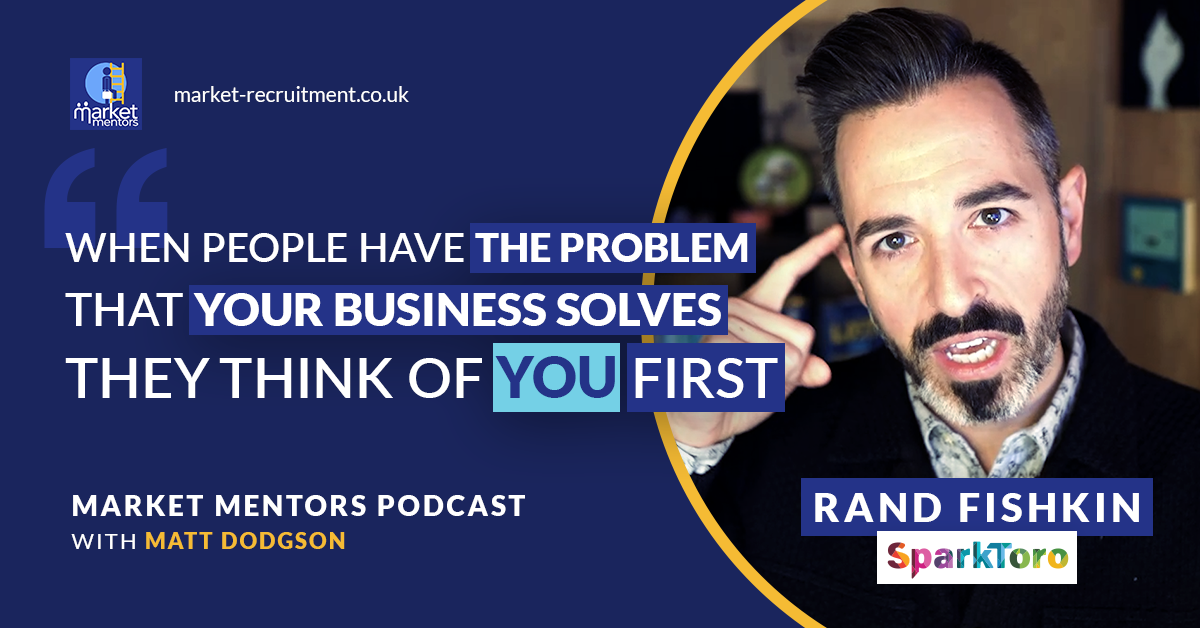 Introduction
Content marketing is always evolving, but many B2B tech marketers are still stuck in their old ways, spending time and money on outdated activities which actually hold them back.
This week, Rand Fishkin gives a content marketing masterclass, and shares some of the unique ideas and perspectives that have made him one of the most influential marketing experts in the world.
About Our Guest
Who they are: Rand Fishkin, Co-Founder and CEO of SparkToro.
A bit of background: Rand is the Founder and former CEO of US-based SEO giant Moz. He's also the author of Lost and Founder, a painfully honest field guide to the start-up world. In his spare time, Rand and his wife are currently working on developing a video game.
Where you can find him:
Prefer Video? Watch a full video of the podcast here…
Episode Takeaways
Here you'll find some of the best advice from the podcast that you can easily digest and learn from.
1. What can B2B tech marketers do to ensure they're focusing on the right channels and reaching their target audiences?
For B2B tech marketers today, we face a tremendous challenge getting our product or service noticed amidst all the noise and competition occurring online.
And that's become increasingly difficult over the past few years in particular. This is due to Google's ever-changing stance on SEO, as well as the huge surge of new tech start-ups emerging during the COVID-19 pandemic.
So, how do we approach this challenge and ensure our product or service can gain traction in today's market?
Rand said, "When I think about marketing today, my mind doesn't immediately go from customer and audience research to keyword research anymore. Instead, it goes from customer and audience research to understanding all the channels and tactics I could use to reach those customers."
When targeting online channels and planning your content marketing strategy, Rand suggested marketers should be thinking about the following:
Finding opportunities to place your brand where your competitors aren't already dominating.
Finding channels and tactics where you can add unique value.
Find the channels and tactics that work best for you and your business specifically, because they play to your strengths.
Creating content that can do and say things no one else is doing or saying yet.
For you, this could involve SEO and content, social media, YouTube, podcasts, a great email newsletter, or doing a series of webinars. It could even mean building your traffic primarily through word of mouth, or through old-school forums like Reddit.
The key thing is to think outside the box, finding creative ways to get your brand noticed by the right people.
Rand added, "There are thousands and thousands of marketing channels and opportunities out there. Ask yourself, where does my audience participate online? What do they pay attention to? What influences them?"
2. Most content marketers typically focus on paid ads for the short-term boost, and SEO for their long-term strategy. Is this still the best approach today?
While this is still a tried and tested approach, Rand believes marketers should be aware of the growing risks involved.
He said, "On the ad side, you have great risk because your marketing is tied up in pay-to-play, meaning it's very difficult to reduce your spend and see equal or higher growth in those paid channels. Almost certainly what'll happen is the opposite. Over time, more people will enter your space. There'll be more competition for those eyeballs. So, the cost to acquire new customers is almost always going up."
While you can take steps to manage this risk, such as making your ads more targeted and optimising your spend, it's still difficult to avoid.
Of course, by growing your brand and gaining more market share, your click-through rate will tend to improve. That will usually reduce the cost of your ads, but achieving this is another challenge in itself.
Rand continued, "On the SEO side, it's somewhat similar. SEO is very competitive. More and more people will tend to come in. And worse, if Google ever decides to start taking a big share of your sector for themselves, that can be really hard. Tonnes of folks, for example, did amazing work in the job sector, targeting keywords around education jobs or jobs in healthcare. Then Google decided to get into jobs, and now they're always at the top."
When asked for advice to overcome these challenges, Rand added, "I see these as risks to be mitigated. I'm not saying you shouldn't invest in those channels, but you want to also invest in channels that are owned and controlled by you."
3. What's one thing most B2B content marketing strategies are missing today?
Rand believes too many marketers are currently missing a trick by failing to leverage other people's channels to promote their content.
When planning content creation and distribution, Rand advised thinking about two key things:
1 – The audience that you already reach.
This will be subscribers to your newsletter, readers of your blog, people following you on social media, and anyone else in your existing community or network.
Rand suggested asking yourself the following questions when trying to keep those people engaged:
"I'm thinking very much about what they'll want to click on. What do they want to read? What do they want to experience? What's helpful to them? What's interesting to them?"
2 – The sources of influence that reach the rest of your audience.
To engage with your audience this way, try activities like:
Getting your brand participating in podcasts.
Getting one of your subject matter experts speaking at events or webinars.
Reaching out to have one of your articles featured in a popular email newsletter.
Writing guest posts for industry publications.
Building relationships with relevant accounts on social media who might amplify an important tweet or LinkedIn post.
Rand said, "Those are the two audiences that I think about a lot. And I get concerned that tonnes of content marketers put both of those behind ranking for keywords in Google."
Of course, as the Founder of Moz, Rand doesn't believe that working hard to rank for keywords in Google is a bad thing. However, he does feel marketers today should be more aware of other tactics that may prove more successful in terms of ROI.
He continued, "Those sources of influence that are not just Google, that's really what's driven SparkToro's growth. It's been quite remarkable to see how you can build a marketing engine that's not purely content and SEO. It's very much, here's a free tool and from that you get word of mouth."
"And then there's social amplification, and there's sources of influence amplification. We're very present in all the places where people pay attention, rather than just waiting for someone to find us by going to Google and searching for audience research."
Other Resources; How to Use the Science Behind Storytelling to Make B2B Marketing More Effective
A few other highlights to look out for in this episode:
Why Rand believes traditional target audience personas are no longer effective in modern marketing.
Advice for which metrics B2B marketers should focus on in today's landscape.
Tips for optimising B2B content to succeed in channels such as Twitter and LinkedIn.
Recommendations for tools, techniques, and resources you should check out to improve your own digital marketing.