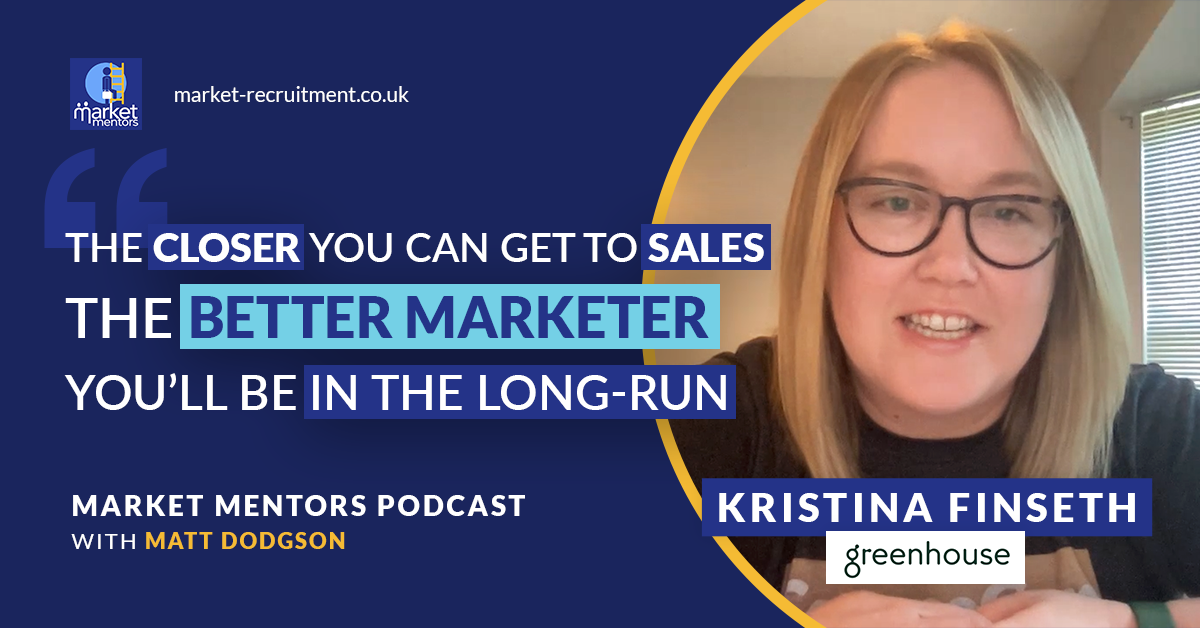 Introduction
It seems today that a lot of marketers are far more focused on inbound marketing than outbound, and prefer not to put much effort into cold outreach anymore.
But this week's guest is a firm believer that, with the right approach, cold outreach is a great way to significantly boost the number of sales meetings you're generating for your team.
In this episode, Kristina Finseth talks to Matt Dodgson about all her tips, tricks, and trade secrets with cold outreach to help you improve your results. 
About Our Guest
Who they are: Kristina Finseth, Senior Manager of Outbound Growth Marketing at Greenhouse Software
A bit of background: Kristina is passionate about helping businesses grow by bridging the gap between marketing and sales. In her spare time, Kristina is a mum to three kids, a keen traveller and foodie, and has a blue belt in jiu-jitsu!
Where you can find them:
Prefer Video? Watch a full video of the podcast here…
Episode Takeaways
Here you'll find some of the best advice from the podcast that you can easily digest and learn from.
1.  What does a successful cold outreach strategy offer for marketing today?
Firstly, let's define cold outreach from a marketing perspective:
Cold outreach is essentially reaching out to potential customers who haven't yet shown any awareness of your brand or any interest in your products or services.
Kristina added, "You'll have no clue if these people are aware of you. They're not in your pipeline. You're reaching out cold and starting the relationship. That's kind of how I simply define it."
But it's important to emphasise that great cold outreach requires a far more tailored, subtle approach than simply sending an impersonal email campaign out to 1,000 contacts.
And Kristina prefers her cold outreach strategy to inbound marketing because it puts you in control of your own destiny. 
"With inbound, you get what you get. And yes, as marketers, we're constantly trying to fine-tune to make sure we're bringing quality inbound leads. But, let's be honest, a good portion of inbound is sometimes crap. So, with outbound, you know these are your tier one accounts, these are your tier two accounts, and so on. And you're going after them proactively to try to get them into the pipeline. Even if it ends up pushing them to the inbound funnel, so be it. But I like that you get to control your own destiny there."
Kristina Finseth
It's interesting to compare outbound marketing with inbound trends like SEO, blog content, and social media in that way. Inbound marketing is also becoming more challenging as audiences become more familiar with the trends, so it can be valuable to try a more personal touch.
Of course, another crucial thing to remember is that marketing and sales must always be aligned and supporting each other. This is especially true if you want your cold outreach to succeed, as we'll explore in the next point…
2. What can marketing teams do to help their sales teams become more effective? 
Kristina pointed out that, whether you're focused on inbound or outbound marketing:
"The closer you can get to sales, the better marketer you'll be in the long-run."
Marketers must have empathy, understanding, and alignment with what sales teams are trying to achieve.
And, as Kristina explained, it's useful to set goals that are shared across both marketing and sales to strengthen that alignment.
She said, "What I really like is when you share similar goals with the sales side. And it doesn't have to be closed revenue. We're talking about booked meetings, pipeline generated, things like that. So, I always think in terms of driving revenue, not MQLs."
"Let's drive revenue, let's not focus on the fact that we want to bring in 1,500 leads. So,
the more we can rally together and think of it in terms of opportunities and pipeline, that's when the magic happens,
because it forces you to focus on the activities and priorities that are going to get you to that goal, versus being misaligned to just lead generation."
When it comes to some other steps marketers can take to better support and enable sales, Kristina pointed to clear, frequent communication.
It's important to understand there's a great deal of valuable information that should be passing back and forth between marketing and sales. She suggested asking questions such as:
Who are the sales reps having conversations with?

What's happening in those conversations?

What are the common objections they're from prospects?

How can marketing help answer those objections with the right collateral and assets?

How can the marketing team help the sales team to be more successful in their outreach?
3. What are some fundamental tips for people getting started with their first cold outreach strategies? 
While there are plenty of trendy tools and technologies available for marketers right now, Kristina advised against getting too ambitious early on.
It's better to start small, with the basics and the proven methods, then use those to craft your own approach.
Kristina explained, "It's easy to spin your wheels thinking, oh my goodness, there's 16 things I could try today. The biggest thing that you can do is to digest some of that information, take what's working for people in similar industries, with similar personas they're selling to, and craft your own cadence or process. You don't need to have fancy technology to run that. You can do it manually."
"Set those steps up and then stick to them," continued Kristina. "Test it against a hundred people. And that could be emails, cold calls, social selling, whatever your mix is, test it against a hundred people. And I'm talking about a hundred people through the whole cadence, then look at the data you have."
Once you've tested your end-to-end cold outreach process against a sufficient sample audience, ask these questions about its performance: 
How well did it work?

What parts worked well that we should repeat?

Where are we getting replies?

What parts under-performed and need to be refined?

Where are we not getting replies?

Where else can we improve?
Look closely at the data you gather from your first few attempts. Once you've analysed and understood it, you can use it to begin to fine-tune your approach from there. 
Of course, don't make the mistake of testing new cold outreach tactics on your hottest prospects right from the start.
Kristina said, "The last thing you want to do is burn through your tier one accounts first. I wouldn't test this on tier ones. If you're just starting with cold outreach, or trying to apply some outbound marketing methodology to the way that you're reaching out to prospects, you've got to start with people that you're willing to potentially burn through in hopes of figuring out the right mix for yourself."
A few other highlights to look out for in this episode:
Best practices to maximise your chance of getting a response from the first email in your cold outreach process.

Tips for writing great subject lines, calls to action, and other key components of an effective cold outreach email.

Guidance for how to win over hesitant sales reps and make them more enthusiastic about working on cold outreach.

The best ways to approach your follow-up and final attempt emails, to finally get that response you've been looking for.