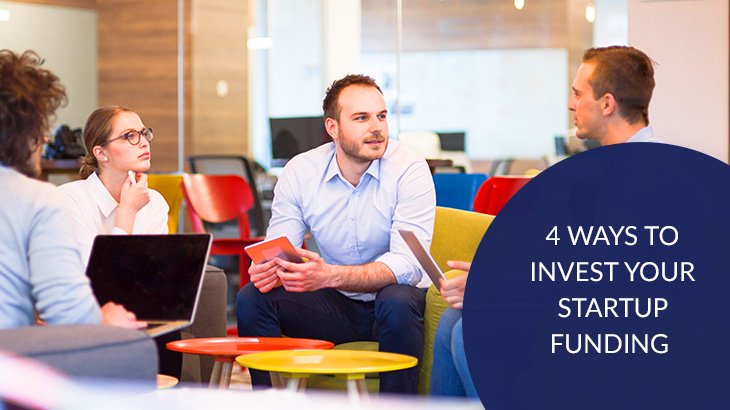 Wow, how brutal was that?
Raising money for your startup, whether it be a seed round or something more significant, is a long, arduous and at times, soul-destroying process.
But, you've done it! And many startup founders don't even get this far.
So, now that you've raised that money, what should you spend it on?
This goes back to why you wanted to raise the money in the first place. For growth!
Because in today's world, it's tough to bootstrap a startup. Not impossible, but painful.
So the first step is to evaluate where your startup is on its growth journey.
Is it more about building an MVP? Or once product-market fit has been achieved, is it more about scaling?
Now, of course, this is something you'll have gone into detail about during the funding phase.
But it's not until that investment has landed that you then start to focus on what you'll want to spend your funding on, and when.
So, here are 4 of the most common ways startups invest post fundraising:
1. People
If there's one thing you can't buy, it's time.
And as a startup founder, it's easy to get swamped with a to-do list higher than The Shard and be incredibly time poor.
So, to grow and scale you need to start to assemble a team to help you do that.
But who and at what level?
Well, we've heard it all before, but Steve Jobs nailed it when he said:
"It doesn't make sense to hire smart people and tell them what to do; we hire smart people so they can tell us what to do."
And that certainly needs to be your aim when your first begin hiring your team to help you scale.
Whether that be engineers to develop the product further…
….marketers to create demand…
…or salespeople to close those deals.
And of course, there are a whole host of other roles that are important too across finance, legal, customer success.
Regardless of the discipline, successful startups have a process for how they attract and assess new employees.
Because if you've raised money, then the investors will be looking for a return as quickly as possible, so you have to make hiring a priority.
Unfortunately, those friends and previous colleagues you can hire will have dried up by now.
Here are some essential questions to ask yourself to ensure your hiring efforts are successful:
Do you want to build and pay for an internal hiring team or use a specialist recruitment agency that you can turn on or off as needed?
Do you need support with creating an engaging and effective hiring process and therefore need to hire an HR Manager or use an HR Consultancy?
What skills does your current leadership team have and where are the gaps?
At what stage of growth is your Startup at and what types of employees do you need to get you to the next level of growth?
Once you have those questions answered, it's essential to realise that most startups are unknown and therefore, a risk to new employees.
So, unless you've raised a significant amount, are willing to give away equity or are much further in your maturity, then it's unlikely you'll be able to hire the very best people.
It's a competitive landscape in London and many other parts of the world.
So, why is a candidate going to join your startup?
That's the next phase.
Create some assets and a story that's going to make your startup standout from the crowd.
This could include:
Creating an Employee Value Proposition
Giving future employees a window into your business through video and content
Using sites like Glassdoor to attract candidates through transparency.
Give a better recruitment experience than more established businesses — think speed, openness, answer the why you question, looking for ability over experience in some areas, attractive non-financial benefits, e.g. flexible hours or working from home.
Once you have that in place, it's all systems go on your journey to building a great team with an excellent culture.
---
Marketing for B2B Tech Startups – The Complete Guide
---
2. Offices
If you're going to grow, then you're going to need a bigger house for everyone.
Unless of course, you're running a remote business.
And these days you can't go wrong with a leased office, so your startup can grow knowing that you can expand where when you need to.
In London, you've got some great co-working spaces to take advantage of including;
WeWork
Runway East
Tech Hub
Techspace
The Office Group
Whether your budget can stretch to a dedicated office or you're happy being in a co-working space to start with, these companies have everything to accommodate you.
And outside of having space for people, they also offer some excellent services to help your startup grow.
WeWork, as an example, has a dedicated Community Manager at each location that's responsible for organising meetups and events aimed at helping your business succeed.
At the very least, it's a great way to work alongside other startups, to share advice, recount the tails of missed opportunities and failures, and of course, grab a beer or cocktail.
With any investment comes scrutiny. As you know full well, investors want their money back as quickly as possible and a good chunk more.
Whether your investors or investment firm is in it for the short or long term, you need to have the ability to be able to track what you're doing, so it's much easier to communicate back to them about the numbers that matter.
Pipeline value, pipeline velocity, average deal size, cost of acquisition, churn, lifetime value…it goes on.
And of course, if you're a SaaS business or an Enterprise Software vendor, the metrics that matter to you will be different.
But whatever those metrics might be, you need the right systems in place to be able to report accurately.
And over the last few years, the growth in startups using marketing automation systems has been significant. So much so that HubSpot now offer their suite of tools to early stage startups at heavily reduced amounts.
Now, they're from a silver bullet, but what they do offer is a solid all-in-one solution to help you execute, track, and manage both the acquisition and retention of customers.
Because being able to identify what's working and what isn't early on will be crucial to any startup's success.
Assuming you're a B2B tech business, you'll probably need some tools to support your SDR team. Tools that can help them be more efficient but also stay personal as they move prospects through the funnel to becoming a customer.
Solutions like Salesloft and Outreach spring to mind.
So, that's your sales and marketing teams sorted.
But what about your business overall?
Well, as with any successful business small or large, it's essential to feel like a team. So having a tool that helps teams collaborate is a good investment.
Not only are platforms like Slack a great way to communicate with your team but they also offer the ability to share knowledge, integrate with other tools you use and give a high level of security so remote workers can benefit too.
Tools like these will improve efficiency in your business and also foster a greater sense of teamwork.
4. Perks
Finally, but not least, are perks!
A happy workforce is a productive workforce.
So why not make them feel more valued by using some of your investment to enhance your employees' benefits packages, giving them a slice of the business through an employee ownership scheme or just having an awesome party.
As Larry Page said:
"Taking care of your employees is extremely important and very, very visible."
So, in summary. Whatever you choose to spend your startup funding capital on, make sure to focus on spending it on the areas you feel will bring the most significant and quickest return for your business.
Of course, there will be mistakes. To be innovative and disruptive, you'll naturally make mistakes.
However, investing in the right tools and executing with clarity and speed will ensure your startup has the best chance of success.
What's been your best investment?