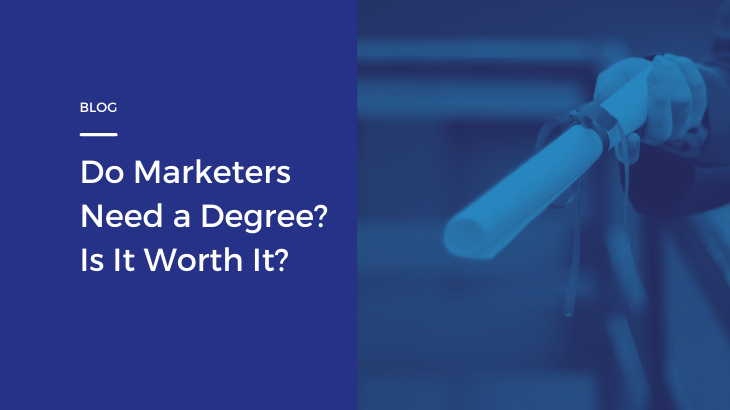 Is a degree in marketing worth it? If you're mapping a marketing career path and do not know whether to pursue a marketing degree, it's easy to find yourself at a crossroads. The relevance of marketing degrees is debated across the industry. There are some loud voices on both sides of the argument. Without wasting time, let's assess the value of a marketing degree.
Is Marketing A Good Degree?
While the world of marketing is rapidly evolving, the everlasting principles of marketing – taught in university courses – provide students with a solid foundation of knowledge. A marketing degree may supply you with the knowledge needed to become an effective professional – enabling you to hit the ground running in an entry-level position.
For most entry-level positions, a marketing degree is not a barrier to entry. There are plenty of opportunities in the marketing field that offer on-the-job training. A degree is just one of many different ways to stand out as a candidate for a marketing position. Some employers see more value in candidates having a marketing degree to their name than others.
Is A Degree In Marketing Worth It?
According to Marketing Week's 2019 Career and Salary Survey, 53% of marketers say they have not studied a marketing-related academic or professional qualification of any kind. This is a stunning statistic that clearly shows it's possible to have a marketing career without any related qualifications. In the survey of 4,415 marketers, 25.7% had a marketing undergraduate degree.
Only 32.2% of these marketers found their degree 'very useful', with 55.9% describing it as 'fairly useful' and 11% 'not very useful'. The value of a degree is often subjective. While some employers see a degree in marketing as an essential component of a candidate's CV, others are more interested in assessing the amount of hands-on work experience listed on a CV.
What Can You Do With A Marketing Degree?
What can I do with a marketing degree? If you don't have a clear answer to this question, you should think twice about enrolling. Before embarking on a marketing degree, you should know the doors this type of qualification may unlock. You can weigh these potential benefits against the significant student loan debt you will amass – and assess whether enrolling is right for you.
A degree is one of many ways to establish a competitive advantage in the jobs market. While some job candidates with university degrees might stand out from the crowd, employers may gravitate towards candidates with on-the-job experience – which candidates gain through apprenticeships. Ultimately, it all depends on the job position and the employer's outlook.
What Are Common Marketing Degree Jobs?
There are many different entry-level marketing roles available to graduates. Here are just a few examples of marketing degree jobs often occupied by graduates:
Is it better to learn technical knowledge (through higher education) before embarking on an entry-level role, or is hands-on experience potentially more enriching? This is the central question that leaves many aspiring marketers at a crossroads. Some people may feel more comfortable studying marketing for a few years rather than learning their trade on the job.
While some employers may see a marketing degree as advantageous, it's rarely a requirement. Many employers in the marketing industry accept applications from graduates with any degree subject. It's perfectly possible to land one of the above job positions without a degree or higher education. To achieve this, you may have to go down the apprenticeship route.
Can You Get An Apprenticeship In Marketing?
With rising tuition fees and a competitive jobs market, many young marketing enthusiasts are open to more feasible alternatives to the traditional degree pathway. A degree isn't for everyone, and some prefer to learn through on-the-job training rather than in a lecture hall. If you're ready to immerse yourself in the world of marketing, an apprenticeship might be right for you.
An apprenticeship allows you to gain on-the-job experience that's invaluable to employers. As an apprentice, you will enjoy a salary of at least the apprentice minimum wage and earn a nationally recognised qualification. This route is a no-brainer for those who prefer to learn by getting their hands dirty and are ready to work their way up the corporate ladder.
How To Get A Marketing Job
To summarise, a marketing degree is certainly worth pursuing if you're interested in learning about the everlasting principles of marketing. However, it's important to remember that having a degree is not a barrier to becoming a marketer. It is often remarkably easy to land an entry-level position in marketing. Fundamentally, you should demonstrate an eagerness to learn.
Many different ingredients make up a compelling marketing job application. Even though some employers place marketing degrees on a pedestal, others are more interested in your on-the-job experience. If you don't have a marketing degree and want to stand out among a pool of job applicants, you should list your involvement in marketing-related projects on your CV.
Listing these projects will help convey your passion for marketing – and potentially make up for your lack of on-the-job experience. If you want to land your dream marketing job, you should contact Market Recruitment. As a B2B marketing recruitment agency, we pair ROI-focused marketers – from a range of backgrounds – with ambitious B2B businesses to fuel their growth.
As a marketing professional, can you offer value to B2B businesses? If so, we want to know what you can bring to the table. At Market Recruitment, we are always looking for motivated marketers with a clear sense of drive and relentless focus on delivering an ROI.
If you're ready for a new challenge in the marketing world, book a call with our team today.