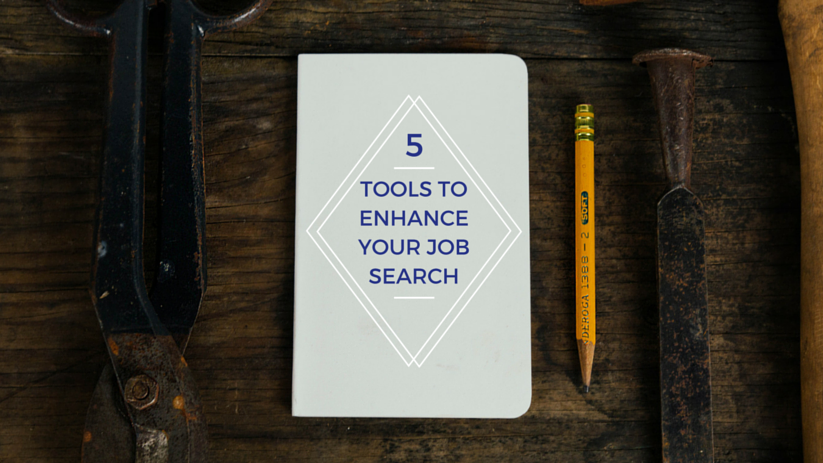 Searching for a marketing job in today's market is even more competitive than ever before. Despite finally leaving the recession behind, and with low unemployment and a buoyant market for marketing jobs, it's still a challenging time to look for your next role. Even though there's a war on finding talent, employers are still looking to recruit the best marketing candidates for their business.
Employers aren't making any compromises on the marketing skills, experience and knowledge and want to hire the right marketing candidate that fits EVERY aspect of their requirements. Whether that's job fit, motivational fit, team fit or cultural fit.
HOWEVER, there are some key tools to use to enhance your job search. Of course, it's not about re-inventing the wheel. Unfortunately, I'm not aware yet of a machine that can magically source and secure you that amazing Marketing Manager job! Perhaps that's a Google 'special project'.
For now, though, it's down to us as job seekers. And the more we focus on what we do, the more likely we'll get a positive outcome. In today's market, searching for a marketing job needs to be taken as seriously as your day job. Put an average amount of effort in and arguably you'll only get an average amount of interest back.
It is no longer an option to have a "one size fits all" CV or just rock up and "wing" it at interview.
If you think you can win the interviewers over with your personality alone, you may just regret that laissez-faire attitude time and time again.
Candidates that take the time to prepare and research the company have already demonstrated they are more motivated than the average job seeker. Soak up all the tips, tools and techniques to enhance your job search and this will put you at an advantage if you want to stand out from the crowd.
TIP #1 CV – YOUR MARKETING DOCUMENT
Most people understand the main purpose of a CV – to get that invite to interview and to get you in front of the hiring manager. It's not a record of absolutely everything you've ever done in your work history. Your CV needs to be written concisely and highlight the most relevant pieces of information for the marketing job you're applying to. Ideally, you'll spend time tailoring your application for each and every marketing vacancy you apply to. Either way, it's important to avoid these 5 common CV mistakes.
Even though CVs have been around for many years, there have been some changes in the type of information marketing recruitment agencies and hiring managers want to see.
They like to see evidence of how you've applied your marketing skills and knowledge, not just a list of competencies.
They want to see evidence of your marketing achievements, not just a list of tasks and duties.
They want to see evidence of how you have met and exceeded objectives. They want to see that you are results driven and have commercial awareness – how you reduced marketing spend, streamlined processes, increased revenue through sales leads, identified revenue from new marketing channels, and solved problems, etc.
So if you're not getting invited to interview for the marketing jobs you're applying for, there may be an issue with your CV. If you're applying for lots of jobs in your sector and think you match all the criteria, then it's probably time to review your CV. Of course, there could be absolutely nothing wrong with your CV and, in that case, you just need to be patient and persistent in your job search. However, it's always worth getting a second opinion
Personal Brand: Just as you would do for your clients in a marketing role your CV gives you an opportunity to create your personal brand. The words you use throughout your CV will create an impression about you as a person and your level of accountability and responsibility (Assist, support, facilitate, design, lead, direct, implement, etc.). Are you a team member or a leader? Are you dynamic? Are you creative? Or are you polished and professional? Only use words you feel comfortable with and that describe you as a person in the workplace.
Personal Profile: This is not a time to be shy or modest about what you can offer an organisation or what you're seeking for regarding your career aspirations. A well thought out and written personal profile will be authentic, interesting and unique. Ensure that it's tailored to the marketing job you're applying for, and explain what value you can add and what skills and experiences you can bring to the organisation. The profile needs to be written in the third person and be extremely concise and punchy and a maximum of four to five sentences.
Key words: Today marketing recruiters and head hunters will search for candidates on social media sites (LinkedIn, Facebook, Twitter, etc.), on CV databases or CV libraries. Therefore, it's so important you include keywords commonly used in your sector on your cover letter, CV and any social media sites you use. If you are looking for a job you need to be found on social media, so make sure your profiles are professional and present you in the best possible way. We'll address this point in more detail later in the article.
Professional CV Writing Services: Take some time to carefully consider whether it's necessary to pay someone to write your CV for you. Spend some quality time researching the best professional CV writer for your requirements, your sector and industry. Ideally to feel confident, you'll probably want someone that understands your marketing experience, sector and background. However, it's not necessary, believe it or not! In fact, someone that doesn't know your sector may still be able to help you present your experience at the right level and remove any ambiguity, jargon or acronyms not known in the external market. Someone from the recruitment industry will have seen thousands of CVs over their career and will know the latest formats and styles of writing.
Benefits: Competition for marketing jobs is very high and you need your CV to work hard and stand out for all the right reasons. Investing some time and money on your personal marketing document could generate a significant return on investment ROI.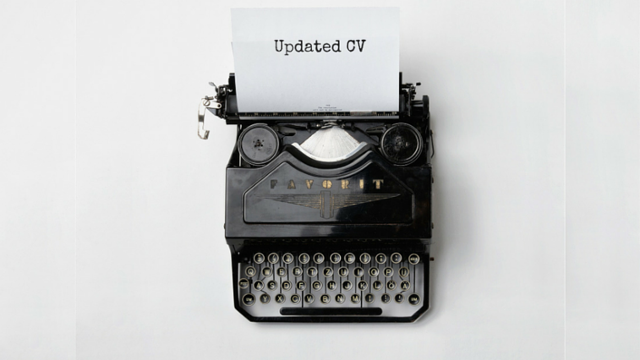 TIP #2 – INTERVIEW COACHING
If you consider (on average) most candidates will change jobs every 3 to 5 years then it's likely you won't spend all your time perfecting your interviewing skills or keeping up to date with the latest interview techniques. It's one of those skills you don't spend much time or effort on (unless you're a recruiter!). Therefore, it's important to invest in your career by hiring an interview coach.
Interview coaches usually work or come from the recruitment industry or an HR background. You may prefer to hire an interview coach specifically from the marketing recruitment industry with b2b experience and knowledge. During their career, they have probably interviewed hundreds, if not thousands of candidates and have worked closely with Marketing Manager's and Marketing Directors.
So they understand marketing interviews and how hiring managers and trained recruiters gather evidence and make decisions.
It's this evidence that makes all the difference regarding the outcome of the interview and being offered a marketing job or not.
Over the last couple of decades interview techniques haven't changed significantly. However, competition has dramatically increased. There's still a big emphasis on behavioural competency style interview questions. Hiring managers are looking for better results and evidence of how you have added value, increased revenue, streamlined processes, automated systems or reduced costs.
What do we mean by providing evidence? The most commonly used process for candidates to prepare specific examples and interviewers to assess the information candidates provide during an interview is the STAR model. STAR is an acronym for Situation, Task, Action and Result.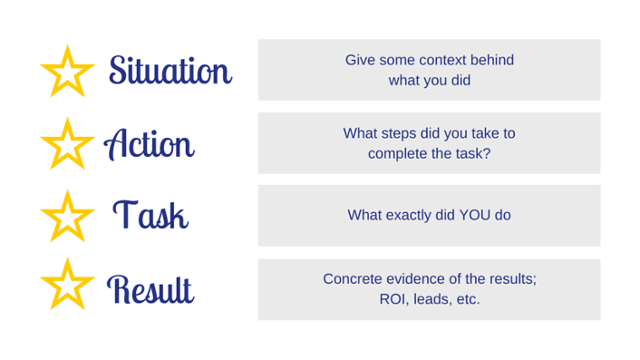 Behavioural Competency Questions: The thinking behind these questions is that past behaviour reflects future behaviour or past behaviour is a good indicator of future behaviour. Therefore, when assessing how a marketing candidate has handled a specific situation previously, it should give the interviewer a good indication of their ability to handle a similar situation in the future. That's why these questions are still asked today. The good news is that the STAR process can be used by candidates to prepare specific marketing examples under different behavioural competencies before the interview.
Benefits: We don't think twice about spending money on looking good – clothes, shoes, handbags, make-up, a haircut, etc. So why do we have to think about investing in our career? Hiring a professional interview coach can significantly increase your chances of getting the job offer or even your dream marketing job. Understanding how to present and communicate your skills, experience and knowledge by providing quality information and evidence will not just help you during the interview but will help you manage your ongoing career development and progression.
TIP # 3 – NEW SUIT
Everyone feels good buying new clothes and even better wearing them.
When you look good, you feel good and when you feel good, you're more confident.
Wearing a brand new suit to an interview will increase your confidence and this will give you a real advantage when making that crucial good impression. You could be forgiven for thinking the dress code is a bit more relaxed for marketing jobs – more creative and colourful perhaps. However, it's still expected that a person's attire for a marketing interview is professional and classic and it's suggested that you stick to traditional darker or neutral colours.
Considering most interviewers are not trained in the skill of interviewing objectively and fairly, hiring managers still make instant judgements about people in the first few seconds. It's human nature and we all do it whether consciously or unconsciously – we all make those instant decisions about each other.
There are several other considerations when you are dressing for an interview. You are dressing to impress and for success but you also need to feel comfortable.
For women, don't wear really high heels (tottering from the reception to the interview room could feel awkward particularly if it's a long walk), don't wear too much perfume you don't want your smell to dominate the interview. Don't wear lots of jewellery, it could be distracting for the interviewer if it's jiggling and jangling throughout the interview.
For men don't overdo the aftershave, don't wear inappropriate or joke ties as this is not the impression you want to portray during an important interview.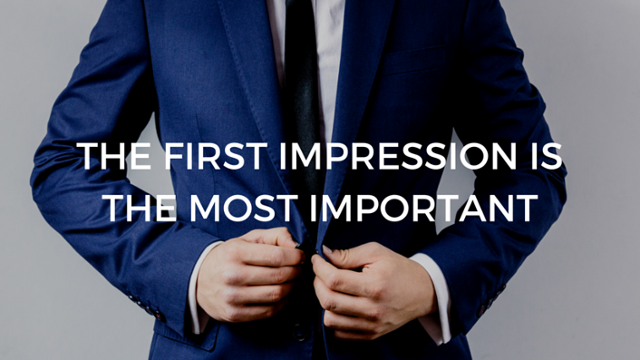 Benefits: Looking good and feeling good increases your confidence and creates a great first impression. How you present yourself is as important as your marketing skills, knowledge and experience. Wearing tired and dated clothes will impact on how you are generally assessed . Again considering you are likely to change marketing jobs every 3 to 5 years it's worth investing in a new suit every time you change jobs. Although, if you're a job hopper it could work out quite expensive!
TIP #4 – SOCIAL MEDIA CLEAN-UP SOFTWARE
Despite social media still being in its infancy (relatively speaking) it's a tool most people are now using in their everyday routines. Social media as a recruitment tool has exploded over the last couple of years and because it's changing at an alarming rate we can expect to see further developments.
Personal Brand: Everything you say and do, on or offline, contributes to your personal brand. How you behave, what language you use, what pictures you share and generally how you treat and communicate to other people. We've all read the stories about someone taking time off work sick and then being caught on Facebook out and about enjoying their "free" time. Take time to build up your professional online brand. Check out this comprehensive guide to LinkedIn profiles for job seekers.
Time to clean up: Even though employers need to be wary of using social media sites to make decisions, it's a fact they are spending more time scanning your Facebook and Twitter pages than you would like. If you want to make a good impression, build trust and credibility and you want to be seen as a polished professional but your Facebook status or tweets say something different, politically incorrect, insensitive, inappropriate, rude or just obscene then this could undo all your good work during the interview.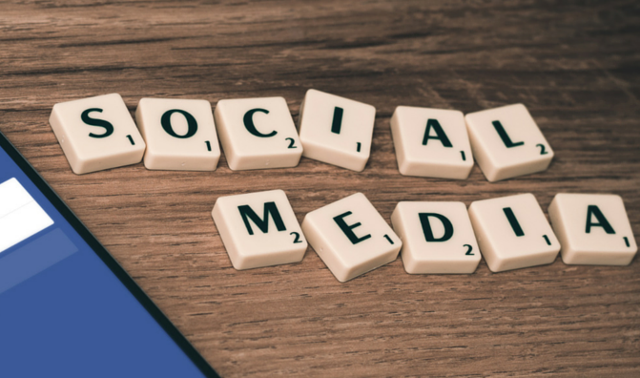 Privacy Settings: Spend some time ensuring all your privacy settings are set up correctly. Facebook, in particular, make changes and adjustments all the time, so it's hard to keep up with the latest modifications. Remember it's not just you that can post on your wall – it's your friends that can post things into your timeline too. Therefore, make sure you get a choice on what posts get approved or hidden before they go on your wall. Check out this guide to editing your Facebook privacy settings.
Benefits: You may only have a few second to make that all important first impression but it could all be undone if you social media sites don't match the professional person you portrayed during the interview. Rather than spending hours and hours going through years of posts and status updates get yourself some clean up software and start to take your marketing job search and career seriously.
TIP #5 – JOB APPLICATION MANAGEMENT SOFTWARE
Just as the internet has become part of our everyday modern lives (Shopping, personal banking, listening to music, watching movies, etc.) so has applying for marketing jobs online.
Most marketers are familiar these days with applying for vacancies via traditional job boards such as, Monster, Indeed, Reed or Totaljobs, etc. Equally hiring managers have been using Applicant Tracking Systems (ATS) to manage their vacancies and candidates for more than a decade now.
So it was only a matter of time before Job Application Management Software was designed for the candidate. Check out Jibber Jobber that will help you manage and keep track of all your job applications.
First there was LinkedIn, initially set up as an on-line business card and a job searching tool to "link" employers with candidates, although, today it's also been described as a virtual networking tool for business. Now we are seeing software packages designed to enable candidates to create and publish an on-line CV, design their personal professional website and send and track applications. If writing a CV isn't part of your day job then there are websites that have made the whole process of creating a professional CV much easier. Unlike the average downloadable template you'll end up with an exceptionally high quality, internet optimised and professional looking CV.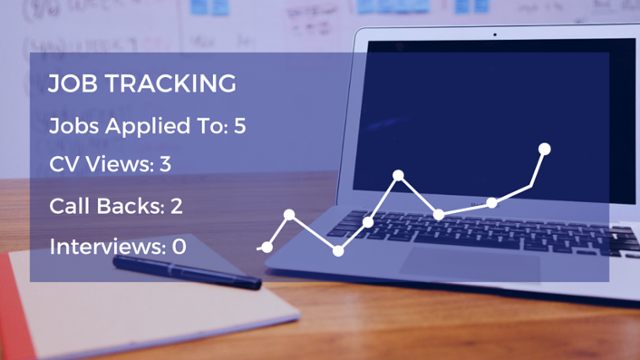 Benefits: Keeping detailed records and tracking your applications has always been an important part of your job search. You don't want to apply for the same marketing job twice – this doesn't demonstrate your attention to detail, it doesn't demonstrate that you are genuinely interested in that job or company. It may give the impression that you didn't do your research properly. It may even give employers or recruitment consultants the impression you are throwing your CV at any and every job. Unlike job boards these job application management systems are mobile friendly, optimised for search engines and they include promotional tools like email marketing and social sharing. Being found on-line is essential these days if you want to maximise your chances of securing your next career move.
CONCLUSION
Gone are the days when you can throw your CV at a few marketing vacancies and job done. In fact, you need a CV that will get you interviews. Even though we live in a very fast-paced and technologically driven world, your job search will take some time, effort and energy – all of which you need to maintain throughout the process and until you have landed the marketing job of your dreams. With this in mind, you need a lot of determination, patience and persistence to keep that enthusiasm from the very first interview to the last one.