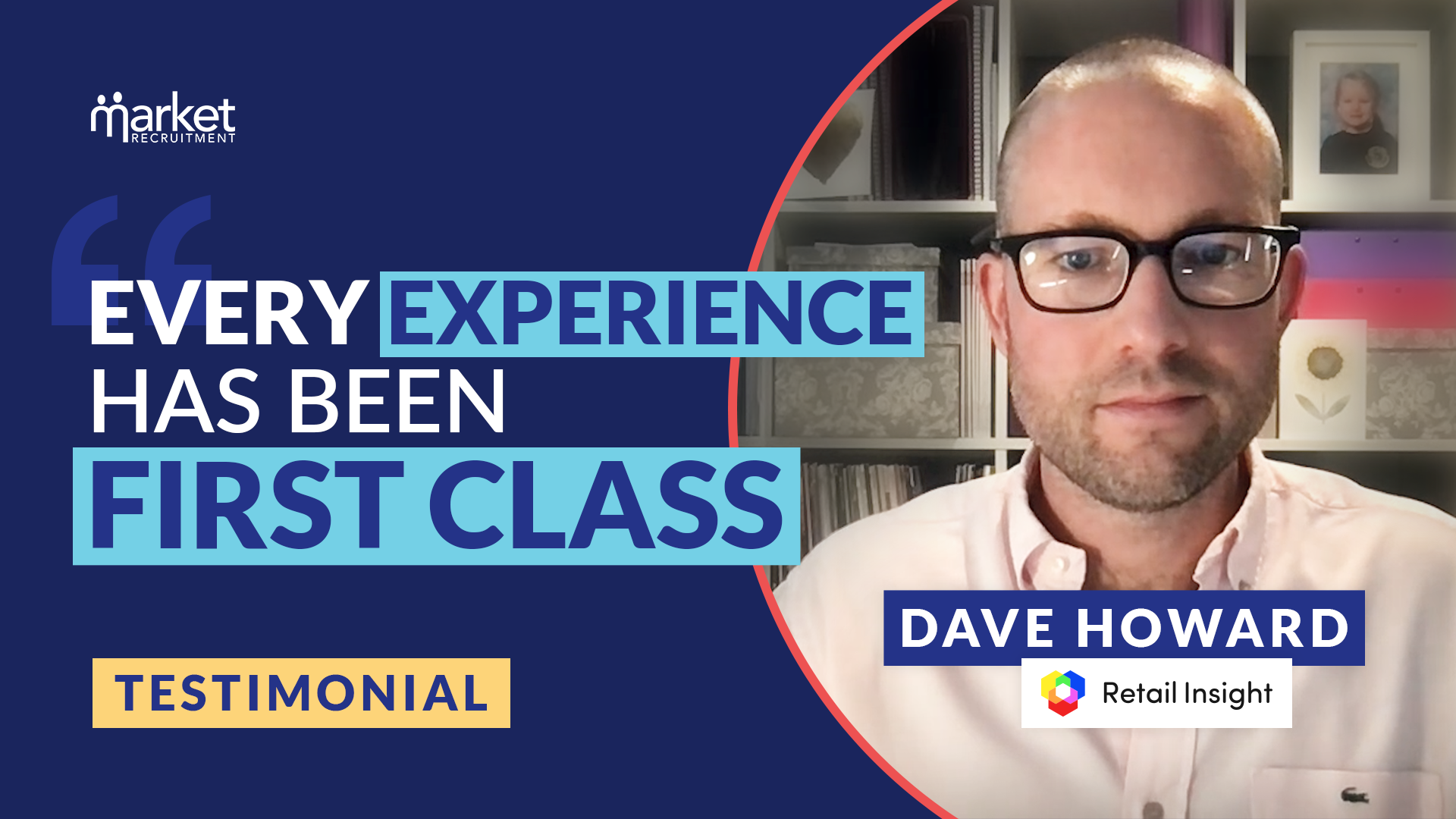 Who are you and what do you do?
So I'm Dave Howard, the Head of Marketing at Retail Insight. We are a data and analytics business serving the grocery retail market.
Why did you want to hire someone new onto your team?
So like a lot of other B2B tech businesses at the moment, we recognise the importance of ABM, therefore wanted to hire an ABM specialist to help scale that aspect of our marketing mix.
What's important to you when working with a Recruitment Agency?
Two of the key standout pieces for me personally, are industry expertise and understanding.
So if you look at industry expertise, good agencies understand your industry, the roles that they're recruiting for, and the needs of employers. They have cultivated strong relationships in either their industry.
Then understanding. Do they understand your business? Do they understand what you do? How you do it? Why you do it? Do they understand the role? What it will entail? Both the interesting stuff that every hiring manager wants to talk about, but also the stuff that simply needs to get done, but is still kind of central to the role.
Do they understand the team? Do they understand what resource is currently in place? So they understand what that current resource does, what they do and how will this new role fit into that mix.
Finally, do they understand the reason for the hire? How will this new role provide something that's missing and add real value?
What do you particularly like about working with Market Recruitment?
Market Recruitment tick all the boxes. When it comes to recruitment, they're professional, committed, responsive, and above all, they deliver on their promise of providing high quality talent that meets the brief.
But beyond that, they're real people with a genuine passion for marketing. I've been in contact with Market Recruitment since 2014 and over the years, I've been on both sides of the recruitment sphere. I've been a candidate and a hiring manager, and every experience has been first class.
However, I've had as many, if not more conversations with Matt Dodgson about marketing trends and new tech. I've taken value from every conversation and I'm always happy to talk. I don't have that kind of relationship with any other recruitment agency.
How did we deliver on our latest project for you?
The latest recruitment project was great. I'm very pleased with how that's gone. You took the time to understand what I was looking for, helped to stress test my thinking, and position the job in the market as it exists at the moment, and the result is I will shortly welcome a very strong new team member who will add huge value to both the function and the business.
If you'd like Market Recruitment to help you find a talented new team member, you can book a call here.