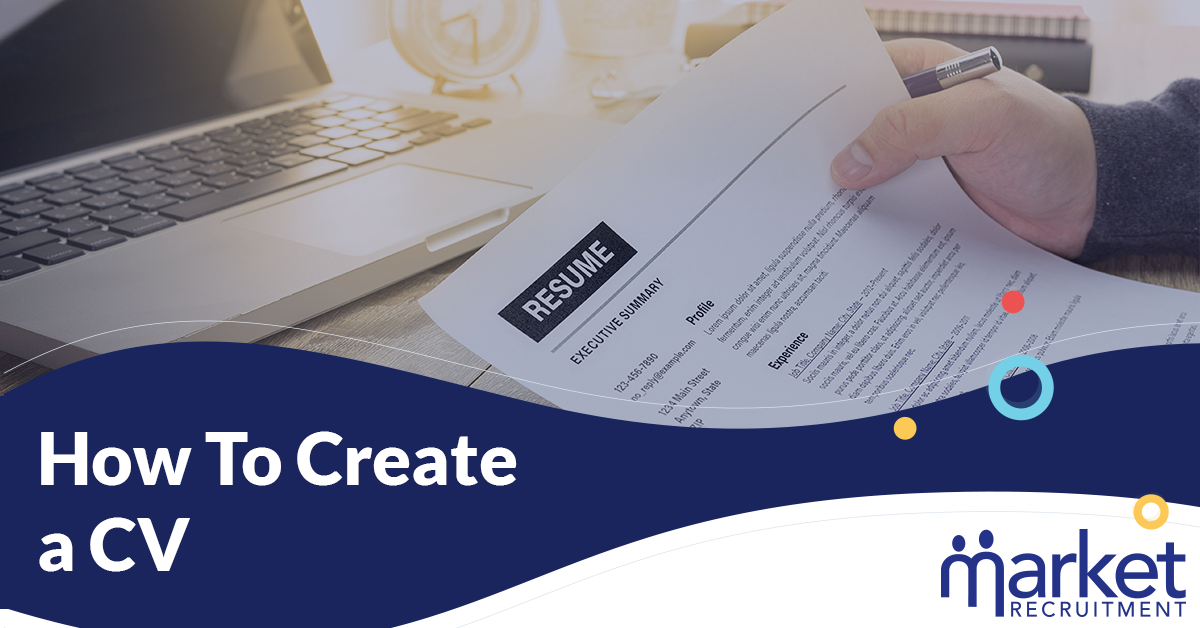 Today you're going to learn how to create a marketing CV that gets you interviews.
Because having the right CV can mean the difference between getting called for an interview for the B2B marketing job of your dreams, or not.
There's nothing more frustrating than reading a job advert and knowing you can do pretty much every aspect, only to hear nothing when you send them your CV.
So in this blog I'm going to break down every aspect for you, step by step.
And don't worry — we accept that if you ask 100 people what a CV should look like, I'm sure you'll get 100 different versions — however, we stand by our advice.
We've worked with hundreds of B2B marketers and we know it works.
So, let's get started:
1. What format and structure should your CV take?
Prefer to watch a video? Press play below!
So, to me, the purpose of a CV is to get you an interview.
It's not to get you the job.
Like an email campaign, a CV isn't sent to close a sale. A CV also shouldn't contain everything about you.
Ultimately, from that email campaign, you aim to spark interest and motivate the recipient to act to find out more.
And in the case of a CV, your aim is to get a call or an email back to schedule an interview.
So, there are two parts to this question.
One, is how you structure your CV and two, is what format should it be in.
And in terms of structure, I'd always suggest going for a chronological CV.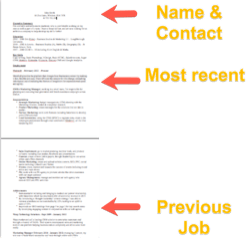 A chronological CV goes in date order from the most recent job, right the way down to your past.
Don't overcomplicate your CV
Now unless you're a designer, I'd suggest keeping your CV in a word document.
Don't use any fancy CV's and don't load it full of HTML — it won't be compatible with many systems that recruiters and employers use to manage your application.
Address your address
You also need to have your name and your contact details at the top.
[Seriously, Matt? That's pretty obvious advice!]
I know, but you'd be amazed how many people don't have an address on their CV.
Companies want to see where you live to understand whether or not you can easily get into their office.
Now, if you're concerned about putting your full address on there, that's not a problem.
You could just put London, or you could just put the start of the postcode SL4, or SE1 or whatever it might be. Like this…

You don't have to put your full address. However, it's essential that you put where you live.
If you're looking to relocate, mention it.
So, for instance, if you're in Manchester and you're looking to move to London, don't put your Manchester address on there.
You could put, "Currently living in Manchester, looking to relocate to London." Alternatively, just put London on there, and that way people aren't going to think, "Well, hang on a minute, why is this person looking to move down?"
Cover the basics
Just keep the rest of the top of your CV quite simple — your mobile number and email address.
You could always have your LinkedIn URL on there. As being a B2B marketer, you're going to be doing a fair bit on LinkedIn, and that's where you'll build your personal brand.
More and more companies will research about you there to build a more detailed picture of your skills and your personality.
So that's the very top of your CV covered.
Understand how recruiters read CVs
Now, there's a prominent career expert in the US called JT O'Donnell and she's done tons and tons of research using heat maps to analyse how people read CVs.
And basically, people will read a CV in a Z format. So, they'll come across the top, from left to right, they'll then scroll down a diagonal line, and then they'll come onto the work history.
And that's how people will naturally scan through a CV.
So, our aim with the rest of the structure is to create a CV that makes it easy for the reader to see what they need to see when scanning in that fashion.
To summarise or not to summarise?
As an example, on this CV you'll notice that there's no summary at all, and there's a reason for that. The problem with a summary is;
Most people don't feel that comfortable writing about themselves
Most people don't know what to write
And what they end up writing has no relevance to what the company needs (it focuses too much on them)
And most importantly, it doesn't get read when people follow the Z pattern
As an example, this could be a typical summary on a CV…
"I am a reliable, enthusiastic marketer who is comfortable working on my own, or as part of a team. I have a broad skillset and I'm now looking for an ambitious company to help develop my skills further."
Reliable? Okay fine, that's great but enthusiastic?
What does that mean? Is that enthusiastic like Donald Trump? The problem is — it's too subjective.
Don't try to appeal to everyone
'I'm comfortable working on my own, as well as part of a team.' What does that mean? It doesn't mean anything.
'I also have a broad skillset'; again, people don't want people who've got broad skillsets.
This CV is trying to appeal to too many people and not appealing to anybody in particular.
And writing that you want to develop your skills is fine, but a company is going to hire you because they've got a problem right now and they need a solution. Not because they want to spend three years developing your skills.
It may seem harsh, but companies don't give a damn what you want at this stage because they know absolutely nothing about you.
Once they get to know you, yes, of course, they're going to start to think about how they can develop you and help you in your career.
So I would get rid of the summary section totally, and replace it with a strap-line like the ones below.
But I also understand this can feel difficult to do. So if you want to stick with a summary, that's fine.
My suggestion would be to use your marketing skills and appeal to your audience. Talk to them about how your skills (features) can solve their problems (benefits).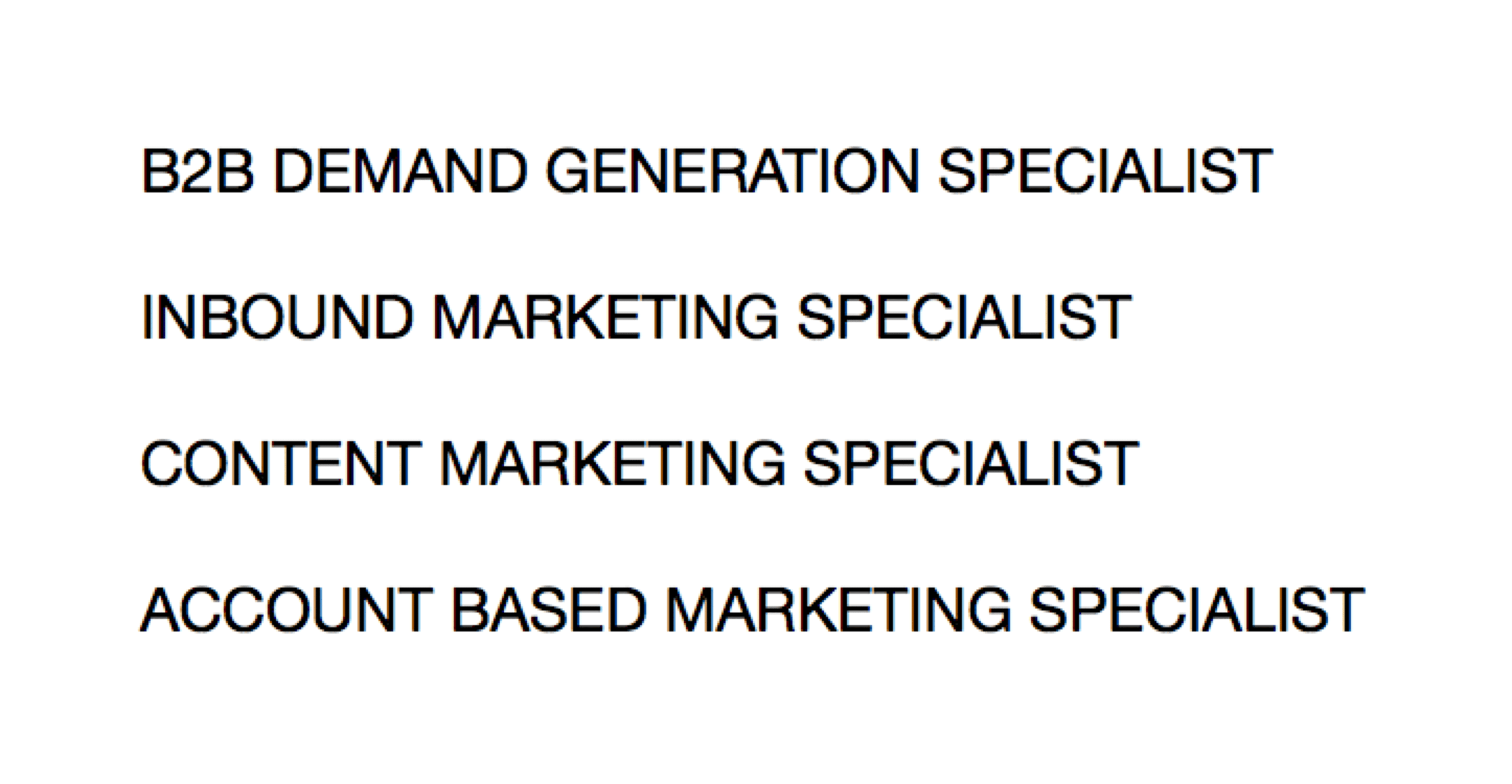 You want to capture someone's eye and give them a sense of what you'll bring to solve their problem.
Then underneath, we've got this section, which is an overview of the key aspects of your experience, and this is appealing to people who aren't necessarily in marketing.

It's the people who are going to be looking at your CV in the first instance.
Maybe someone in HR or internal recruitment and it's giving them a nice big overshot of your broad marketing skills so they can mentally check them off.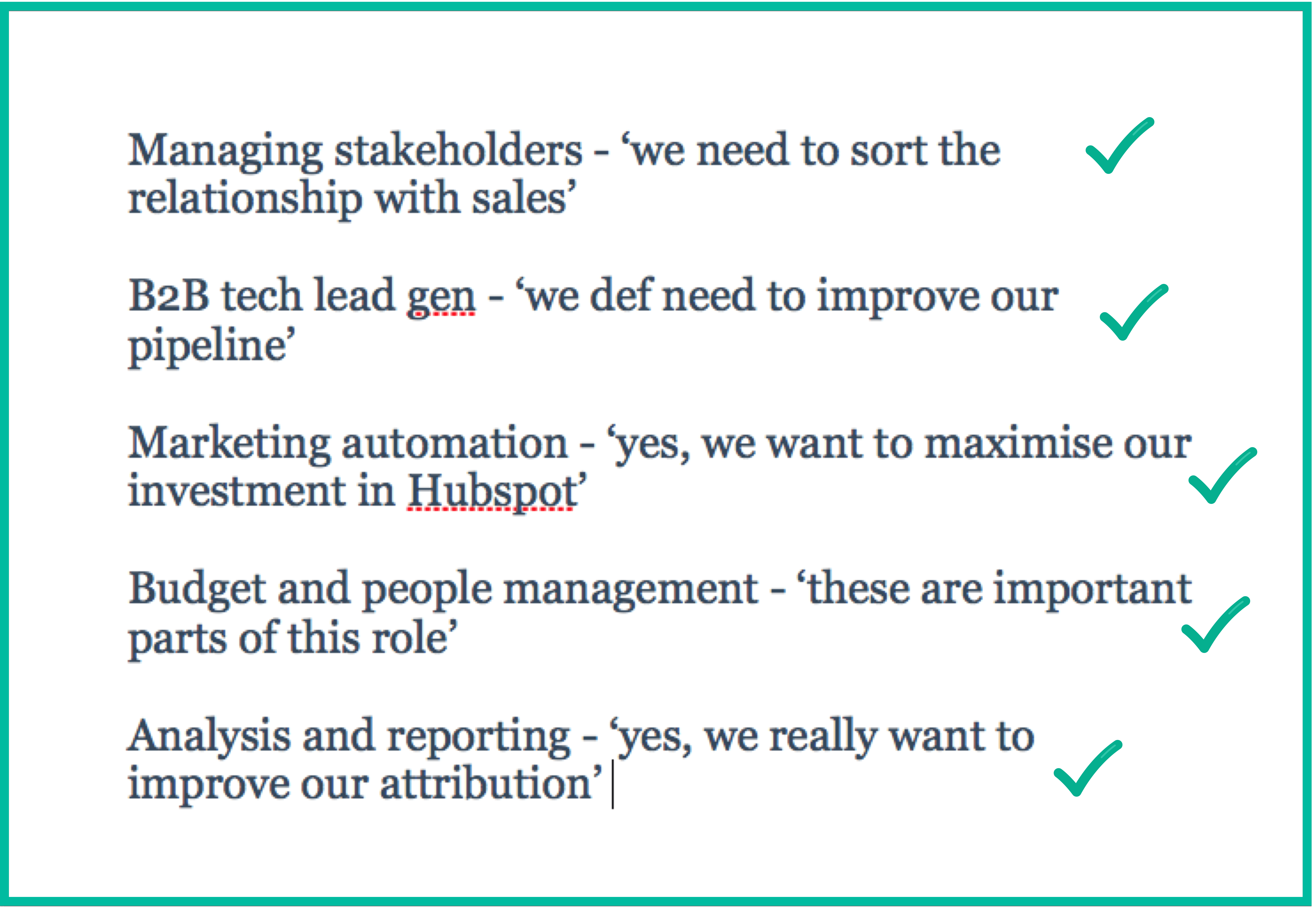 So now you should have your contact details, summary (if you're going to use one or a strap-line) and your broad key skills completed.
Covering your experience
The next section under that will depend on how experienced you are.
If you're less experienced, say up to 8 years in marketing, I would probably suggest putting your education next.
If you're more experienced, I would probably recommend putting your education at the bottom of the CV.
Next will come your technical skills.
And this will typically be your hard skills if you like, or in the world of B2B marketing, the technical software that you enjoy using – whether it be Hubspot, Salesforce, InDesign, all these sorts of things.

Having the names of the tools you use is vital as more and more companies are looking for B2B marketers with knowledge of particular ones.
And then after your key skills section, you'll move onto your career history with your most recent job at the top. (we'll dive into how to structure that part in the next few sections)
Then finally, just a few more points and that's the structure and format section ticked off;
Your CV shouldn't be any longer than three pages
Try and make it easy to read by having plenty of white space and not cramming it full of text
Don't put your headshot photo on it – no photo's at all
2. The importance of keywords
Prefer to watch a video? Press play below..
In this section, we're going to talk about keywords and, in particular, why it's so important to have keywords in your CV and what those keywords should be for maximum effect.
So why is it important to have keywords in your CV?
Well, there are two answers to this question. One answer is technology orientated, and one answer involves us humans.
Moreover, it's about the limitations of both of those.
So, first of all, technology.
And in today's age, HR staff, internal recruiters and agency recruiters like us, all use applicant tracking systems.
And this means that they use keyword searches to find or match candidates for the jobs that they've got.
So why does this matter?
Well, as we know, the job market is reasonably tough, and particularly so because companies have high expectations and want candidates with all the right marketing skills.
As an example, let's say pre-2008, we'd often get companies asking for B2B marketers.
And that's about as specific as it got.
However, fast-forward to now, and we're being asked for B2B lead generation marketers from the enterprise software space with knowledge of Marketo, ABM, Inbound, PPC and experience of marketing across EMEA!
Crazy, hey? But that's the reality.
Now, before we despair, this also presents a great opportunity if you take advantage of it, and we'll get to that in a sec.
Spell it out
A second answer is that, more often than not, the person who initially looks at your CV is probably not a marketer.
So you've got to spell out your experience to those people because they're just searching for those keywords that are relevant to the job they're looking to fill.
So why does this shift from companies wanting marketing generalist to specialists matter for your CV?
Well, it matters because people use Boolean searching for CVs these days, and I'll briefly cover here why it's important to you.
So let's say you've spoken to a few recruitment agencies and you've perhaps uploaded your CV onto one of the job boards like Reed.
In effect, your CV is now on a database.
And when someone comes to search that database, they're going to use a Boolean search.
And let's say we're trying to fill a role with the below responsibilities.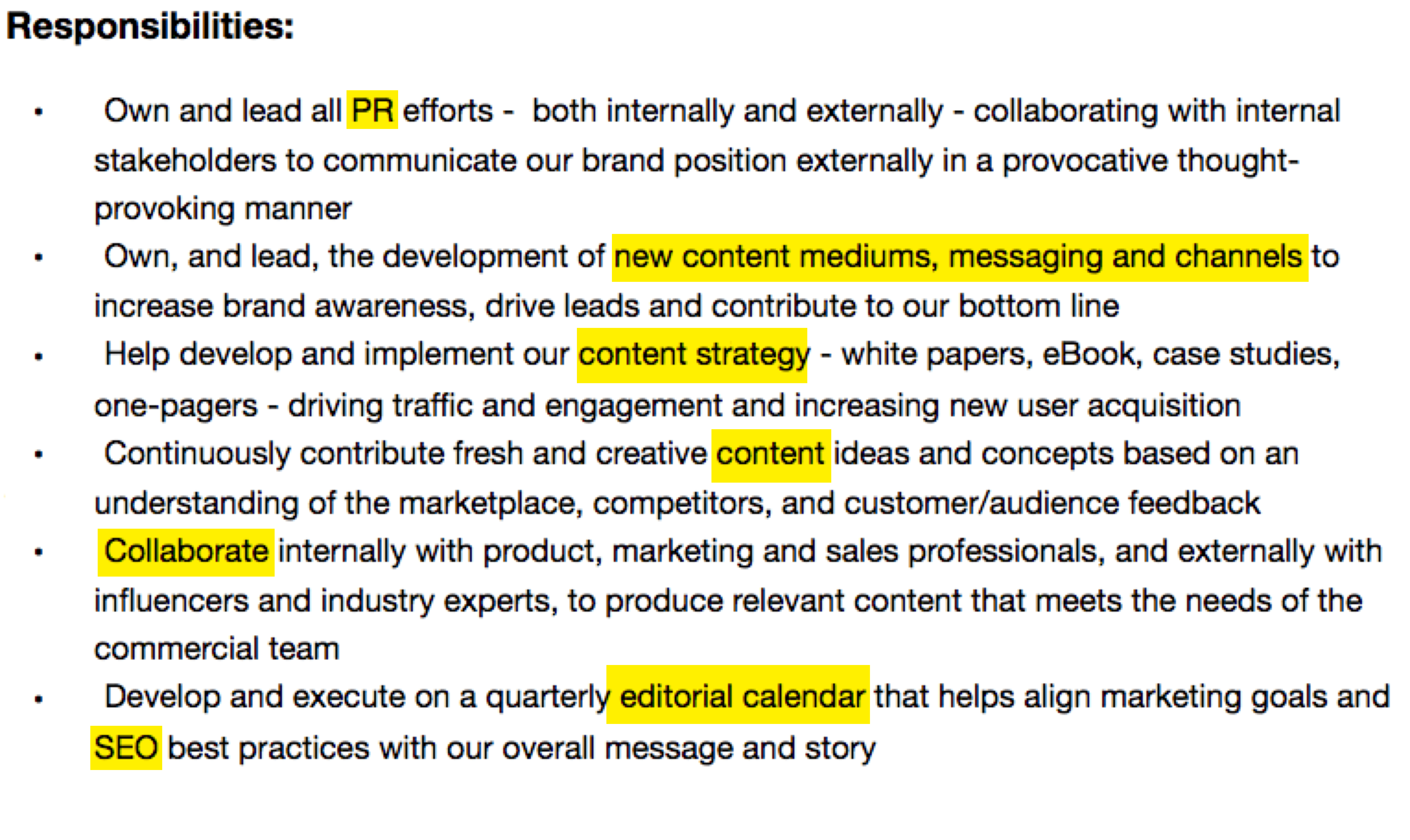 We'd then search for the key components of that role (highlighted) in our CV database. Like this.

And if there isn't a keyword match, then your CV won't appear.
It's no different to how SEO works – when you produce a piece of content, you want to optimise that content for the keywords that are relevant to your business.
In this case, you're optimising your CV for the keywords that are typically in the jobs descriptions that would interest you and be a good fit for your skills.
* Worthy of a side note. Things like Marketo and Marketing Automation are related but different, so try and use both on your CV, so you increase the chances of coming up for either term.
3. B2B Marketer? Then your CV has to include this..
So, if you're a B2B marketer, what's the most critical thing you need to have on your CV?
Well, it's return on investment.
Now, thankfully, gone are the days when marketing was considered the colouring in department.
Although, unfortunately, I think there's still some backwards sales teams and MDs out there who think that's precisely the case.
However, as you know, the primary job of a B2B marketer is to help increase sales.
Granted, some roles, more directly than others, but it's all about being commercial and generating a return on the investment your company makes in you.
Show examples of results
And for me, as a recruiter, if you can't talk about ROI, then you're not a credible, modern marketer. I'm sorry…
So, in today's job market, it's so important that it simply has to be on your CV.
As an example, it's not uncommon for companies not to invite you in for an interview if you don't have it on your CV.
And the remedy is pretty simple.
I'd suggest a separate achievements section under each role where you give two to three examples of what you've positively contributed to the ROI.

Whatever you decide to write, get specific and make sure it's got some numbers attached to it.
[I also appreciate that some companies don't have the systems or the willingness to measure ROI, and that's not your fault. However, you can't leave it out.]
And just as important, make sure there's a good balance of achievements to the detail you put in your responsibilities section. If you've got too many achievements, it just dilutes the impact of each one.
4. How to position your experience to get the B2B marketing job you really want
So in this section, I'm going to help you create a CV that positions yourself for the job that you really, really want.
And I'm going to talk through a few concepts that will hopefully knit together, to give you more context behind what I mean.
You usually look for a similar job
So first off, we're going to make an assumption… and it's an important one… and that is, you're going to get a job that's pretty close to what you've done recently.
As an example, it's not very likely you're going to go from being a B2B marketer to being a brain surgeon.
Moreover, it's not even very likely you'll go from being a B2B tech marketer to being a Brand Manager for Unilever.
Now I can hear you yelling at me…
*But marketing is transferrable, Matt.
And I agree with that. To me, if you can market product A, you can market product B, because the principles are the same.
However, in today's job market, that's not always the case.
If you're a Startup or a more prominent B2B Tech firm, you're looking to minimise risk and if they're going to pay you £40K, £50K, £80K…then they want somebody who can hit the ground running and make an impact straight away.
And that means getting someone that has the experience that's pretty closely aligned to what they need.
Now the exception to this is when you're in your first few years of marketing, but positioning is still important, so if that's you, don't tune out.
So that's the first concept – You're going to get a job that's pretty close to the job that you've recently done. There might be a jump in responsibility or some additional tactics that you might add in, but really, it's going to be pretty close.
Different roles = different skillsets
The second concept is to compare two different types of B2B marketers because B2B marketing itself is still a pretty broad subject. And to do this, I'm going to compare two marketers.
And I'm going to relate it to the four Ps to give it some structure.

Now, as you can see above, both marketers are in the technology sector and marketing products to other businesses.
So, on the face of it, pretty similar.
Marketer 1 is marketing anti-virus products costing £50 a unit through distributors and the resellers. And using classic channel marketing tactics to achieve this.
On the other hand, you've got Marketer 2, who is marketing enterprise software that's going to cost upwards from £1 million to FTSE 100 companies and using tactics like thought-leadership, round tables and account-based marketing.
So what's my point?
Well, at a high level, both those marketers are quite similar. They market tech products to businesses.
And when I say on the face of it… remember back to a previous chapter… it could be someone looking at your CV that knows nothing about the subtle differences between these two marketers.
However, in reality, as you and I both know, they're very different marketing professionals.
Positioning
Now here's the significant bit.
So with those concepts in mind, how do you use positioning in your CV?
Well, first off, let's look at somebody who hasn't used positioning.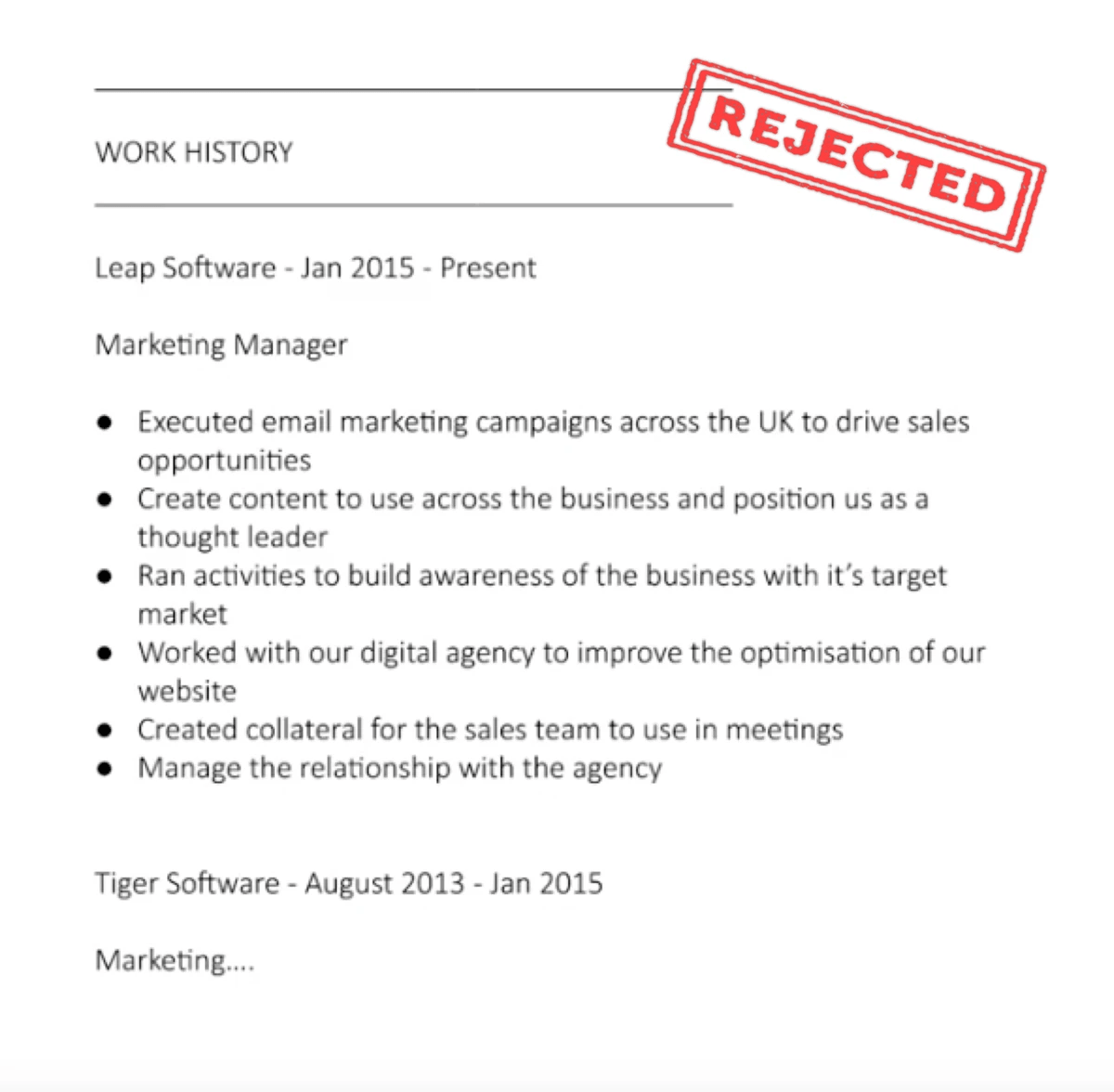 And this is quite a common thing to see on a CV.
You can see a company name, but no explanation of what that company does.
Is this person a B2C marketer? B2B? And what type of marketer are they?
It's just not clear. And remember, you've only got 10 to 20 seconds to make it clear.
Now let's see what a CV looks like with better positioning.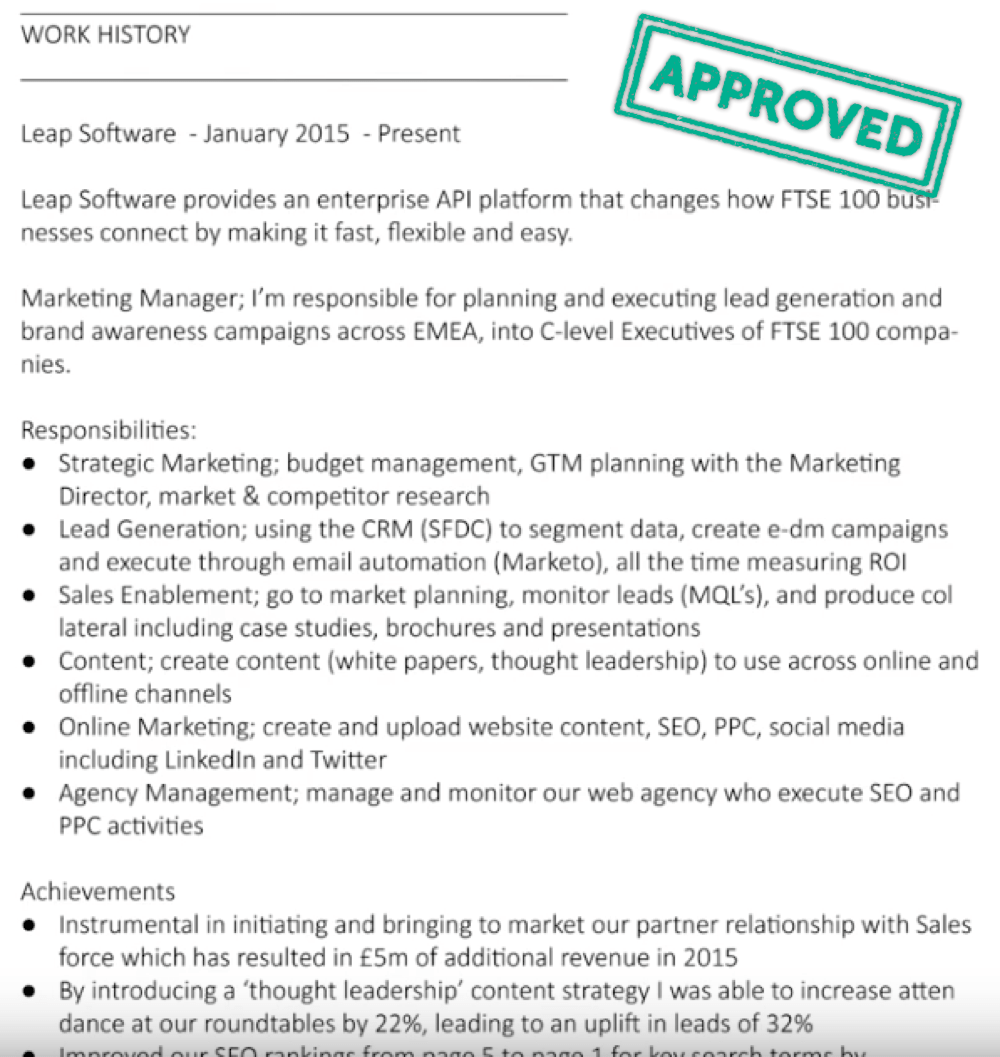 And as you can see, there's an explanation about what the company does.
The word "Enterprise" suggests what the value of the solution this person is marketing.
It has a target audience on there – marketing to C-Level contacts within FTSE companies, is a different ball-game to Marketing to Directors of SMEs.
And it also has a brief synopsis of what this person's overall objective is. In this case lead generation.
So as you can see, it's much easier to see exactly what the second candidate can do.
And this is also really important if you're trying to get a job with an excellent company, where competition is just super, super-high.
If you use positioning and have experience in a similar role, you're demonstrating that you can add value quickly and make an impact in the role.
You will help them understand two things.
you can help them with their marketing problems right now, whatever they're looking to achieve.
because of your understanding of their space and how marketing is typically done in that space, you're less of a risk to them.
Those two things are crucial in getting an interview and being hired.
5. The Reverse Xmas Tree effect
So in this section, we're going to talk about what I call the 'reverse Xmas tree' effect.
Not sure why I call it the Xmas tree effect, but hey ho, or should it be ho ho ho?
[Sorry, terrible Dad joke there.]
Right, let's get into it.
And this is a situation that you might be familiar with.
You find out the sales team (yet again!) haven't followed up with the MQL's you've put your heart and soul into creating, and you think to yourself – I need a new job!
And one of the first things you do, is dust off the old CV, create a space at the top and add in your current role.
And there are a few issues with that.
Your CV becomes too long.
Your CV doesn't emphasise your most recent role – which is more often than not going to dictate your next role.
As you progress your career… what you did earlier on becomes less and less relevant.
Repackage what you do
So what's the solution?
Well… what I'd recommend is repackaging your CV each time you look for a new job.
And that means minimising the jobs towards the bottom of your CV, potentially down to a line for each one, and then giving your most recent role the most space at the top.
So it looks like this.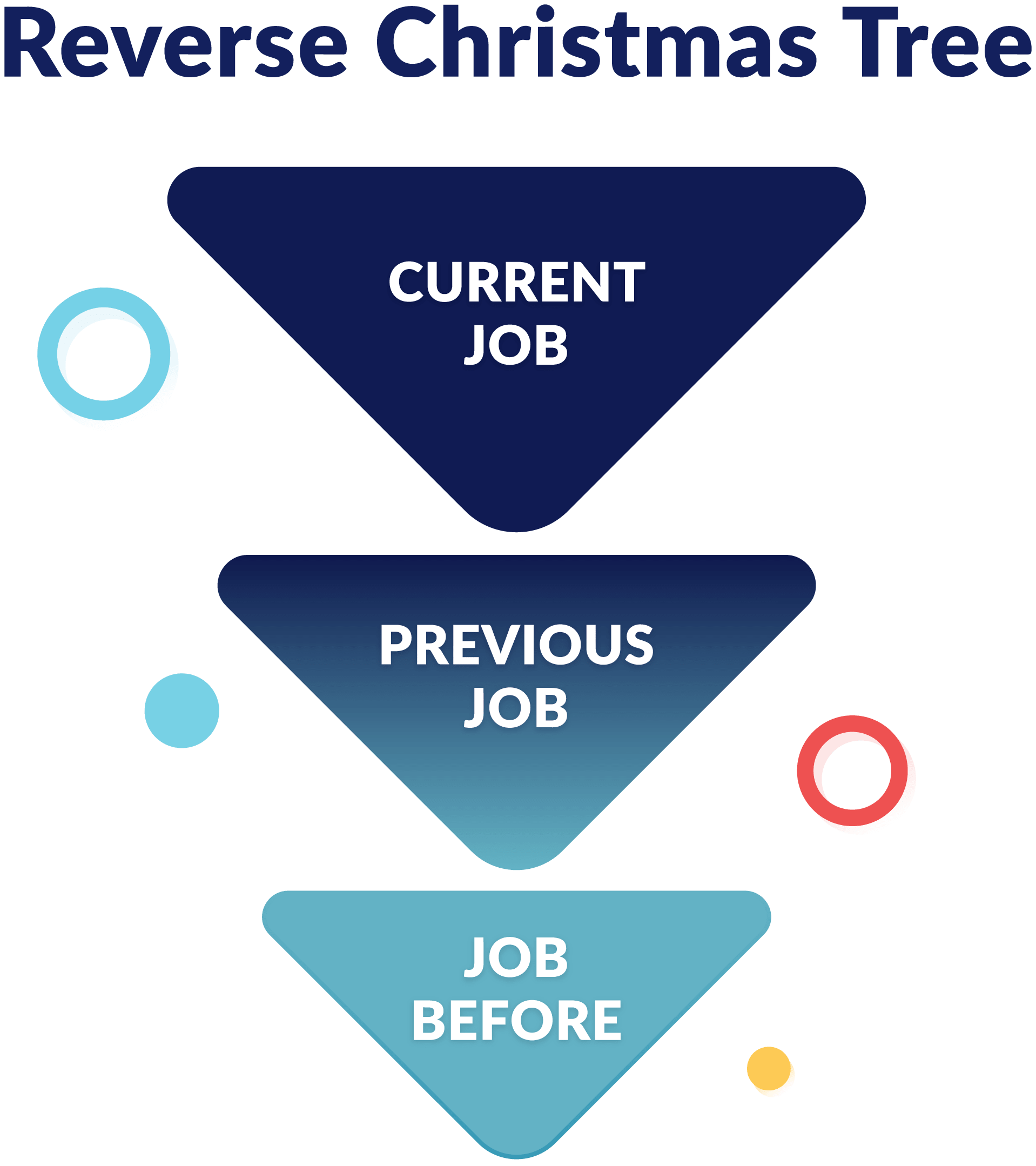 By doing that, your CV will have more balance, and you'll give your most recent experience all the attention it deserves.
6. Power words to persuade and influence
So by now your CV should be taking effect.
It'll be in the right format, so it's easy for people to read.
Use the right amount of keywords and in the right places so you can easily be found.
And be understood by non-marketing people who may do the first screen of it.
It will also be positioning your experience to get more traction for the marketing jobs that you want and that suit your skill set.
And you'll be using the 'reverse Xmas tree' effect, to give your CV more balance.
Wow, there's a lot you've done so well done!
So I'm now going to talk about power words. And how they can take your CV up a notch or two.
Now, most CV bullet points or sentences start with the same old dreary words.
Led, managed, responsible for….those are fine, but we're looking to create a marketing CV that stands out.
And this is part of a list of 185 power words you can use in your CV for various aspects of your job. Thanks to the Muze, who are an online careers publisher who are worth checking out.
You can find the full list in our CV download pack below.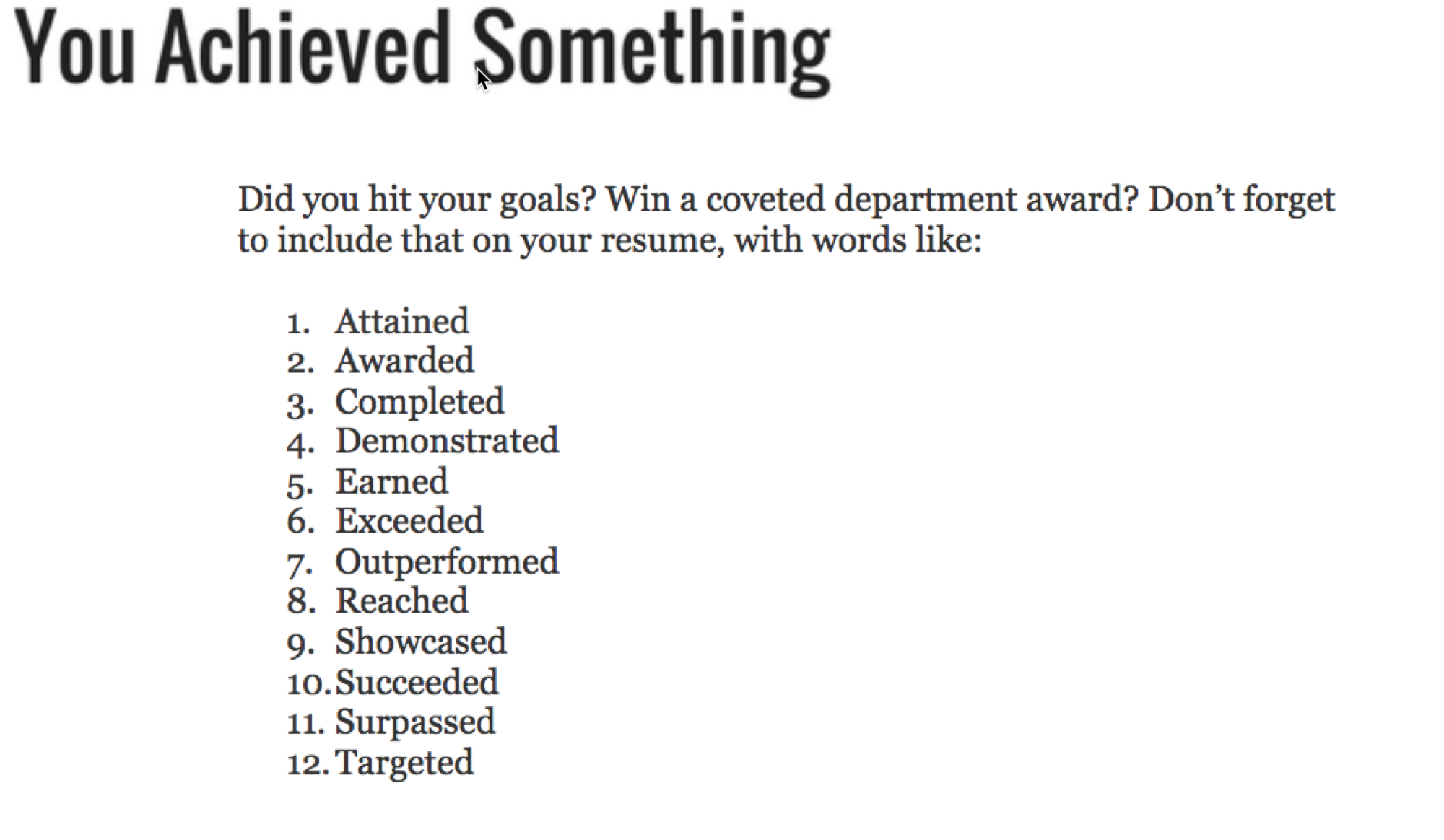 And alongside that, thanks to Aimee Bateman of Careercake, who are an online career training platform – she suggests modifying verbs with adverbs, and there are some good examples to use here.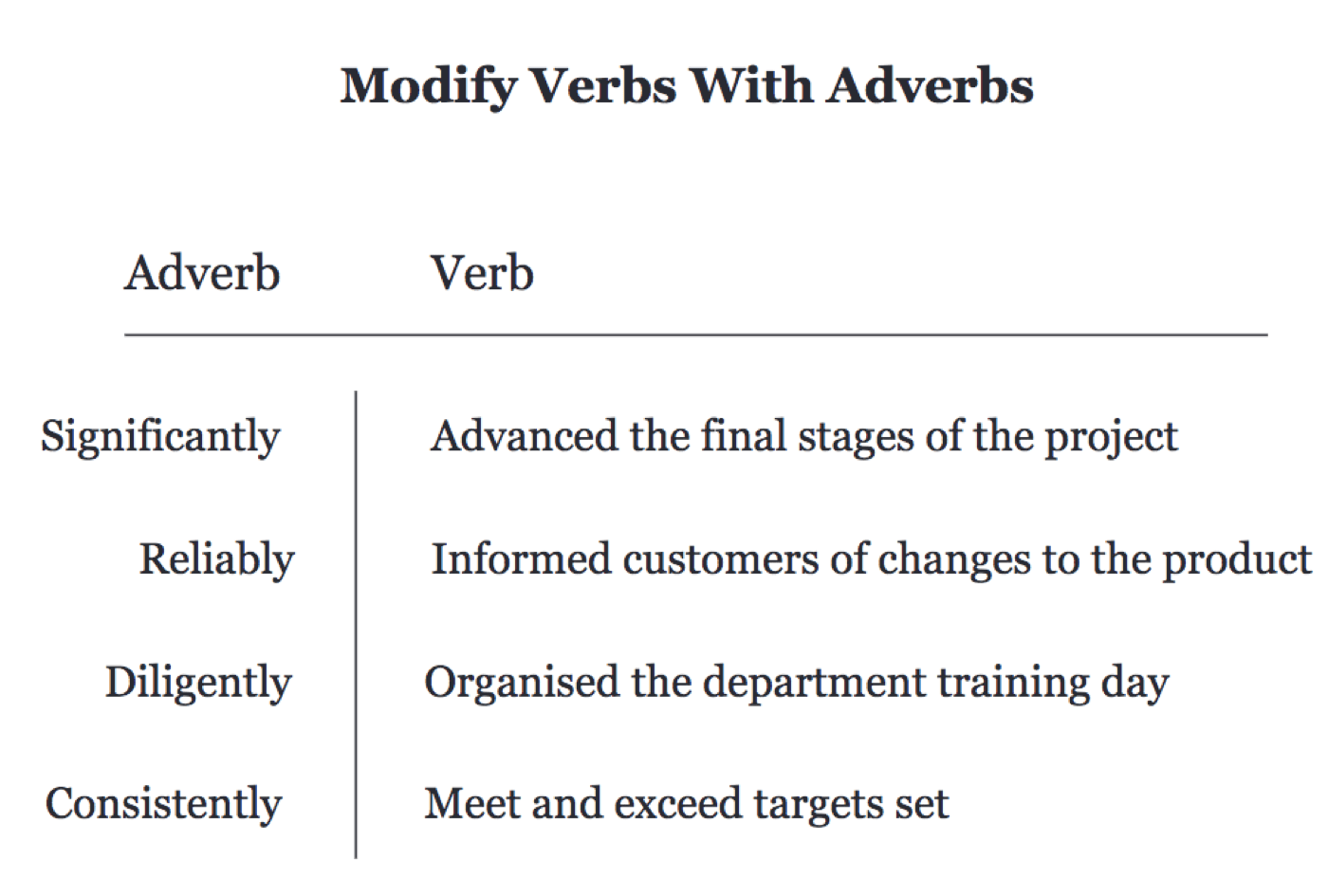 So, get some of those power words in your CV, and I'm confident people will enjoy reading your CV.
And which will probably mean more interviews for great B2B marketing jobs with some awesome companies for you!
7. Cinema, Socialising..really? How to tackle your interests section to persuade and influence
Can I be brutally honest with you?
Nobody we've spoken to reads your interests section.
Okay, that's not strictly true.
When companies and recruiters are doing an initial screen of your CV, they don't read it.
And the only time when it does sometimes get read is when someone's about to interview you.
However, even then, most people don't.
And let's be honest, who enjoys writing an interests section anyway?
I know when I last wrote mine, it was a load of rubbish. I mean, what's the relevance.
Is a Marketing Director going to look at your CV and go, 'oh great…Matt likes socialising with friends; he's right for the Growth Marketing job we have, we've got to get him in for interview.'
No.
It has no relevance to how you can help solve their problem, and it adds nothing to your aim of sending across a CV to get a positive response and interview.
So there are two options;
Option 1, I'd recommend replacing the interests section for some social proof.
The power of having someone else saying you're great, is far more valuable than you saying so. We all think we're great, right?
So the social proof is a great way to achieve that.
I'd just either strip it from your LinkedIn profile if you have some recommendations there or drop your old manager a quick email and say precisely what you need.
I'm sure they'd be more than happy to help you.
Option 2, is if you want to keep your interests section for some reason. And whatever you decide to do, try to give the company a sense of why those interests are important to you as a person.
Going to the cinema says nothing about you.
So that could be…
'I enjoy competing in triathlons because it gives me a sense of achievement when I set a goal and hit it.'
Hey, it's your choice. I find it a bit cheesy so if it were me, I'd stick to option 1.
8. Your CV must NOT have…
So, well done if you've made it here.
There's a lot to take in and if you're reading this then credit to you, as you clearly take your marketing career seriously.
Job hunting is a job in itself and creating a great CV is an essential first step that can save you a ton of time down the line and also open doors that were closed to you before.
In many ways, it's odd how a piece of paper with ink on can determine your next career move, and where you'll ultimately spend a large chunk of your life – but for now, sending a CV to get your foot in the door is how things are done.
And first impressions count for a lot – people only spend 10-20 seconds looking at your CV, and in many cases, even less than that, especially if your CV has these aspects.
So, what are the no-no's?
Don't have a photo. What you look like has no relevance to performance, you're not interviewing to be a model on a catwalk.
Don't write it in the 3rd person, it's just cheesy and a bit creepy. And we know you've written it so just write it from you.
My opinion is not to have a personal statement because nobody reads it, and more often than not, there's nothing relevant in there anyway.
Please please please, spell check. The common trap is using American English because your PC is set up for that. Especially in marketing, and rightly so, it has to be 100% accurate.
Don't try and write elaborate or fancy stories. Keep it on point, and demonstrate how you can solve an employers problem, that's all they're interested in at this stage.
And finally, ditch the interests section, it shouldn't be on there.
So, hopefully you've found that useful.
It's been great having you along on this CV creation journey!
If you'd like us to review your CV and you're in B2B marketing, then please book a call and one of our consultants will be chuffed to hear from you.
And in the meantime, good luck with your job search.