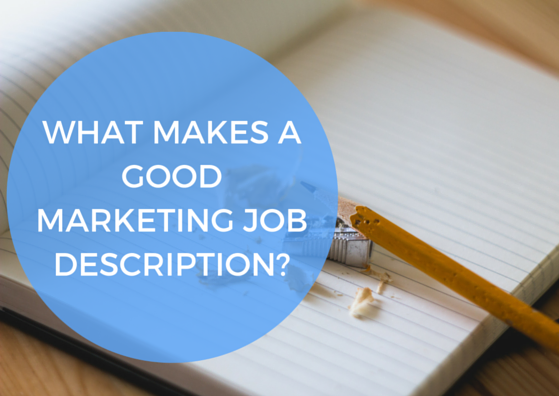 A good marketing job description should be able to convey the basics easily so that a candidate can easily find, read and understand the essence of your company, and the purpose of the role. Importantly, it needs to include the benefits of working for your particular company.
Here are some tips when penning a killer job description:
1. Use an attention-grabbing opener
Start the job description with a question that your ideal candidate can identify with. 'Are you looking to progress your marketing career with an award winning technology business?' Great! Read on.
2. Provide a concise company description
The description needs to be brief but convey the basic information: what the company does and whom does it sell to? The overall JD needs to give a clear understanding of what the company is about – its mission, goals and purpose. B2B or B2C? What size is the company? Why should a marketing professional take the job?
3. Convey the core purpose of the role.
Break it down to why this marketing position exists, and what are the expectations of the role. What does success look like and how would it be measured?
4. Include a description of daily life
While the RJP (Realistic Job Preview like the video by Comcast) is better for giving the sense of everyday life, try to include some of the daily tasks and expectations of the role. Who will they be interacting with on a daily basis? Be honest about the challenges they may face. It's about aligning expectations. An honest description minimizes the risk of employees leaving because the role 'wasn't what they were pitched'.
5. Show what you can offer them
It's a candidate driven market and competition for top talent is fierce. So highlighting your specific benefits is important. These would include salary as well as additional benefits from healthcare, bonuses and free breakfast on Fridays.
6. Provide a clear Call-To-Action for marketing applications
It should be very clear what the preferred method of contact/application is for the role. Is there a particular contact person for the role? Include their details. Or are they able to apply through the website directly?
Bonus Tips
1. Search-ability
Ensure the job description includes the keywords including the desired job title, location and essential skills required. For example, include digital marketing executive, london and SEO. Avoid using internal acronyms, but include program names like Hubspot or Hootsuite if they are required. The more accurate the keywords, the easier it will be for the candidates to find the JD and easily scan for terms they match
2. Keep it brief
Ideally it shouldn't be longer than 2 pages. Just like writing any online marketing content, using bold and bullet points will help the reader scan for the most important takeaways
3. Break down essentials and nice to haves
Make it very clear what is mandatory and what would be a bonus. You don't want to exclude any future leaders if they didn't apply because they didn't have HTML experience.
4. Make it easy to share
If your system or job board doesn't already include share buttons, include a quick note at the bottom to remind viewers to share with their colleagues and friends. If the job didn't happen to be right for them, they may know someone that is.
5. Use the company's 'voice'
This should be consistent with the other forms of communication. Does your company culture allow for the conversational style? Are you able to add a little humour or does it need to remain formal/corporate? This alone can give an immediate impression of your company.
Key Elements to Include:
Job Title – Easy to Search
Location – Attract candidates within commutable distance
Job Purpose/Summary – The essence of the role
Responsibilities/Daily Life – Sets expectations
Characteristics and Skills Required – What do they need to be good at?
Salary/Benefits – What we can offer you
Contact Details – Make application easy
Remember the more accurate the job description is, the better-aligned the marketing candidates you will attract. Being on the same page to start, will increase the chances of employee retention.
So that you do not have to start from scratch, we have put together some free marketing job description templates in Word format you can download and edit. Take a look at them: