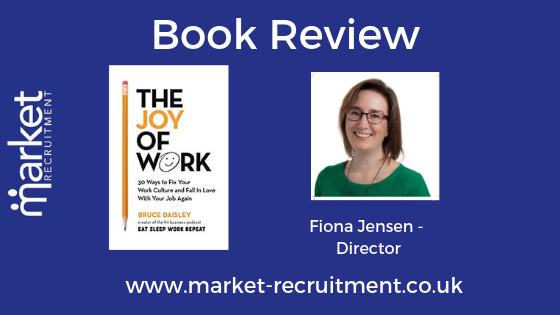 How is this relevant to b2b marketers – it's so relevant I can't even begin to tell you.
In fact it's relevant to anyone in any job who feels their work life sucks….
Firstly let me explain who wrote the book, do you know who Bruce Daisley is?
He's worked at Emap, Google, and most recently he's been VP EMEA for Twitter, so it's fair to say that Bruce might know a thing or two about digital / work life balance and working for high growth technology companies and the cultures they have.
Perhaps you're working in a company and want to be the next big thing, who doesn't?
Which means, high growth, high potential and almost certainly high stress with plenty of workload expectations.
So after years of research, mostly via his no 1 business podcast of eat, sleep, work, repeat (well worth a listen) Bruce has found ways for you to improve your happiness in work and also change your works culture.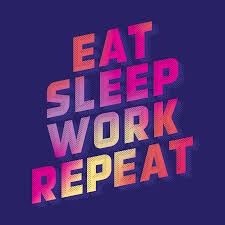 For the B2B marketing leaders out there, it also gives you some insight into how you can tweak your leadership skills around managing people and improving everybody else's happiness at work.
Imagine that? You'd be renamed CMO & Head of Fun!
In the book, Bruce has condensed all the learnings from interviewing specialists on a variety of work culture related subjects, into one light bulb inducing idea neatly condensed in a book that anyone can use.
To use his own words at his talk – "The Joy of Work is a "trouble makers" Manifesto, anyone can use some or all of the tools I share to improve their Joy of Work"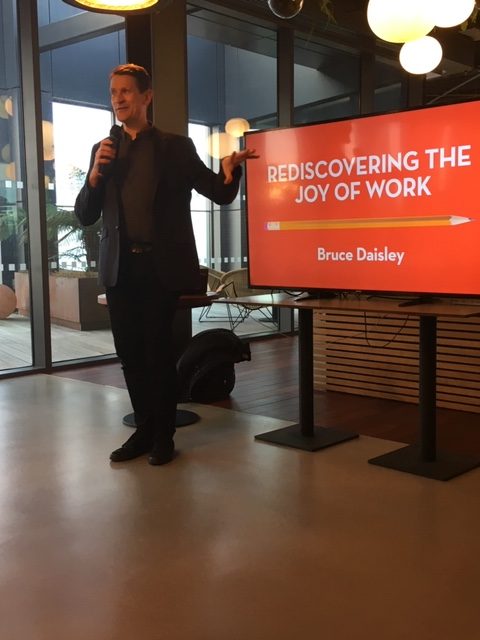 In this book he shares 30 ways to fix your work culture and fall in love with your job again.
Things that you can implement right away in your own life or in any business to start improving things.
There's so much good stuff, you could literally rip pages out the book, photocopy them and post them along hallways, doorways, anywhere really and you'll find people will take note.
Here's a few things that really surprised me:
Apparently, it's ok to turn notifications off on your phone…. who knew?
The average twitter user uses it for 6 minutes or less a day
It's scientifically proven that productivity drops if you work more than 40 hours a week
Why don't we treat our brains as athletes treat their body? The British Cycling team (shared by Chris Hoy) use the mantra – never stand when you can sit, never sit when you can lie down – Seems like a great mantra to me! (typing on laptop whilst lying on sofa)
Ego Depletion – there's a limit to the number of decisions we can make per day irrespective of how important they are. Brains aren't infinite – make those 40 hours a week count!
There are no GOOD meetings – it's just a form of FOMO to think others are having better meetings
Will robots replace us? There's evidence to suggest that repetitive / "find the pattern jobs" may get replaced by AI however the creative, ideas, challenge status quo human condition (and roles) is thus far un-robot-able (I like it, so just go with it).
So, if you want to improve your happiness in work, or your teams happiness, then buy the book. It was a great read.