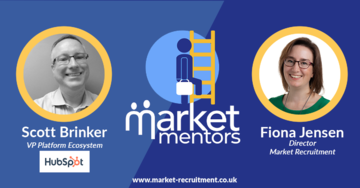 TRANSCRIPT;
Fiona:
Welcome to Market Mentors, a podcast for the marketing leaders of today and tomorrow. I'm Fiona Jensen, a director and co-owner of Market Recruitment. For over a decade I've been helping B2B marketeers find the best jobs with great companies. Together we'll discover how marketing experts reach the top and learn from their experience. Ask career related questions you can't get answers to elsewhere. Be tough, be challenged, be mentored.
Fiona:
Scott Brinker needs no introduction. Thanks to his passion, influence, and being an all round nice guy within MarTech. Creator of the infamous MarTech infographic, editor in chief of chiefmartech.com, program chair of MarTech Conference and VP of platform ecosystem at HubSpot. Scott shares his insights of the MarTech space, why he's passionate about it, and what the future could look like. We chat about the skills and different roles marketers play with technology and Scott shared some examples of people we could all learn from, who are now CMOs but have come from a MarTech background.
Fiona:
Scott, you don't really need much of an introduction, if I'm honest, my audience. So B2B marketers in the tech industry in London, in the Southeast will already understand and appreciate who you are. Thanks to you being the VP platform ecosystem of HubSpot, editor of Chief MarTech, program chair of MarTech and also, thanks to that lovely infographic of yours that keeps growing year on year. I'm not sure if our screens are going to be big enough next year, or this year [crosstalk 00:02:05].
Scott:
Goodness. Yeah, it's pretty crazy.
Fiona:
Thanks so much for taking some time to come on Market Mentors for us. We really appreciate it. I suppose what we're keen to do, Scott, is get your take with regards to a MarTech slant for marketing careers for B2B marketers in the tech space. I suppose just in case anyone isn't aware of or hasn't really understood where you come from and what your experience is, can you give us a quick summary of how you got to where you are today?
Scott:
Sure, so my background is really as a software entrepreneur and, it was initially creating software for marketers. Did work for the productizing software for marketers, but also a fair amount of consulting and custom web development in the days of the web. So yeah, I just found myself interacting between those two worlds of technologists and IT teams on one side and marketing organizations on the other and just became really fascinated with the increasing synergy and interplay between them.
Fiona:
Absolutely. It's very interesting space and as you say, marketeers, we do love our toys, we do love our shiny new things and obviously that encourages with regards to the volume that's happening, but also technology is moving so fast. How many companies are there now on that lovely infographic of yours?
Scott:
Oh boy. I don't know if I would use the word lovely, but some people would call it more of an eyesore I suspect. But yeah, it charts over 7,000 different marketing related software solutions at this point.
Fiona:
Wow. So to really cut it down, what sort of companies… What is MarTech really? What gets the company onto that infographic and list of yours?
Scott:
So the definition is pretty easy. It's really technology used by marketers. Marketing technology. And so the majority of the applications that are cataloged there are applications that were written explicitly for marketers, really dedicated to some marketing activity. But there's also a section of the chart that talks about some of the things around project management tools, some of the tools that people are using around agile management that aren't specific to marketers, other professionals use them too, but we find that marketers are using them so much as a part of their marketing stack that we include them on the graphic as well.
Fiona:
Got you. So I'm thinking probably the likes of Trello and companies like that maybe?
Scott:
Exactly.
Fiona:
Perfect. So as you said, you've now got over 7,000 companies on that list and infographic of yours now. How do you keep up with it all, let alone how do us as marketers manage to keep up with it all?
Scott:
I don't know that I actually keep talking at this point. We're continually hearing about new companies that we somehow missed in our research, no matter how thorough we tried to be. The simple version to this or I guess the simple answer to what is a complex environment is, it's just become so easy for anyone to create software and in a digital world, so many companies are now building software as a part of what they have to offer to their customers. So even services companies now have software apps for marketers as well too. And so on one hand, this is great. There's this explosion of all this innovation, all these minds that are working on how to solve a things for marketers or to make life better, to innovate marketing in cool ways.
Scott:
But the other side of that is we've got so many people doing that. It's impossible for any one marketer to survey the entire landscape and be like, "Oh, okay, I got my head around all of this." Economists have this term that they call satisficing, which is the idea that in real life it's actually very hard to make a perfect decision because just the cost it would have for you get all the information to make the absolute perfectly optimized decision, it's just not worth it. But that being said, you can do enough research to make a decision for things that meet your needs, that are right for you, and at the end of the day, that's actually a perfectly fine a way to make a decision. It really should be less about the software and more about, "Okay, do you have the right tools as a marketer to deliver the vision, the outcomes that you're responsible for?"
How to select the right marketing technology stack for your business
Fiona:
Got you. So if you're a marketer, what tips do you have for them to help them when it comes to selecting the right MarTech stack for their business? If you are a marketer who's trying to maybe set something up for a company, and as you say, if you've got so many options and so many different things to do, what sort of approach would you suggest they take?
Scott:
Well I think the first thing is to start with the some foundational pieces. Most marketers, you need some sort of CRM or customer database, you're going to need whatever platform you're using for your web properties. You're going to need some solution for email marketing or more broadly marketing automation for managing campaigns. So there's a handful of just fundamental capabilities that to be honest, for most marketers, if you get those pieces and you learn to use them really well, that actually covers 80% of what modern marketing is still all about.
Scott:
And then at that point in time, while I usually recommend is for those foundational systems, if you choose a software package that has a open platform, that it's not just a closed box, that they opened up their APIs, they're now working other app partners across the marketing tech landscape, then as you start to grow, when you find you have more needs that are perhaps more specialized to the work you're doing, then look to bring in apps from that platform ecosystem. And the advantage of that is like… Ideally then, if the platform and the app developer have done their job right, you don't have to worry about, all the mechanics of "Hey, how do I integrate these two things together?" Increasingly they should just kind of plug in together. I mean it's not quite as simple as installing an app on your mobile phone, but that's kind of where we're all aspiring to get to.
Fiona:
Yeah, that barrier or resistance is coming away, isn't it, often, if they know what they're doing.
Scott:
It is definitely shifting the landscape. For years people used to say you had this choice between a suite or the best of breed, and with a suite everything would be nicely integrated, but the downside was you were limited to just what was in that suite. Versus if you go best of breed, sure you can pick the very best capabilities from the entire landscape, but all the onus is on you to figure out how to connect all the wires together. And the industry is basically like, "Okay, this is a false dichotomy. You shouldn't have to be choosing between these two things." This vision of platform ecosystems is to say, "Hey, let's get a common foundation that helps with the coherence of all these different things we can do. But then use that ecosystem of more specialized apps to augment your particular marketing stack for whatever additional capabilities you need.
How to hire a team around your marketing technology stack
Fiona:
Cool. Yeah, absolutely. So let's say that you're a marketer and you've decided you've found your CRM system and your email or marketing automation tool and things have been going well. So you're developing the right demands and leads for the team and the sales team are happy. And now what you're looking to is obviously build out that team. What sort of tips do you have for them around hiring and building a team around MarTech stacks? Any insights there, Scott?
Scott:
Yeah, it's interesting. We were actually just doing some writing on this very topic of the different kinds of roles, and a lot of this comes down to the size of your company. For a smaller marketing team, the reality is people just have to wear multiple hats. So the number one half that matters is that you've got a marketer who their focus is actually on the marketing itself. It's like, "How do I create things that generate, attract, engage, and delight customers," and that you want people who are comfortable working with MarTech tools, but for them it's not really about the tool. It's very much about, "Okay, well what am I able to execute with?" It's the artist who's like, "Okay, yes, paints and brushes and palette matter, but my vision is focused on what actually gets created on that canvas."
Scott:
I think as you start to get a little bit larger and you start to have multiple people working in marketing, there very often becomes value to having a role in what most people now call marketing operations, which is kind of like, "Okay, I'm going to take responsibility for managing our stack of software. I'm going to take responsibility for managing the customer prospect database. I'll be able to handle things around reporting and analytics insights into what we're doing," and basically someone who becomes a support role for the marketers who are then still focused on the things that are actually creating for prospect and customer experience.
How the marketing operations team fits with the IT team
Fiona:
Got you. And then what's the relationship then between marketing ops and the IT department?
Scott:
So generally speaking… It's fascinating, once upon a time we used to say, "Okay, well if there's any piece of software, then basically the IT department is responsible for it." But that was 20 years ago when frankly there was a relatively narrow set of software that was used throughout their businesses. At this point, oh my goodness, in the cloud, it isn't just marketing that's dealing with all these different apps. I mean every department, sales and finance and HR, all these different things. So the IT role has evolved to in many ways being, "Okay, IT isn't going to manage every single one of these apps outside of the departments." It's not what their expertise is. What generally now you see IT departments doing is saying, "Okay, we're going to focus on some of the common foundational systems that span multiple departments and we're also going to serve in that role of almost like a government, like, 'okay, well listen, we need to make sure that different departments may use different apps, but we want to make sure things like service level agreements and security reviews and compliance with privacy policies and things like this.'"
Scott:
Just like you have governance over finance, within accounting, you have governance over technology company wide from IT. But then what you see with the marketing ops person or the marketing ops team is they're really the ones focused on, for these marketing systems, actually running them on a day by day basis. Like, "How am I building these lists and these campaigns? What are the workflows we're doing on this? What sort of reporting does the CMO want to be able, view the performance of these different initiatives that are being run?" There's a lot of that stuff that the IT department has no interest in doing. They're very happy to have the marketing ops team taking on that work.
Fiona:
Got you. And then when we're talking about marketing ops, that's quite a generalist term as you've already mentioned. One of your tweets caught my eye recently. You tweeted and posted specifically about marketing technologist archetypes as you see it. So the maestro modeler, marketing maker, and marketeer. Where do you think the demand will be for most of those skillsets? And can you just give us a sort of insight or summary into what those four different roles are in your head and which, I suppose, you think might be the hardest to hire for?
Scott:
Sure. I should start by disclaiming that yeah, this is the way I'm looking at roles, and in larger companies you'll certainly have individuals in each of these roles who are specialized, but for smaller companies, it's totally fine to have one individual wear multiple hats. But the two by two, I mean necessity often demands it, so the two by two there that marketing technologist roles, we're saying lots of people in marketing are deeply into marketing software at this point. But there is this different orientation, and the two axes were an internal orientation to an external orientation, where an internal orientation, it's really focused on stakeholders inside the company. These supporting roles, these operations roles, these analytics roles, versus on the external orientation it's very much about, "Okay, how do we build and create things that actually touch prospects and customers?"
Scott:
And then the other axis is from a process orientation, which is like, "Okay, how do we actually get all this stuff to move and flow?" And in the context of customers and prospects, this is what we think of as the buyer's journey or the customer journey. That's a very process view. Most campaigns and marketing programs have a certain process dimension to them. The other side of that is more of a technology orientation of "Okay, how do we actually build out these systems or how do I focus on building an application?" If you'd take a look at that two by two, yeah, you've got marketers who are very much… They're using MarTech every day. They're focused on the customer journey process. It's very much an external orientation.
Scott:
But then the other archetypes are like, "Yeah, that maestro, that operations orchestrator, they're focused on process too, but it's more of a supporting role for internal stakeholders, the actual administration of these systems, the running of the workflow, you know the governance of how do we make sure we're properly using data in the right context." The modeler's dig a little bit deeper. They go down more to the technology side of internal orientation for… This is where data scientists and data engineers and people are like, "Okay, how do we really get our arms around the infrastructure to support all this incredible data?" And then yeah, that last category of what I call marketing makers, which… I mean again, historically the non fancy title for it would be a web developer, an app developer. People who are building things that impact customer experience, but they bring a little bit of that technology depth to their work. So that's that whole spectrum. As far as which is the hardest-
Fiona:
It's very interesting. Yeah. It's very interesting. I don't think someone pointed out or thought about those different skill sets and approaches, but when I saw it, it really did make sense. Carry on with that exploration.
Scott:
Thanks a lot.
Fiona:
We're all learning as you go, Scott.
Scott:
I am learning too. It's an adventure.
How to forge a career in Martech
Fiona:
So with all of this in mind, what do you think the future is regarding MarTech as a career? Where do you see the future lying for these guys?
Scott:
It's interesting. If we take that one quadrant for marketers, it's just really the case that everyone in marketing is going to get more and more fluent with using technology as an integral part of their work, of their profession. I don't know if someone necessarily has to think of themselves as a quote unquote marketing technologist. There's a lot of value for most people in marketing really being focused on the art of marketing itself. It's the next generation of what marketing is. And then I think there is a subset of people who… There's tremendous opportunity just given all these systems and given all the data opportunities and the building out of custom applications, certainly for people who are interested in more of those dimensions to support the marketing mission. There's pretty much unlimited demand at this point for this. We have more demand than supply, so there's definitely… If your inclinations are that way, there's definitely great professional opportunities.
Fiona:
Yeah. And certainly, in our experience obviously hiring B2B marketers into the tech space, we've seen more and more demand for people who have experience of either certain systems or who get things like marketing automation. It's almost a tick in the box now versus a nice to have. So I agree with you. I don't think it's going to go away. I think demand is going to increase, but it'll be interesting to see what happens with that over the next few years with the number of systems that are coming in and through all the time. Do you think there's a potential that we're going to see a MarTech CMO in the future, or a CMT, should we say? What do you think that likelihood is?
Scott:
They have the title of a CMO, but now we see a number of them that have come up from very strong technology backgrounds. In fact these are some of the people I invite to come speak at the MarTech Conference. Just one that comes to mind as an example is a Rishi Dave, who is the CMO of Vonage. Actually he started his career as a chemical engineer or something like that, and then got into digital infrastructure and digital architecture and moved into marketing. He's a CMO. He's a terrific CMO, but he brings a very strong engineering and technology perspective to how a modern marketing department can operate.
Fiona:
Very interesting. Thank you. Who else would you suggest we should be watching or keeping up with then in your field? Who do you think are the high flyers who we can all learn from?
Scott:
Oh goodness. There's a ton of them. Another one, Mayur Gupta, who is the CMO of Freshly, which is a direct to consumer brand in the States. Another fellow who… His background was as a software engineer at Sapient Nitro, and then increasingly grew to around technology management at Kimberly Clark for the marketing department and then went on to help Spotify with the marketing and growth. It's fascinating to see these people who have evolved into marketing leadership positions from a technology technical background.
What companies utilise MarTech most effectively?
Fiona:
Absolutely. Yeah. It's quite interesting, as you say. Which companies do you think use or utilise MarTech most effectively and what makes you cite them versus others?
Scott:
Again, there's just so many. I would say, when you're looking for a rich set of examples, the best place to start is actually the digital natives. The companies like SaaS companies, direct to consumer brands, these subscription services, eCommerce companies. Basically all of these companies that grew up in an environment where the way they win customers and retain them and grow those relationships is all through digital engagement. You find that, yeah, those marketing departments, I mean they were basically built from the ground up to have that digital DNA really just wired into their bones. There's a lot of examples of other traditional companies that have made the conversion, and this is what we call digital transformation of course. But yeah, if you want easy access to like, "Oh, who does a really great job of this?" You can look to the digital natives and you're like, "Yeah, okay. I guess Netflix does do a pretty good job of this [crosstalk 00:24:34]."
Fiona:
There we go. So if you were a marketer wanting to focus more on MarTech as a career rather than being too much of a generalist, where would you spend your time and what sort of things would you be doing or focusing on to succeed?
Scott:
I think I would look at those archetypes, because certainly would want to get experience across all of them, but there is a very different emphasis between saying, "Okay, well what I want to focus on is really the operational element of the marketing organization." Again, I'm going to be running the workflows and the automations and the stack and how all this stuff gets connected together. You can just dig incredibly deep into that field versus like… If you really want to get good at the analytic side of it, then do one of those online degrees for data science or something like this. Dig into getting really comfortable with managing just the volume of data that we have at our fingertips now and using it to drive insights and be able to set the structure in place to support all sorts of cool personalization and things like that.
Scott:
If you want to go more on the marketing maker side, take a course in building web apps. They're actually not that hard to get started with this stuff.
Fiona:
As a software engineer.
Scott:
And you learn a lot about what's possible. Well, it's getting easier. All these things of like… You hear the phrase citizen developers. There's so many tools out here now that you don't have to be a hard core software engineer to be able to actually just start to build some really useful apps. It's pretty cool.
Key MarTech challenges in the sort term
Fiona:
Lovely. Okay. Yeah, really good. And what do you think the main challenges are for MarTech in the short term, shall we say, and what does the future hold for the sector?
Scott:
So I think the number one challenge that I feel like probably everyone in business has these days, but certainly, people in marketing and MarTech feel it very acutely, is keeping up with the pace of change. There's just been so much of this, which is so new, and to be honest, while the technology is incredibly innovative and it's going through these very rapid iterations of improvements, the challenges for most professionals and for most organisations, they just don't change that quickly. It takes a while to really understand, "Okay, how do we adapt the way we run our business with this? How do we adapt our management process? Should we be changing incentive structures? How do we deal with the work we're doing with our agencies?" All this change is just… I mean, it's exciting, it holds so much promise, but it's difficult. So you really do have to respect the change management dimension of that, and I think that's something we're going to be wrestling with, quite frankly, for this next decade.
Fiona:
Got you. Well that's covered the future and the challenge, so thanks for that, much appreciated. And what tools or products do you think are worth focusing on then, in MarTech, to help us with that challenge moving forward? What should we be doubling down on and why?
Scott:
I think for that challenge, this is where I'm a very strong advocate for agile management practices, and there's certainly a bunch of tools out there now that can help you with those practices. You had mentioned Trello earlier. Using Trello is like a kind of a Kanban board in agile management. Anything you can do that basically helps you evolve the people and process side of making marketing successful, I think that's a good investment.
Fiona:
Agile is all about speed, isn't it, mostly, Scott, I think, with regards to how to operate and how to test things quickly and efficiently.
Scott:
I might tweak it just a little bit and say I think agile is mostly about adaptation. It's about saying like, "Okay, I'm in an environment where I might not necessarily have the answer and I need to be able to," this is where the fast comes in, "relatively quickly iterate and learn what's working? What isn't working? Where can I best put my investment of time and resources and energy." So yeah, I think agile helps companies be a little bit more adaptive, and in today's environment, that's a really powerful advantage to have.
Fiona:
Absolutely. And actually it's surprising, how few companies do actually utilize agile, although I think it is a growing trend in marketing spheres in general. I think a lot of people are aware of it, but they're not necessarily able to adapt or utilize it just yet. But have having done my research, I know that you have a book that might assist them with this, Scott, is it Hacking Marketing that you bought out with Wiley back in 2016?
Scott:
Yes indeed. It's almost like we planned it that way.
Fiona:
Sorry, that's my research, not Scott's lead.
Scott:
Thank you though.
Fiona:
So when can we next see you, Scott? You come out and do speaking events in the UK quite often. I do see that you are traveling around, so when's your next hit in London, when we would be able to catch you and where?
Scott:
Oh, that's a great question. I don't know at the moment, but I'm sure I will be over there this year and I always keep my chiefmartec.com website up to date.
Fiona:
That's right. Only about 40,000 readers on that now isn't there? Or what's the latest number?
Scott:
Yeah, probably more than that at this point. Who knew that marketing technology would become a thing?
Fiona:
Well, who knew? 7,000 companies and counting. We need you at the forefront of this, Scott, to help us get our brains around what's out there and how to make the most of it. So please do keep doing what you're doing and keep sharing your findings and insight because I personally find it really interesting and very useful and also would say the opportunity to say thank you for sharing your insights and expertise and helping us who are trying to carve out marketing careers understand a bit more about MarTech and what those opportunities might look like.
Scott:
Well thank you very much. I love this space. It's fascinating. I'm so excited to watch what marketers are doing as they continue to grow with all these new possibilities.
Fiona:
Fantastic. Thanks ever so much for your time, Scott.
Scott:
All right. Thank you. Have a great day.
Fiona:
Thanks. There you have it. Career advice from a real marketing expert and leader in the field. Thanks for listening. If you're enjoying this podcast, then please leave us a review in iTunes. We'd love to hear your feedback.
If you enjoyed listening or reading the script to this Podcast, then check out our Podcast resources page to listen to more great guests.