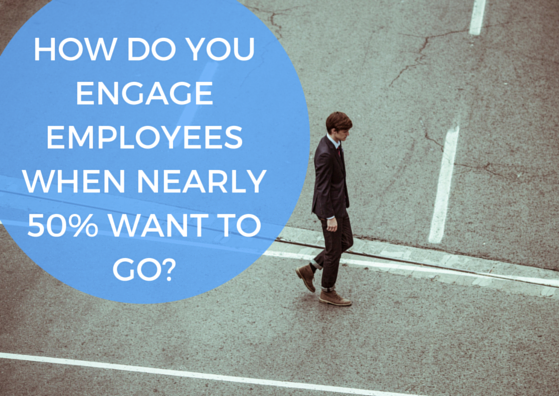 According to a recent survey by the London School of Business and Finance,, nearly half (47%) of all workers in the UK would like to change jobs.  And more than one in five (21%) employees are looking to change career altogether.
Staggeringly nearly a quarter (23%) of all UK workers regret their current choice of career and this figure rises to 30% for people in the 25-34 year old bracket.
The survey says, the main reason people are looking to leave a job is to improve their pay, obtain a greater work-life balance or improve their job satisfaction. However, from my experience, people tend to leave managers and not companies. Once either the relationship or belief deteriorates, then candidates tend to find other reasons to justify why they should move. This employee turnover is apparent in companies where certain teams or managers lose staff more frequently than others.
The key question this throws up, though, is if so many people are unhappy in work, how likely is it that companies can engage and motivate employees to achieve better results?
An excellent article by Kerry Decker and Ben Decker published on HBR.org, goes some way to addressing employee engagement. In the article, they talk about communication and why 'telling employees what to do' is both tried and tired. Often people don't respond to authority in the same way as we used to.'Are they just telling me to do this because it's for their benefit?'
Their advice is for leaders to shift how they communicate to move employees from 'I have to" to 'I want to'. 'We want to be called to something greater. So instead of informing and directing your direct reports, aspire to inspire.'
In my experience sometimes it's in an employees and company's best interests that people move jobs. Too many people turn up, go through the motions and head home after adding very little value. People get stuck in a rut. And Leaders aren't truthful with employees for fear of rocking the boat or losing a steady but capable person. Nobody wins in that situation.
Businesses that are well run rely on regular reviews, not annual appraisal's with no context, but feedback as and when work is completed. It's been prominent in the media recently that businesses like Accenture, GE, Adobe and Microsoft have already or are in the process of disbanding annual appraisals in favour of regular feedback. Annual reviews, they say, only encourages narcissism and self-promoting.
Perhaps low engagement is a sign of the times and indicative of making early choices in education at a young age? Or perhaps it's down to the changing dynamic between leaders and employees in a society and occupational environment that's vastly changing?
What's your experience? Do you agree with the survey? Do you know of people who want to change jobs or even careers but who worry about doing so? Do you think the lack of engagement is down to an employee or business? What, in your opinion, could be done better?
A good way to start keeping your employees loyal is by paying them the right salary. Take a look at our salary survey to see where the averages are;