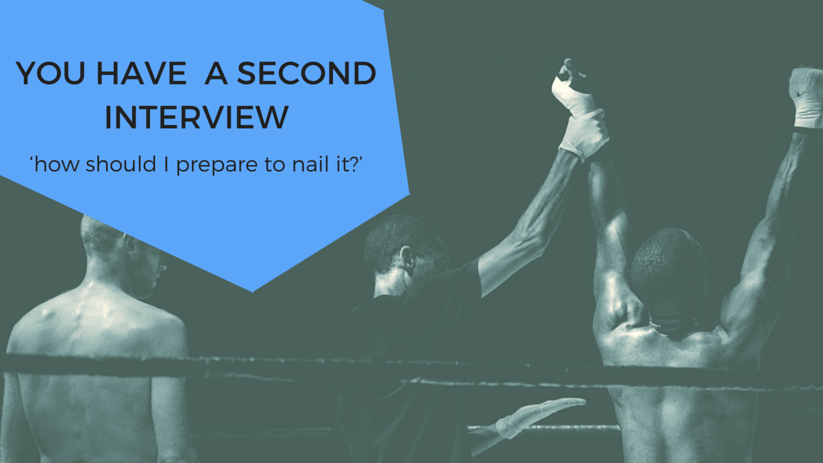 You put down the phone.
Then wipe the sweat off your palms. You've got butterflies in your stomach.
Then you hear it chiming in the back on your mind.
Ding. Ding.
You've conquered the first interview and had the callback for a 2nd interview.
So like any professional boxer you're going to need to train hard and prepare.
But is there anything different you can do before your 2nd interview? You were clearly on top form in the first interview so is it much of the same?
What can you do to increase your chances of success?
While the first interview was largely about you promoting yourself, the 2nd interview is about really drilling down into exactly what you can bring to the role and what the company/role can offer you!
First off, the company's going to dig deeper, so are likely to ask more specific questions about situations and experiences that will apply for the role.
As making it to the 2nd interview doesn't guarantee you the role, we've put together 6 tips to increase your chances of an offer.
1) CAN YOU GET SOME SOLID FEEDBACK FROM THE 1st INTERVIEW?
This can be difficult – even as recruiters we often struggle to get a concrete answer. And often it can be a just 'they just had a gut feeling'. Don't underestimate the power of the gut. Getting the right fit and actually liking working with your colleagues is monumental! But this doesn't give away a lot in terms of actionable items to review. See if you can press for further feedback – like any concerns they might have. None of us a perfect after all.
It's also a good time to confirm the role requirements and expectations again. Do you fully understand the ins and outs of the role? Is it what you want and how can your experience apply to it?
2) FIND OUT THE TYPE OF INTERVIEW
Do they want a presentation? If so, here's how to prepare for that. Or perhaps a sample campaign? Will there be some personality or competency-based questions? Will it be a one-on-one or panel meeting you?
Depending on the style will greatly affect the way you prep.
If there's no specific preparation needed, have a think about what you would do in the first 90 days of the role. What objectives would you set & why? What would you do first and why?
3) RESEARCH THE PANEL OR INTERVIEWER
While the initial hiring gatekeepers may have liked you, you are now facing the head honchos like the marketing manager, marketing director or CEO. If you can, find out the names of the people you will be interviewing with and do some detective work.
Using services like LinkedIn and Owler can be invaluable to do this.
4) YOU CAN FINALLY START ASKING THOSE 'ME' QUESTIONS
Yay! My favourite subject.
Now you can start figuring out what the company can offer you by asking questions like:
What are the challenges in this role?
What are the benefits of working here?
How do you see this role developing over time?
Remember to think about what is most important for you, which may not always be salary related.
5) LOOK OUT FOR THOSE WARNING SIGNS
On the second interview, you will hopefully be a little more relaxed, and scan for more clues. You may be able to meet more of the team or see more of the office for example. Could you work with these people? Here are 10 Warning Signs to Look Out For.
6) PREP THE 2ND INTERVIEW QUESTIONS
There are common questions that come up at this stage. Having your answers prepared in advance is essential. And you should have some questions ready as well. What's a typical day look like? Who would I be working with on a daily basis? How's the team structured? What's their management style? What would success look life for this role? What would be the biggest challenge?
'Left. Pow. Right. Pow. Nailed it.'
So, far from thinking it's in the bag, make sure you follow the steps above to increase your chances of winning that second interview.