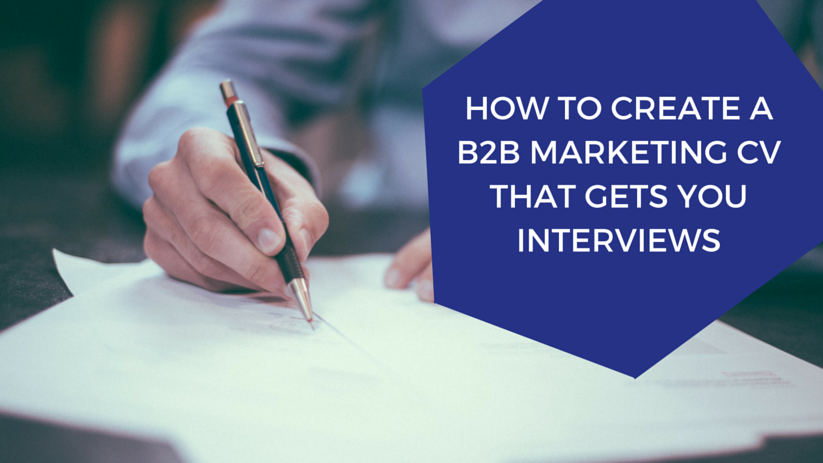 Don't get me wrong; you ask 100 people what makes a great marketing CV, and you get 100 different answers.
You only have to see what our CV experts say, to know it can be a subjective subject.
However, our advice is based on testing and trialing thousands of CV's over the last 20 years we've been in b2b marketing recruitment.
And it works! So all you need to do is work through each step and bang, you'll have a CV that's significantly better than most marketers out there and WILL get you interviews.
Let's begin.
YOUR CALL TO ACTION
You may have the greatest CV ever, but if they are not able to get in contact with you – you might miss your chance.
Make sure you have your full address (companies want to know if you can get to their office) and a phone number and email address so they can contact you easily to invite you in for an interview.
At the very least put a Town or City on there. If you're relocating, again put the place you're relocating to.
Whatever you do, don't leave it blank.
DON'T BE SUBJECTIVE
Be more objective in your opening summary instead of relying on subjective terms. This is one of the biggest mistakes people make with their CV.
People are interested in your experience, not that you're motivated, enthusiastic, dynamic, etc.
The interview will determine that. So rather than saying: "I'm a dynamic leader with excellent communication skills."
It's better to state: "Experienced leader with over 10 years inspiring diverse and multi-site teams up to 90 people."
­

BE FOUND BY TECHNOLOGY

Whether we like it or not technology is part of every aspect of our lives. And that goes for recruitment too.

Most recruitment agencies or HR teams use technology to search for CV's and assess whether you've got the skills in the first place. And others, who perhaps know nothing about recruitment, manually scan CVs for keywords.

So having a skills section with relevant keywords is essential to be found in the first place.

So for example, as a marketing manager you could include:

Skills; Copywriting, HTML, Dotmailer (Email Automation), Salesforce (SFDC), Photoshop, Hootsuite
KINDLY LTD – WHO THE HELL ARE THEY??
To you, it may be obvious, but to others, it might not be.
Remember, the purpose of a CV is to give information to help someone decide if you're relevant or not. Nothing more, nothing less.
So include a brief company description.
Kindly Ltd market and sell a leading CRM solution to enterprise customers and through a channel of VARS. Their system encompasses sales and marketing tools in one platform helping business reduce complexity and drive sales more easily.
MARKETING – WHERE DO I START?
If you take a marketing executive or marketing manager role, there can be so many variations; acquisition, retention, online, offline, agency management, hands on. And all those differences require very different skills. So which one are you?
A line or 2 to describe your role after your title is a good way of communicating it's overall purpose and emphasis. Better than being called in for an interview that 'doesn't quite fit your skills.'
"As Marketing Intelligence Manager my main purpose was uncovering insights and using them to drive sales and marketing strategy and innovation. I did this through conducting primary and secondary research, analysing and uncovering market insights and investigating competitors."
MAKE IT EASY FOR PEOPLE
Apparently people take a few seconds to read a CV. So if that's the case, you want things to jump out at them.
Tell me which line is better at doing that between the two below;
Lead Generation; using the CRM (SFDC) to segment data, create e-dm campaigns and execute through email automation (Marketo), all the time measuring ROI
Using the CRM (SFDC) to segment data, create e-dm campaigns and execute through email automation (Marketo), all the time measuring ROI
By just adding 'Lead Generation' in bold, you'll highlight your key skills quickly. ­
ROI, ROI, ROI
Yep, it's not just the CEO or Marketing Director banging on about ROI these days.
Gone are the days when you can be taken seriously without having a decent achievements section with some tangible ROI on.
So make sure yours is good with 2-3 good examples on.
THE REVERSE XMAS TREE
The reality is that when we start job hunting most of us dust off the old CV and add the new job on.
But the more experienced we become, the less relevant it is that you worked at a pub during your student days.
And realistically, you're going to get the next job because of your last two roles.
So go for the reverse Xmas tree. This format gives the most amount of space on the CV for your current position, slightly less for the role before, and less for the role before that. Etc. etc.
Your first role might end up just being a single line, or if it was working in a pub, then not on your CV at all.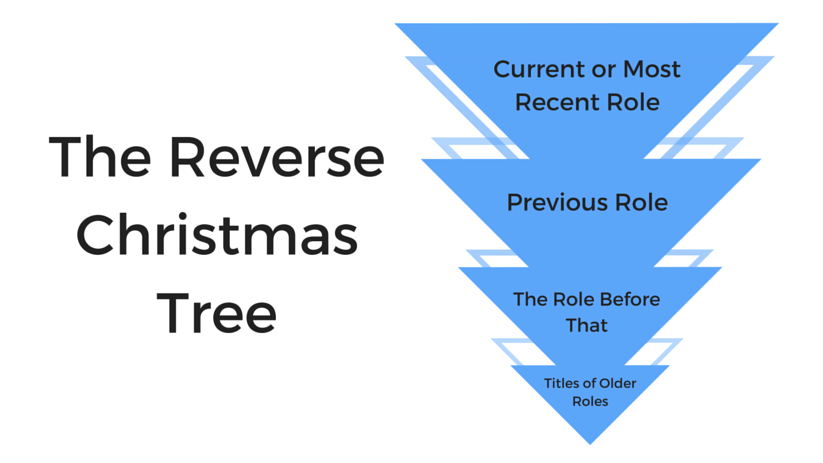 DON'T JUST BLOW YOUR OWN TRUMPET
Most CV's end with an interests section, which most people don't read. OK, they may read it just before interviewing you, but it has no influence on what a CV's purpose is – to get you an interview in the first place.
'Ah yes, I see Jane likes films, excellent! Let's get her in for our Marketing Manager role.'
So instead of wasting the space on an interest's section, which people have no interest in, use the space for two reference quotes.
Those can be lifted from LinkedIn, or you could ask your old boss for one. Either way, it's great proof that you're not biased, and you are as good as your CV looks.
'At a time when the market was subdued John helped our business re-position which was instrumental to us growing in really tough condition. I'd highly recommend him.' Peter Savey CEO Wasp Technology Solutions
So there you have it.
To summarise the tips would be: HAVE A CALL TO ACTION: Include at least one form of contact info and ensure you put your general location— city or postcode will suffice. We need to know if you can commute to the new job.
DON'T BE SUBJECTIVE: Use objective terms to describe your experience
USE KEYWORDS: Programs and people use certain specific search terms
INTRODUCE THE COMPANY: Give a brief description of the company as not everyone may know what they do
DESCRIBE THE ROLE: Different roles require different skills and the title doesn't always give it away
MAKE IT EASY TO READ: It should be easy to scan and easy to process
ACHIEVEMENTS: You should include a couple of examples of the return on investment for your projects.
USE THE REVERSE CHRISTMAS TREE: Focus on your most recent and applicable role and limit the space for older less relevent ones
USE REFERENCES: Add a direct quote too to add some unbiased proof.
It's also important to avoid these common CV mistakes which could be costing you interviews.