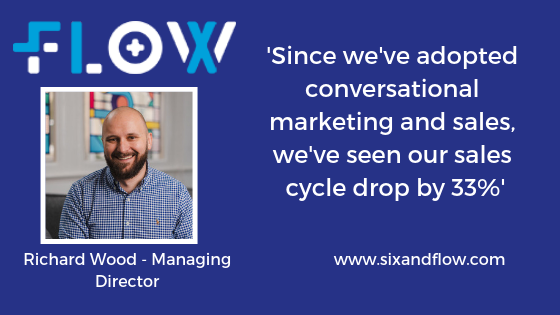 Some companies in B2B Tech are synonymous with what they do.
Think Slack, HubSpot, Stripe, Salesforce…
And I think that's because those companies don't just sell a product.
They sell an idea, a methodology, and they're great storytellers.
And judging by Drift's success so far, they could be heading that way too.
Yes they sell a product. And yes they have competitors.
But they also sell a story, a methodology, a system, whatever you want to call it, too.
And that's Conversational Marketing.
So what is Conversational Marketing?
[B2B Tech Marketers, brace yourself]
They talk about a methodology that involves no forms. No gated content.
*WTF??? Yep. No forms. No gated content.
And sometimes in life it's not until someone spells out the logic does it become logical.
Because ever since I've been in B2B marketing, we've all been chasing the form conversion.
We've been super busy creating valuable content that people will exchange their email address for.
All so that we can follow up with them.
*great, that's one less MQL we need this quarter
Conversational Marketing is all about enabling Company's to capture, qualify, and connect with leads on their websites through real-time conversations.
It gives you the ability to answer a question from a buyer quickly and shorten the sales cycle.
But how effective is gated content for B2B Technology brands in generating leads in today's savvy buyer market?
Well, according to LinkedIn, 81% of tech buyers don't fill out a form when they encounter gated content – and they'd rather go and find the information elsewhere.
And the evidence doesn't stop there.
Data from Statista in 2017, says that 62% of mobile users between the ages of 30 and 44, prefer using messaging apps to communicate with others.
Hardly surprising when you think about the success of WhatsApp, Messenger and apps like TikTok.
But why is this lean to messaging happening in the B2B Tech space?
A study by BoldChat, offers some explanation.
The study found that people who prefer talking through a messaging app, do so for several reasons – the most common one being the ability to get questions answered immediately.
And Twilio's study goes even further, stating that by 2016 90% of global consumers expect to be able to talk to a business via messaging. And arguably how we operate as consumers is how we operate as B2B buyers.
And when you start to think about it, it really does start to make sense.
And a big reason why Drift decided to ditch the form in favour of capturing and qualifying leads through messaging and chatbots for their own marketing.
Imagine your SDR's walking into work the next day to a calendar that's filled with meetings with prospects.
It doesn't surely get any better than that for B2B marketers today.
So is Conversational Marketing a book worth reading?
Like any book, it's not just reading it that makes a difference.
Yes you can gain some valuable knowledge. But you've got to implement it to really learn and benefit.
And what I really like about this book is the balance between the theory – the reasons why this is something you should care about and the practical implementation road map too.
In Part 2; 'Getting Started with Conversational Marketing', David and Dave cover topics like;
How to qualify leads through conversation How to target your best leads How to build a chatbot to qualify leads
And in Part 3 they move onto how you can convert the leads you receive through conversational marketing into sales. There's a lot of practical value there.
In fact, we liked it so much, we've implemented Drift ourselves and have been pleasantly surprised by how many of our b2b marketing audience want to have a conversation through Drift about the marketing jobs we're recruiting for.
It would be really interesting to see how our audience would react to a Chatbot, so that could be on our radar in the future.
Interested and want to implement Drift in your business?
A great starting point for anyone in the UK would be speaking to Richard Wood at Six and Flow, a growth agency, Diamond Hubspot Partner and the first agency to partner with Drift here.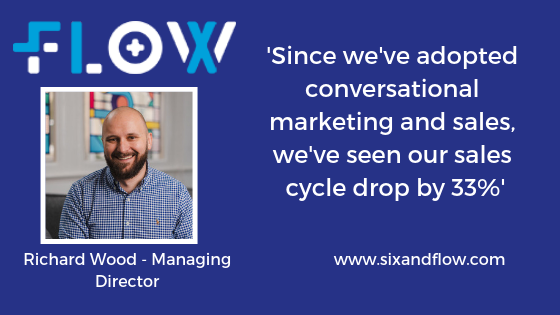 And the only thing left is, are you ready to ditch the lead capture form? To gate, or not to gate, that is the question…