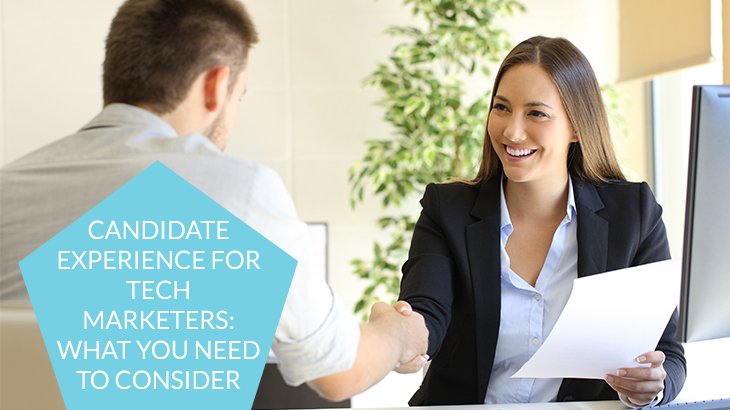 Marketers have to amaze every day. They have to persuade people to buy the product or service they're trying to promote — you need to do the same if you want to attract top marketing talent.
What On Earth Is Candidate Experience?
It's beneficial to know what candidate experience is before going out there and trying to deliver the best one within your power.
To define candidate experience:
'Candidate experience is how candidates perceive employers or recruiters sourcing, recruiting, interviewing, hiring and onboarding them.'
It's critical when you're hiring top marketing talent, as one chink in the armour can cause a candidate to accept another offer, or point blank refuse to work with you.
The candidate experience resembles a marketing funnel: attract candidates, nurture them, and convert them into employees.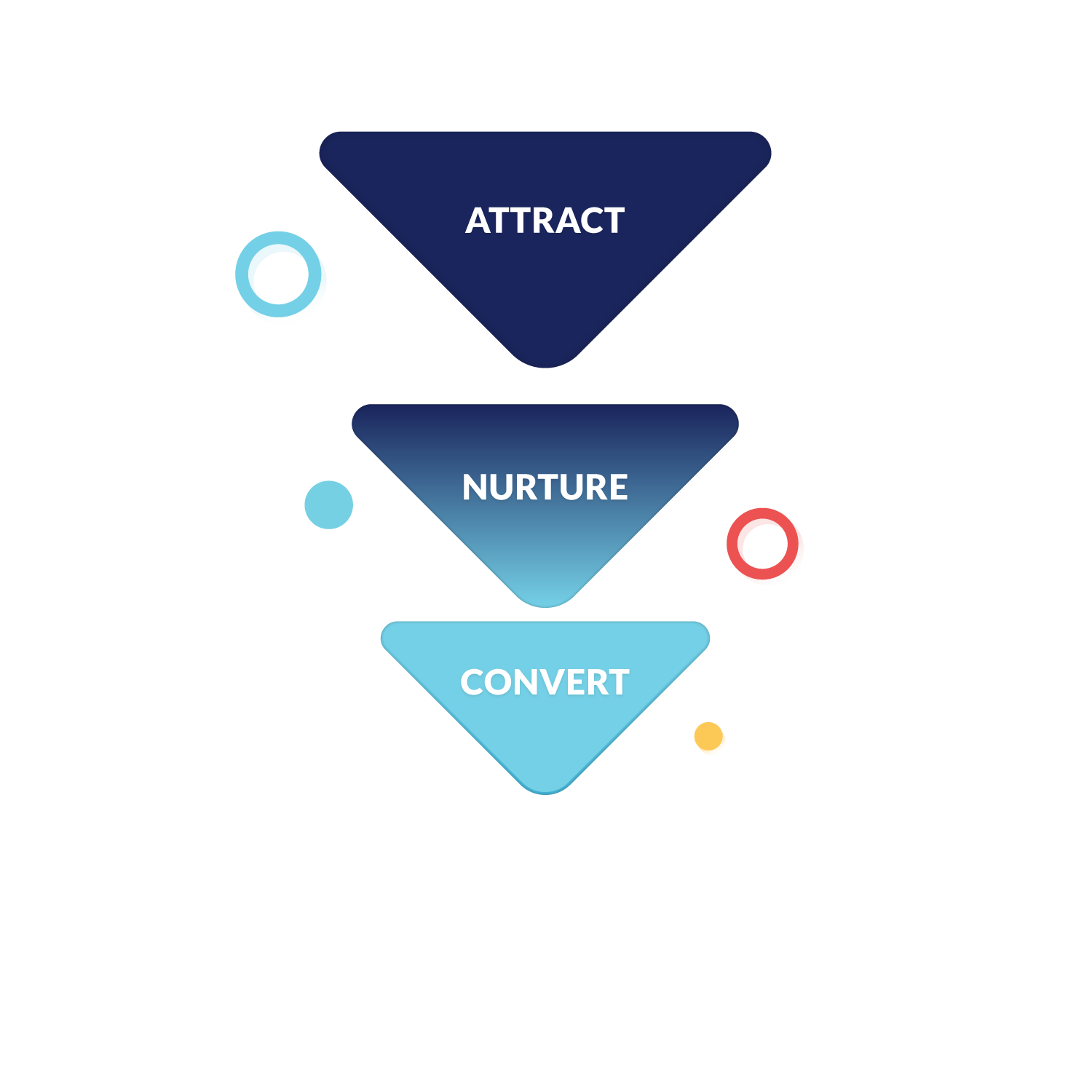 Further Reading: How to Attract Tech Marketing Talent to Your Startup
Before You Start, Create Candidate Personas
Marketing professionals go into the industry for numerous reasons; let's list a few:
To exercise their creativity
Flexible hours
Good salaries
Career progression opportunities
It's social and collaborative
It's a trial and error profession
It's a dynamic industry
Now, let's consider what tech marketing professionals are like as people:
Innovative — tech marketers will love trying out new ways of doing things
Inventive — if there's one thing marketers have its numerous ideas
Empathetic — the best marketers always empathise with everyone around them
Synergetic — marketers love to form strong connections
Engaging & Persuasive — marketers suck you into their world with their sticky ideas
Motivated — marketers are achievers and always want to better themselves
Diplomatic — you won't find them arguing with each other or customers
Dependable — marketers are trustworthy and always meet deadlines
What's the point of all this?
If you're trying to hire a tech marketer, you need to know how to provide the best candidate experience for that particular type of person.
For example, if you're hiring a salesperson, the candidate experience would be slightly different.
Salespeople aren't known for being creative; they want to exercise their finely-tuned people skills.
Salespeople aren't known for being diplomatic; they're more direct than marketers.
It's not to say that one is better than the other, or every salesperson and marketing person is like this — but it helps you determine how you provide the best experience for that candidate.
So, before you use any of the techniques mentioned below, ask yourself who you're providing the experience for.
1. Be Transparent at Every Stage
Transparency builds trust. Let's go all pop psychology here and analyse why.
If someone shows you something you feel you wouldn't normally have access to, you believe they're trying to help you.
Some of the best conmen have been using this trick for years. Take Victor Lustig, a German con-artist.
He claimed to possess a machine that could produce $100 bills. He stocked the machine with 6-9 bills and printed them in front of his target. Trust built.
He'd sell the machine for a higher price, and by the time he was gone, the 'mark' would realise the machine only produced blank paper.
Clever. But dastardly.
You can do the same with candidates, don't con them though.
Digital Ocean
Digital Ocean, a cloud infrastructure provider, identified an opportunity in their hiring process.
Most candidates will ask similar questions when they're preparing for an interview. So they decided to create a candidate resource hub.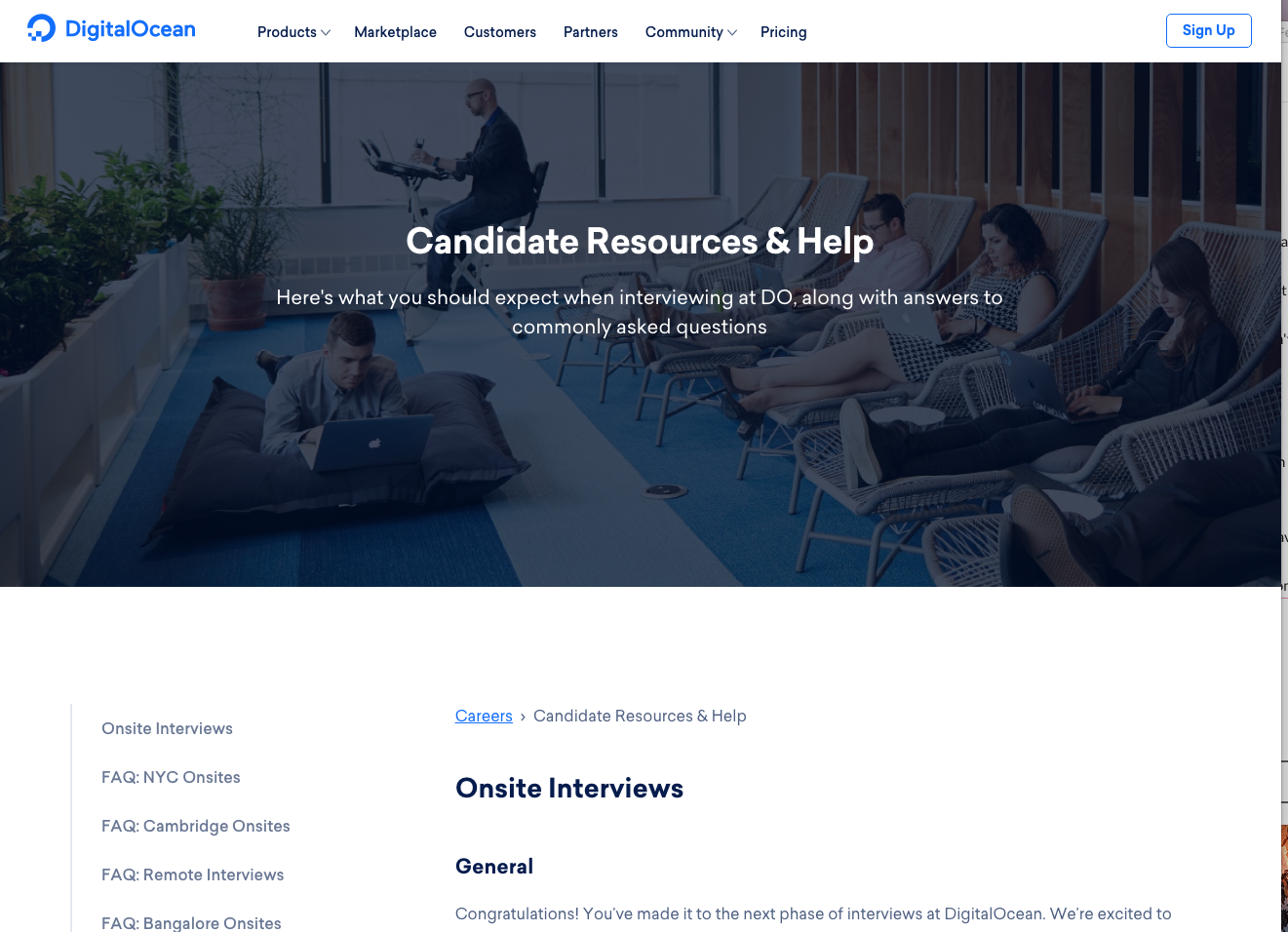 The resource centre is full of FAQs like what to do upon arrival and whether travel expenses are reimbursed. Not only does this provide feedback for the candidate, but it also helps the recruiter out.
The company's transparency and willingness to share information builds trust and helps people decide whether they want to come for an interview.
2. Remove Unnecessary Processes
Why do they care what I got in my GCSE ICT exam ten years ago?
We'd be asking the same question. Some interviews feel like the interviewer has visited Google and downloaded a Microsoft Word template from 2001.
If you want to keep candidates engaged, tailor the recruitment process to them. Here are a few ways you can optimise it:
Don't rely on traditional recruitment methods
Consider spreading the responsibility to departments
Engage passive candidates
Build a positive reputation
Develop a LinkedIn strategy
Managed by Q
The concept of Managed by Q came when tech-scene buddies Dan Teran and Saman Rahmanian identified a problem they'd both experienced working for startups.
Office spaces couldn't adapt as companies grew, menial tasks like buying new chairs were long.
The company advertised themselves as a cleaning company, as they know it's the best way in.
Every new client would is given an iPad and can make requests for more toilet roll, exterminators or furniture assembly. The company takes it from there.
To begin with, the partners were worried. They wanted to be able to pay employees fairly and distance themselves from 'gig economy' employment tactics deployed by the likes of Uber. But how would they make a profit?
(the company do offer stock options).
They did some research. Companies tend to switch cleaning companies year-to-year for a better deal, but not if they trust the business they're working with.
Q's employees are trained to build connections with the offices they work with and act as salesmen for the other services they provide. Cleaning makes up 70% of the revenue.
Why is their business model relative to recruitment?
Because it determines how you hire.
Teran and Rahmanian know that as they grow their business, they need to get the right members of staff.
So they invested in data technology.
Through this technology, they learned that traditional markers of success didn't get the best hires — the classics: industry experience, education, employer references.
Conversely, all Q employees possess the following traits: empathy and optimism.
In their recruitment process, they ignore the former and focus on the latter.
One employee, Nancy Gonzalez, ran a bakery that she had to close. In a group interview, Teran looked for keywords and body language that pointed towards her being optimistic in a bad situation. She passed.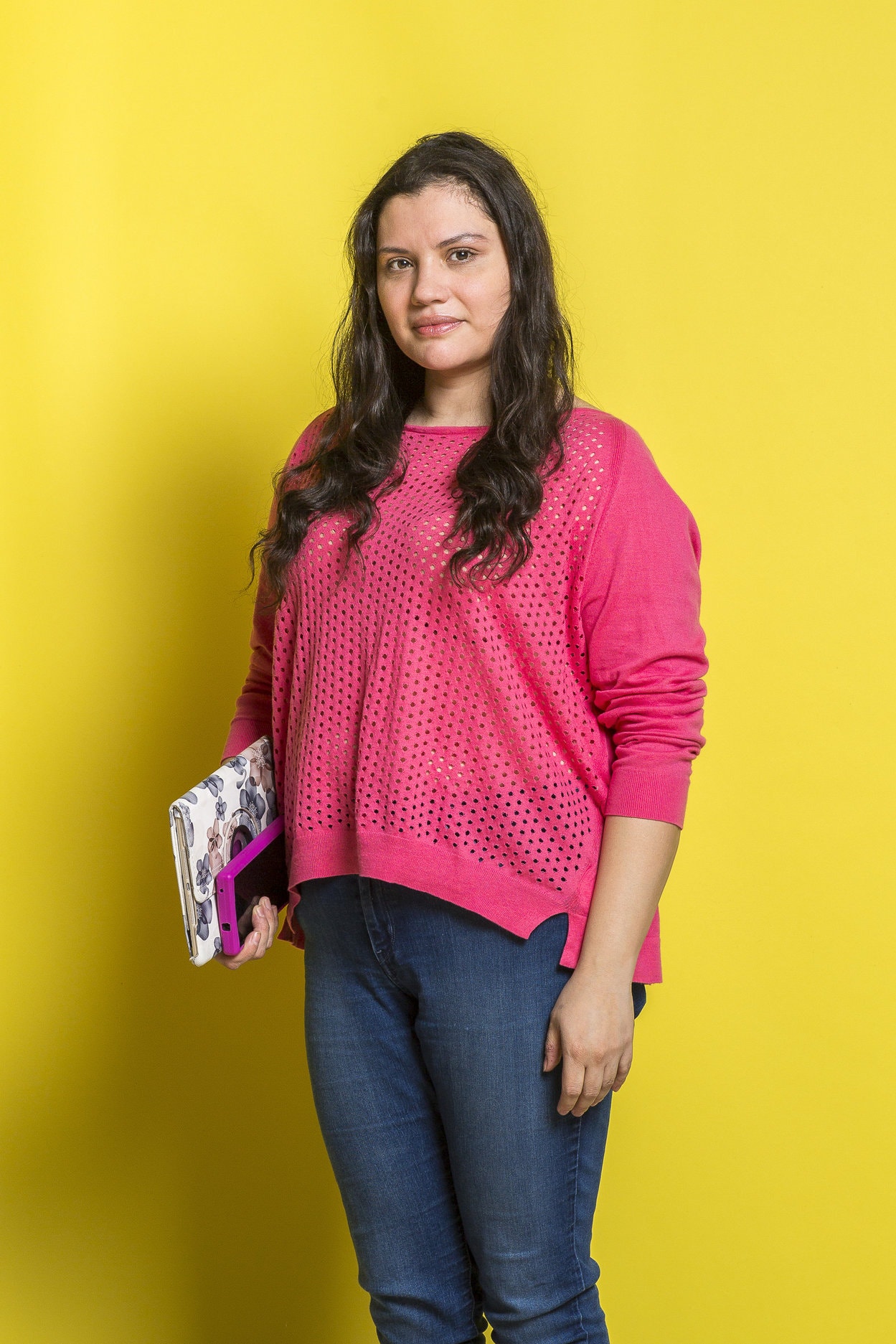 At her second interview, she was judged on her ability to empathise, he noted how attentive and engaged she was as others told stories of misfortune.
She got the job. She's now a supervisor who has increased the company's revenue by $79,200 in a year.
Teran notes how he recruits specific people for specific clients: some want quiet cleaners that fade into the background, others want engaging, connected characters that want to have a conversation.
It's a remarkable recruitment strategy, and it's done by removing unnecessary, antiquated steps from the recruitment process.
Read the Full Story: Managed by Q's Good Jobs Gamble
3. Collect Feedback From Everyone
Feedback is crucial when improving the operation of any business. It's no different in recruitment.
If you want to improve the candidate experience, listen to the people who have experienced it.
If you want to hear feedback about your recruitment process, ask the people who recruit.
Okay, it's difficult to hear negative feedback, especially if it's coming from hiring managers and candidates.
But if you want a quicker, streamlined hiring process that brings in grade A employees, you have to do it.
Here are several ways you can get feedback:
Ask directly
Send surveys to candidates
Use a third party to reach out to candidates
Ask colleagues that were involved in the process
Get feedback from social media
Create a contest
Use AI or chatbots
Ask for feedback in the application
DocuSign
Data and love aren't words that you find paired together. However, that's what DocuSign did when they found out recruiters felt unloved, even though they were hitting all their targets.
Every company that's invested in their employees says it: 'we want you to get better'. What does 'better' mean? If there's no clear definition, employees have no focus.
Firstly, getting the desired result is a priority. So they created a leaderboard.
Secondly, they need to know what the candidate thought about the experience; that's where the candidate NPS survey came in.
Thirdly, they needed to know how the hiring manager felt about the process, so they created hiring manager NPS surveys.
All scores on these surveys combined to calculate the recruiters 'DocuLOVE' score.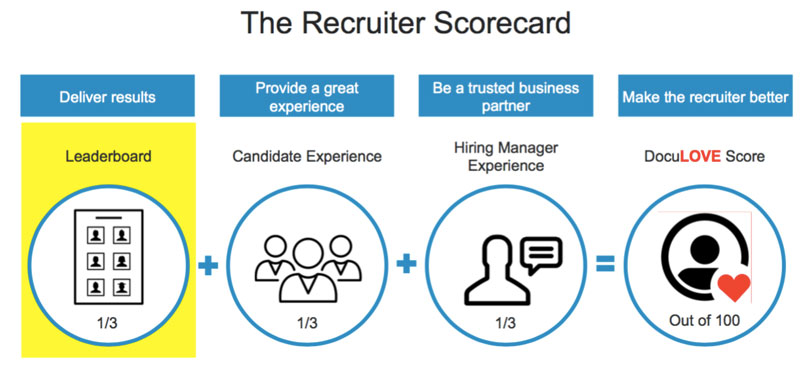 The feedback would be used to make the recruiter better at their job. They wanted to create a positive vibe surrounding the process, so recruiters didn't feel pressured.
DocuSign also noticed problems with the way recruiters were being scored on performance. For example, one recruiter may have 15 hires in the month, another 5.
Hires don't tell the full story. If the recruiter who hired 15 people was hiring sales execs and the other was hiring lead developers, the number of hires doesn't mean they've done a better job.
So DocuSign created a points system: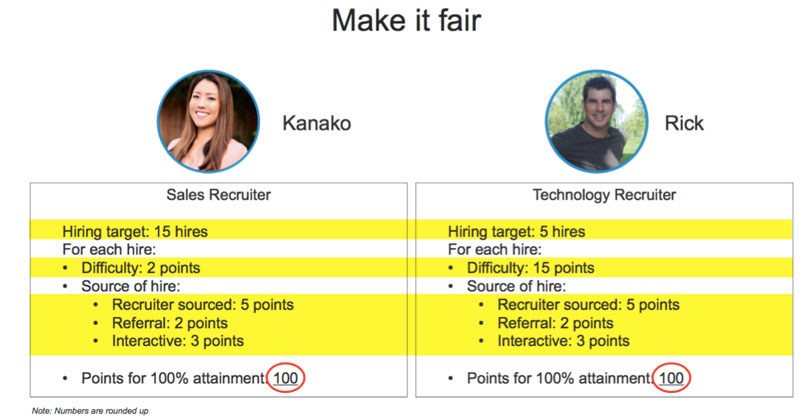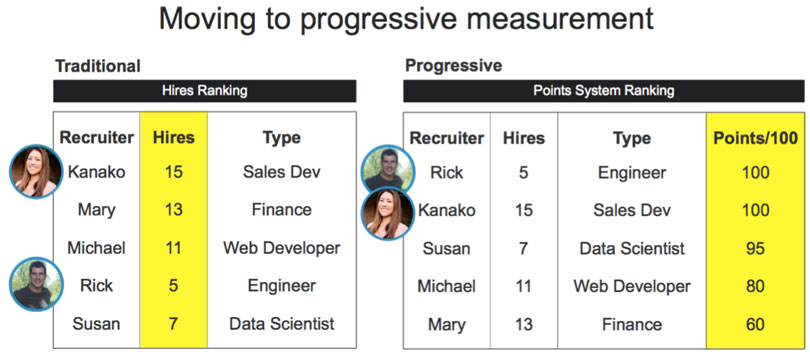 The company would gather the data from the leaderboard and both NPS surveys, and use it to help their recruiters improve.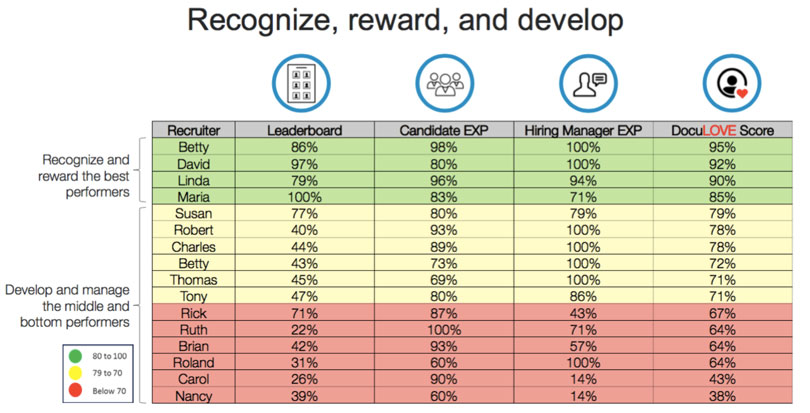 The results?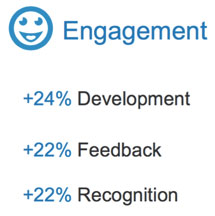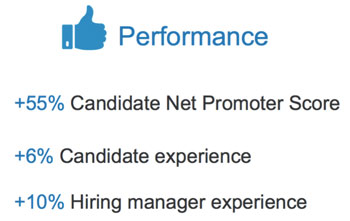 More importantly, not one single recruiter left the team in that year.
What lesson should you take from this? Want to recruit the best tech marketers? Ask everyone involved in the process what they dislike about it.
Evaluate Your Candidate Experience
Do you have a candidate experience? If you do, how does it set you apart? Remember, you need to attract candidates to your business; it isn't only the candidate's job to impress you.
Try asking for feedback from some of your previous candidates and the people you've hired, and see what they have to say about you.