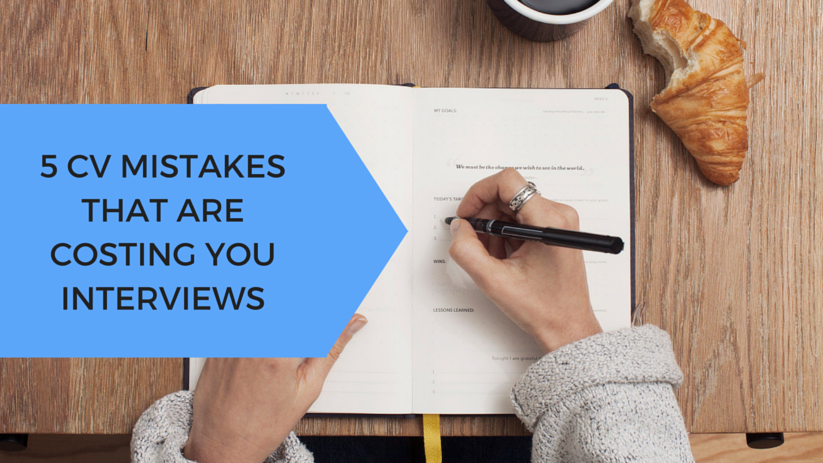 So, you're looking for a marketing job.
You dust off your CV – perhaps add in a few new skills – change the colour of the font, and send it off to a marketing recruitment agency.
Or, perhaps you send it along in response to an online marketing vacancy.
What the…! Nothing? Your response is a deafening silence. Not even one interview?
Technology in today's world means that you go online, and type in "CV writing tips" or "how to write a cover letter" and press enter. But, there are still many candidates who get the basics wrong, and then wonder why they have not been invited in for any interviews.
Your CV is your best online marketing tool. And while CV writing tips abound in the online space, we'd like to tell you why some of this vital information is – well – vital.
Are you guilty of any of the following CV or cover letter fails?
YOU DIDN'T TAILOR YOUR CV TO THE JOB
When a company sits down to draw up a job description, you need to realise that it's all about them. What they need. So if you are responding to a position – especially a marketing executive job or a marketing manager job – then you need to highlight what you can do for them. Specifically.
A generic marketing CV listing what pretty much everyone in the marketing business can and has done, simply won't get you the interview. Read the job description carefully and be sure to feature the particular skills that you have that they are looking for in this marketing job.
YOU DIDN'T HIGHLIGHT YOUR SUCCESSES
If you are aiming for a marketing executive job or marketing manager job in the b2b sector, then you can be sure that the marketing recruitment agency will be looking for a successful track record. It's a great idea to make a note of exactly what you did and what it achieved. For example, mentioning that you led a digital marketing campaign for a high-profile client and what the actual results were, mean more than bullet pointed "skills".
YOU OMITTED YOUR CONTACT DETAILS (OR THEY WERE WRONG)
You can be the most brilliant b2b marketing guru in the northern hemisphere with digital marketing skills oozing from your pores – but if the company can't get hold of you, your plan for world domination will unravel faster than a cheap sweater. A valid email address and phone number, as well as your general location is a must! This is the one part of your CV that you cannot afford a typo.
BONUS:
Find out what makes a great CV
. Get expert tips on what you should be doing.
YOU DIDN'T WRITE A COVER LETTER
A CV emailed directly to an employer without a cover letter is the equivalent of throwing it at them through the window. A cover letter is your elevator pitch, the opportunity to show them your specific skill set. Let them know that you are the King of online marketing and Lord of technology, Master of b2b marketing within a 25-mile radius. A cover letter is your opportunity to give marketing executives a peek at your personality, and to include personal details and information that may not appear on your CV. It's kind of important, so don't leave it out.
YOUR LANGUAGE WAS ALL WRONG
No, we're not talking about dropping the F bomb (seriously, don't!) but we are referring to your choice of words. Avoid negative words and subjective phrases. You want to keep the overall tone positive, light and professional. We also recommend being specific. Marketing, is a general term – but b2b marketing means far more to a hiring company if that's what they are looking for. Of course, CV Tip #1 is not to forget to proof read every line for grammar and spelling errors.
When it comes to CVs and cover letters, technology is your best friend, and your CV is basically your personal online marketing presence. Use all the tools at your disposal to create, check and send along the best version of you – and then ace that interview. Learn how to create a B2B marketing CV that gets your interviews here.